What to know about radiation therapy?
Last updated
Last updated Fri 16 Feb 2018
Radiation therapy is a treatment used for cancer and, less commonly, thyroid disease, blood disorders, and noncancerous growths.
It can have a targeted, powerful effect on tumors that are confined to a specific area.
Radiation can form part of curative or palliative treatments against tumors. This MNT Knowledge Center article provides easy-to-follow information about radiation therapy.
Although radiation therapy is also sometimes used for nonmalignant disease, including benign tumors and inflammatory conditions, this page focuses on its main medical application in treating cancer.
Fast facts on radiation therapy
Radiation therapy involves delivering powerful waves of energy to disrupt the ability of cancer cells to grow and divide, killing cancer cells, slowing their growth, and shrinking tumors to enable surgery.
The side effects of radiation therapy occur because healthy tissue near the tumor is affected as well as the cancerous tissue. Most side effects are localized to the area treated and usually short-term, although some effects, such as fatigue, can occur body-wide.
To ensure accurate placement of radiation therapy, the treatment is often simulated during planning before the real treatment is administered.
What is radiation therapy?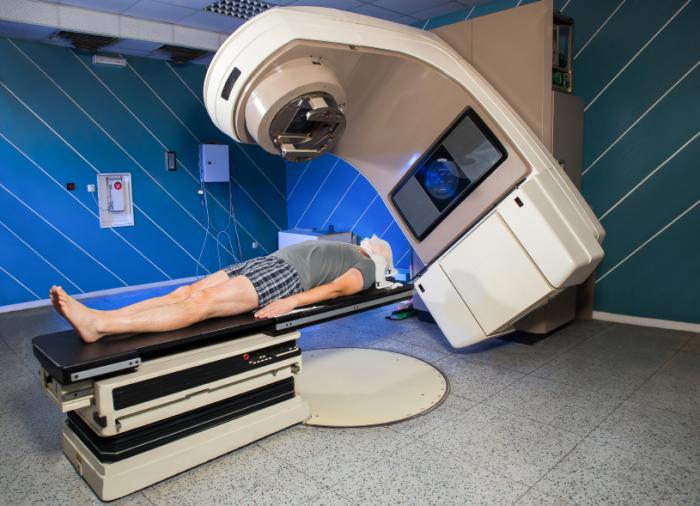 External beam radiation therapy is typically administered using a linear accelerator.
Radiation therapy uses waves of radiation to treat cancers and tumors, as well as other conditions.
As a general term, radiation means waves of energy, such as light or heat.
The form of radiation used in cancer therapy is a high-energy type known as ionizing radiation.
Exactly how radiation works as a treatment for cancer is complex and still being researched, but on a simple level it breaks up the DNA of cancer cells in a way that disrupts their growth and division and can even kill them.
Radiation therapy will sometimes be used on its own, and in some cases will be used alongside other cancer treatments, such as chemotherapy, if a cancer specialist decides that this will enhance the effect of the treatment.
Approximately 60 percent of people being treated for cancer in the United States will receive radiation treatment.
Side effects
The side effects of radiation therapy occur when non-cancerous cells are also affected by the treatment.
Radiation therapy reacts in the same way with cancer cells and non-cancerous cells. However, cancer cells are more vulnerable to the effects of treatment, due to cancer cells tendency to copy themselves at a faster rate and repair more slowly.
Some non-cancerous cells are also affected by radiation therapy, however, leading to potentially severe side effects.
Side effects vary based on the part of the body being treated, the overall health of the person receiving radiation therapy, and the type and dose of radiation used.
Short-term side effects
Short-term effects of radiation treatment can include the following:
fatigue or lethargy
skin irritation, including swelling, blisters, and a sunburned or tanned appearance
effects specific to the area of treatment, such as hair loss, urinary problems, nausea, vomiting, and diarrhea
tissue inflammation, such as esophagitis, pneumonitis, and hepatitis
rarely, a drop in the number of white blood cells or platelets
Long-term side effects
Long-term effects also depend on the site of treatment and can include:
Stiffening and restricted movement: After neck therapy, for example, the jaw can stiffen. This can occur as a result of tissue scarring. Exercises may be advised after cancer surgery and radiation therapy to help loosen movement.
Skin effects: These include delayed wound healing and a spidery red or purple appearance caused by dilated capillary blood vessels.
Diarrhea and bleeding: These can occur as a result of bowel damage when the abdomen receives radiation therapy.
Hormone problems: These can include hypopituitarism or hypothyroidism, dry mouth, memory loss, and infertility.
A second cancer caused by radiation exposure: Although rare, soft-tissue sarcoma, for example, can be caused by high doses of radiation. The risk of recurrence of the cancer being treated is higher than the risk of a new cancer being caused by radiation therapy.
Not all of the above examples are likely or even possible with all types of radiation therapy. The likelihood of getting any one of the longer-term side effects depends largely on the individual.
People opting for radiation therapy should, therefore, receive guidance from their healthcare team about the balance of risks and benefits.
Radiation therapy and chemotherapy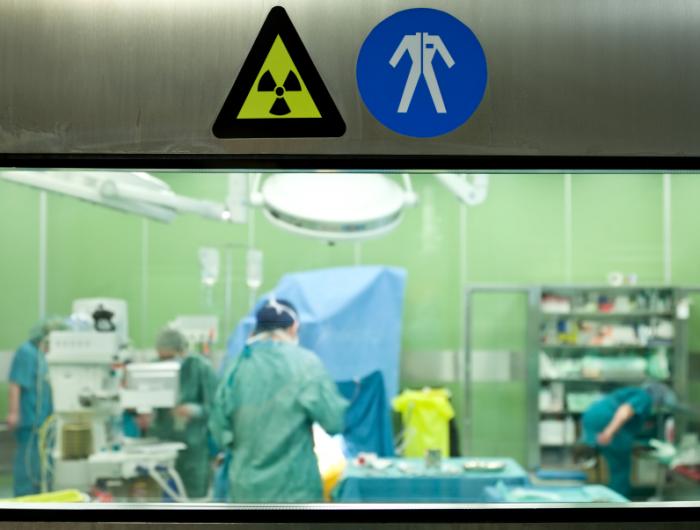 Radiation used in medicine is dangerous only when precautions are not taken - if health workers do not shield themselves from repeated exposure, for example.
Radiation therapy and chemotherapy are different cancer treatments. They might be used together, or a doctor may select one or the other depending on the required treatment.
Chemotherapy involves the infusion of cancer-killing substances into the blood using a drip or prescribed medications. Radiation therapy, on the other hand, targets a specific area or tumor.
Before radiation therapy, chemotherapy can help to reduce the size of a tumor, making the targeted radiation therapy treatment more effective.
When it is applied after radiation therapy, it can help to prevent the return of tumors that have been removed. Chemotherapy achieves this by killing cancer cells that have split from the original tumor.
When an oncologist, or cancer specialist, prescribes both radiation therapy and chemotherapy at the same time, it is known as chemoradiation. This can increase the impact of radiation therapy on cancer. However, the side effects can be severe when receiving chemoradiation.
Unlike chemotherapy, radiation is not effective against cancers that have spread to other parts of the body. However, it is more powerful and can have a greater effect when shrinking tumors.
Types
There are two forms of radiation therapy:
external beam radiation therapy, in which the beam of radiation is focused onto the treatment area by an external machine
internal radiation therapy, such as brachytherapy, in which a radioactive substance is placed in or close to the cancerous tissue in a temporary or permanent implant
Different forms of external beam radiation therapy have specific effects that best suit the particular tumor. High-energy X-rays, for example, can reach deeper cancers. Advances are continually being achieved in the way that external beams "narrow in" on their target for best effect and the lowest level of risk.
External beam radiation therapy is the more commonly used form of radiation therapy. Internal radiation therapy may be used when trying to limit radiation exposure to undamaged tissue around the cancer.
Procedure
Ahead of treatment, an oncologist will decide on the dose and type of radiation. It will normally take place over the course of several sessions that are spread over a few weeks. Many people have five treatments per week. However, this can change depending on the stage and type of cancer.
A person will also undergo a CT scan before treatment to pinpoint the exact location and size of the cancer. A permanent but small ink mark will be made on the skin following the scan to ensure that the radiation is targeted accurately.
The different types of radiation therapy are administered in different ways.
In external radiation therapy, a machine called a linear accelerator is used to emit X-rays within a specific energy range. Other machines are also available that use other forms of energy, including electrons, protons, gamma rays, or a combination of these.
The person receiving treatment lies on a table, and a technician based outside of the room operates the machine remotely. An intercom will be installed so that the patient and technician can communicate.
The technician will monitor the individual receiving radiation therapy through a camera.
The procedure is usually very short and painless, and a person can return home shortly after the end of the session.
There are variations on the procedure, such as image-guided radiation therapy (IGRT) in which scans are performed between sessions to maintain accuracy in the treatment, or stereotactic surgery (SRS), which uses several tiny beams to enhance the strength of the dose.
Internal radiation therapy involves an implant of metal tubes, wires, or seeds that can be placed inside the body without surgery. In some cases, surgery may be needed to locate the implant nearer to the cancer.
The implant will remain in the body for any length of time, ranging from a few minutes to the rest of a person's life. It is likely that the person with implants will need to remain in hospital, as the implants pose a radiation risk to other people. Permanent implants release far smaller doses of radiation and are considered safe for people around the individual receiving treatment.
Uses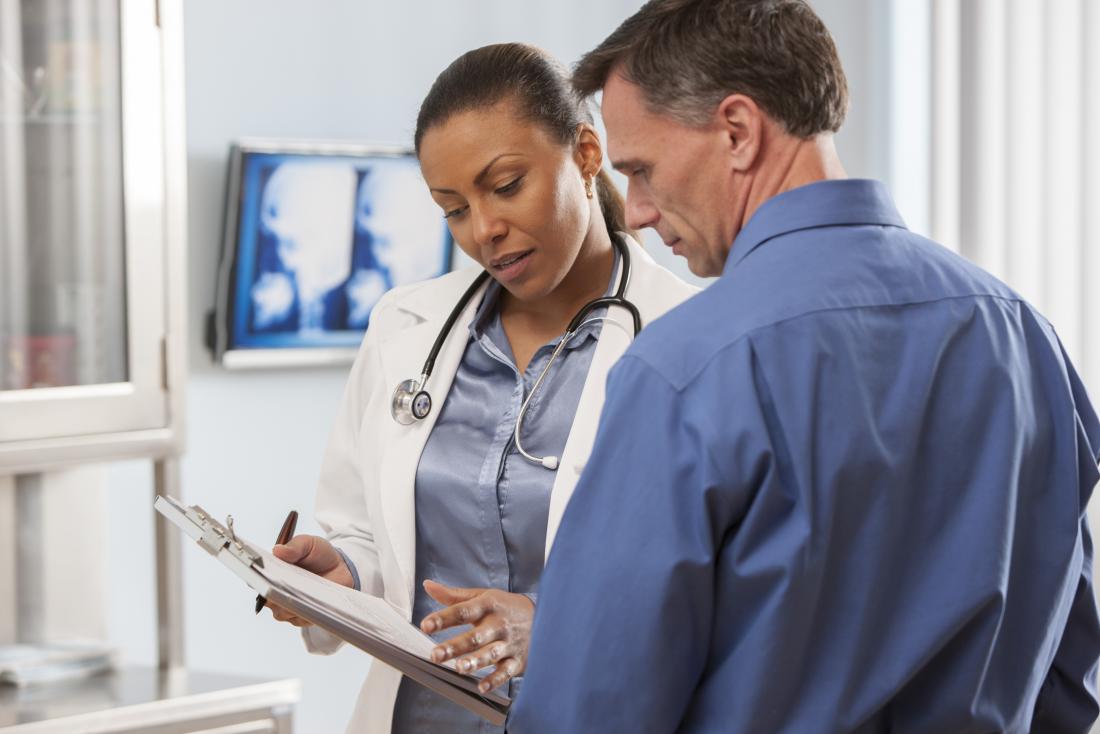 Radiation therapy will be recommended by a doctor to target well-defined and contained cancers.
Well-defined cancers that are confined to a specific area can be suitable for radiation therapy. This allows the radiation to target the whole area of cancerous tissue.
In contrast, some forms of cancer, such as leukemia or lymphoma, can be treated with total body irradiation.
For cancer, radiation therapy may be deployed in the following ways:
Alone: Radiation therapy may be used on its own to treat prostate cancer or a tumor of the larynx.
Alongside surgical treatment: Radiation therapy may be carried out before or during cancer surgery to shrink the tumor, or after surgery to reduce the risk that all cancer cells have not been removed.
With chemotherapy: This is a combination treatment that can reduce the need for surgery.
Sarcomas or tumors of the breast, esophagus, lung, or rectum may be treated with all three uses.
Palliative radiation therapy
In addition to the main role of radiation therapy in helping to stop or cure a cancer, it can also be used to treat symptoms in cancers that have spread too widely or advanced so far that they cannot be fully cured.
This is known as palliative radiation therapy, which can help to reduce tumor size and the pain caused by tumors.
Quality of life may also be improved by radiation therapy for someone who has developed, for example, a bone cancer secondary to another form of cancer that has spread from its original site, such as bowel, breast, or prostate cancer.
While the cancer will not be cured by the radiation treatment, it can help to stop the formation of further painful bone cancers and reduce pain by strengthening weakened bone.
Radiation therapy is not always suitable for palliative use, and when it is used, it is often accompanied by other forms of cancer treatment and palliative care.
Other examples of palliative radiation therapy include the following:
relieving pressure or blockage by reducing tumor size
treating symptoms of brain cancer, such as headaches, nausea, and dizziness
reducing symptoms of lung cancer, such as chest pain and breathlessness
controlling ulcerating tumors, bleeding, and infections
shrinking a specific obstruction caused by a tumor, known as a superior vena cava obstruction (SVCO), in which head and neck tumors cause a blockage, affecting the return of blood to the heart
Preparation
Doses are measured in terms of the amount of energy absorbed per kilogram of body mass exposed to radiation. For example, 1 joule of energy deposited in 1 kilogram of mass amounts to 1 international unit of energy absorbed, or 1 gray (Gy).
Doctors giving radiation therapy keep a record of the amount of radiation being administered.
Both individual and cumulative doses affect the risk of long-term side effects, and different cancers and areas of the body respond in different ways.
Health professionals delivering radiation or working in the vicinity of treatment are required to take protective steps to keep their own exposure to a minimum and measure how much they receive.
As with any medical treatment, a person will decide to go ahead with the care team's recommendation for radiation therapy after determining that the potential benefits outweigh the potential risks.
Radiation treatment planning is designed to maximize benefits and keep potential risks to a minimum. This involves working out an exact site, an angle of radiation, and an optimal dose.
Radiation planning can be a detailed process involving a number of healthcare workers, including oncologists and specialist radiologists, nurses, radiographers, and other technicians.
Just as side effects depend on the individual's circumstances, so too do the type of radiation therapy and the planning required.
The planning will:
consider the type, position and size of the cancer, and whether the tumor is close to radiation-sensitive tissues or organs
take into account the required depth needed to reach the target, and consider the person's general health and medical history
occasionally involve the use of contrast mediums or other markers that help to define tumors, inks, tattoos, molds, or masks that help to pinpoint the radiation target
Modern radiation planning is usually computer-assisted and sophisticated enough to produce 3D images of tumors.
Recommended related news
---