A baby who received antiretroviral therapy within 30 hours of birth has been cured, researchers from Johns Hopkins Children's Center, the University of Mississippi Medical Center and the University of Massachusetts Medical School reported at the 20th Conference on Retroviruses and Opportunistic Infections (CROI) in Atlanta, Georgia, USA. Treating an HIV+ infant (or one with suspected HIV infection) in such a way so soon after birth is not common.
A
functional cure
means there is a lack of detectable viral replication in the absence of ongoing retroviral therapy. The patient, now 2½ years old, has not been on any
HIV
medications and has no sign of functioning virus.
This is the first case of a "functional cure" in an HIV-positive infant
, the researchers announced. They say their finding could help pave the way towards the elimination of HIV infection in children.
Lead author, Deborah Persaud, M.D., a virologist at Johns Hopkins Children's Center, and Katherine Luzuriaga, M.D., an immunologist at the University of Massachusetts Medical School, headed a team of laboratory scientists. Hannah Gay, M.D., a pediatric HIV specialist at the University of Mississippi Medical Center administered the treatment to the infant.
Prompt administration of ART probably led to the baby's cure
After receiving aggressive antiretroviral therapy (ART) within thirty hours of being born, the infant underwent remission of HIV infection. The team believe that the prompt administration of ART probably led to the baby's cure by stopping the formation of difficult-to-treat viral reservoirs - dormant cells which are responsible for reigniting the infection in the majority of HIV patients soon after they stop therapy.
Dr. Persaud said:
"Prompt antiviral therapy in newborns that begins within days of exposure may help infants clear the virus and achieve long-term remission without lifelong treatment by preventing such viral hideouts from forming in the first place."
The authors believe this is exactly what happened to the infant they described in their report.
The infant, who is now "functionally cured" - has achieved and maintained long-term viral remission without lifelong treatment and standard clinical tests found no evidence of HIV replication in the blood.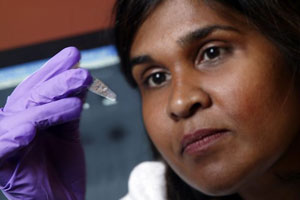 Dr. Deborah Persaud, a virologist at the Johns Hopkins' Children's Center, administered the treatment.
Image from: Johns Hopkins Medicine.
What is the difference between a functional cure and a sterilizing cure?
A sterilizing cure occurs when all viral traces are completely eradicated from the body. A functional cure means that the viral presence is so minimal that it cannot be detected by standard clinical tests, but may be discernible by ultrasensitive methods.
The infant patient was born to a mother who was HIV-positive. Combination antiretroviral treatment was administered 30 hours after birth. A series of staggered tests showed that the viral presence in the infant's blood diminished; by the time the baby was 29 days old HIV was undetectable. Antivirals were administered until the baby was 18 months old, "at which point the baby was lost to follow-up for a while" - effectively, treatment stopped.
Ten months after treatment had been discontinued, the patient underwent a series of blood tests. Dr. Gay had expected so see high viral loads in the baby.
However, according to all the tests, the child was HIV free
. Dr. Gay suspected there may have been an error in the laboratory and ordered further tests - they all came back negative.
Standard practice for high-risk newborns involves administering a combination of antivirals at prophylactic doses to prevent infection for six weeks. Therapeutic doses are then started if HIV infection is diagnosed.
In the case of this infant, aggressive antiretroviral treatment started much earlier. The investigators say that current practice may change after very early ART was shown to raise the likelihood of a "functional cure".
The researchers explained that "natural viral suppression without treatment is an exceedingly rare phenomenon observed in less than half a percent of HIV-infected adults, known as 'elite controllers', whose immune systems are able to rein in viral replication and keep the virus at clinically undetectable levels."
Scientists have been trying to find a way of helping all patients with HIV achieve elite-controller status. Prompt ART administered to newborns may provide just that, the researchers explained.
There is not enough data to recommend a change to current practice when treating high-risk infants, the researchers emphasized. However,
this latest infant's case provides compelling evidence to start proof-of-principle studies in all high-risk newborns
.
Dr. Persaud said "Our next step is to find out if this is a highly unusual response to very early antiretroviral therapy or something we can actually replicate in other high-risk newborns."
So far, just one case of a sterilizing cure has been reported, the investigators pointed out.
This occurred with Timothy Brown, a middle-aged man who was HIV-positive and also had leukemia
- he was treated with a
bone marrow
transplant. The donor's bone marrow cells had a rare genetic mutation of white blood cells that can make some people resistant to HIV. This benefit was transferred to Mr. Brown. It is not possible to successfully provide such treatment to the 33 million people globally who are currently estimated to be HIV-positive.
Dr. Luzuriaga said:
"Complete viral eradication on a large scale is our long-term goal but, for now, remains out of reach, and our best chance may come from aggressive, timely and precisely targeted use of antiviral therapies in high-risk newborns as a way to achieve functional cure."
The
New York Times
mentioned that some experts who were not involved in the study said they were not completely convinced that the infant had really been infected with HIV. If there was no infection, this would simply be a case of prevention, which has already been achieved in babies born to HIV-positive mothers.
Dr. Persaud and team are certain the baby had been infected. During the child's first month of life there were five positive tests, four for viral RNA and one for DNA. As soon as the treatment commenced, viral blood levels dropped in the pattern typical of infected patients.
The primary goal for babies, the researchers stressed, continues to be the prevention of mother-to-child transmission of HIV
"despite the promise this approach holds for infected newborns."
Dr. Gay said "Prevention really is the best cure, and we already have proven strategies that can prevent 98 percent of newborn infections by identifying and treating HIV-positive pregnant women."
The study was funded by the NIH (National Institutes of Health) and amfAR (the Foundation for
AIDS
Research).
Written by Christian Nordqvist