Nanoparticles containing bee venom toxin melittin can destroy human immunodeficiency virus (HIV) while at the same time leaving surrounding cells unharmed, scientists from Washington University School of Medicine reported in the March 2013 issue of Antiviral Therapy.
The researchers said that their finding is a major step toward creating a vaginal gel that can prevent
HIV
spread. HIV is the virus that causes
AIDS
.
Joshua L. Hood, MD, PhD, a research instructor in medicine, said:
"Our hope is that in places where HIV is running rampant, people could use this gel as a preventive measure to stop the initial infection."
Melittin destroys some viruses and malignant tumor cells
Melittin is a powerful toxin found in bee venom. It can poke holes in the protective viral envelope that surrounds the human immunodeficiency virus, as well as other viruses. Free melittin in large-enough quantities can cause considerable damage.
Senior author, Samuel A. Wickline, MD, the J. Russell Hornsby Professor of Biomedical Sciences, has demonstrated that nanoparticles loaded with melittin have anti-cancer properties and have the capacity to kill
tumor
cells. Linking bee venom with anticancer therapies is not new, in 2004 Croatian scientists reported in the
Journal of the Science of Food and Agriculture
that
honey-bee products, including venom, could well have applications in cancer treatment and prevention
.
Normal cells remain intact
- the scientists showed that nanoparticles loaded with melittin do not harm normal, healthy cells. Protective bumpers were added to the nanoparticles surface, so that when they come into contact with normal cells (which tend to be much larger), the nanoparticles bounce off rather than attach themselves.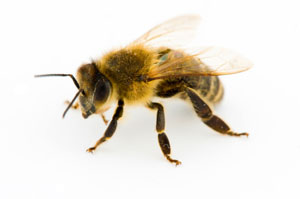 Scientists have discovered a powerful toxin in bee venom that could end up playing a crucial role in preventing the spread of HIV.
HIV is much smaller than the nanoparticles and fits in between the bumpers. When HIV comes across a nanoparticle it goes in between the bumpers and comes into direct contact with its surface, which is coated with the bee toxin, which destroys it.
Hood explained "Melittin on the nanoparticles fuses with the viral envelope. The melittin forms little pore-like attack complexes and ruptures the envelope, stripping it off the virus."
While most anti-HIV medications work on inhibiting the virus' ability to replicate, this one attacks a vital part of its structure. The problem with attacking a pathogen's ability to replicate is that it does not stop it from starting an infection. Some HIV strains have found ways to circumvent replication-inhibiting drugs, and reproduce regardless.
Hood said:
"We are attacking an inherent physical property of HIV. Theoretically, there isn't any way for the virus to adapt to that. The virus has to have a protective coat, a double-layered membrane that covers the virus."
Melittin nanoparticles may prevent and treat existing HIV infections
Hood believes that the melittin-loaded nanoparticles have the potential for two types of therapies:
A vaginal gel to prevent the spread of HIV infection
Therapy for existing HIV infections, particularly drug-resistant ones
In theory, if the nanoparticles were injected into the patient's bloodstream, they should be able to clear the blood of HIV.
Hood said "The basic particle that we are using in these experiments was developed many years ago as an artificial blood product. It didn't work very well for delivering oxygen, but it circulates safely in the body and gives us a nice platform that we can adapt to fight different kinds of infections."
Melittin attacks double-layered membranes indiscriminately, making it a potential for drug therapies beyond HIV infections.
The hepatitis B and C viruses, among several others, rely on the same type of protective envelope and could be targeted and destroyed by administering melittin-loaded nanoparticles
.
The gel also has the potential to target sperm, the researchers explained, making it a possible contraceptive medication. The study, however, did not look at
contraception
.
Hood said "We also are looking at this for couples where only one of the partners has HIV, and they want to have a baby. These particles by themselves are actually very safe for sperm, for the same reason they are safe for vaginal cells."
This study was carried out in cells in a laboratory environment. However, the nanoparticles are easy to produce - enough of them could easily be supplied for future human studies.
Recent research on HIV
Over the last few years, scientists have made strides in improving HIV/AIDS treatments and prevention strategies.
Baby "functionally cured" of HIV infection
- researchers from Johns Hopkins Children's Center, the University of Mississippi Medical Center and the University of Massachusetts Medical School reported that
a baby who was administered antiretroviral therapy thirty hours after being born was "functionally cured"
. A functional cure means that there is no detectable viral replication after retroviral therapy has stopped.
Ramping up HIV antiretroviral treatments worth the extra cost
- investigators from Harvard University, USA, reported that
scaling up HIV antiretroviral treatment in a remote province of South Africa (KwaZulu-Natal) reduced the risk of transmitting HIV to sexual partners by 96%
.
Written by Christian Nordqvist