Scientifically speaking, 'feeling blue' could have some literal meaning now that researchers have found that our moods could be affected by the color of nighttime light we are exposed to. And if your nightlight is blue, you may want to switch it to red.
The study published in The Journal of Neuroscience comes from Ohio State University, and it had researchers giving different colors of light for hamsters to live under. The scientists wanted to determine the effects that certain hues would have on state of mind in mammals, giving clues to the effects in us.
The results were that:
Blue light elicited the worst response against mood-related measures
White light had similar effects but less severe
Red light produced decidedly fewer signs of depression.
The researchers note that total darkness was the only light scenario that produced better mood measures in the hamsters than red light.
Hamsters on the night shift
To conduct their study, the researchers exposed the hamsters to 4 weeks each of four different lighting conditions: no light, dim red light, dim white light (like that of normal light bulbs), dim blue light. During this time, the scientists collected information that is used to check for "depressive-like symptoms," such as sugar-water consumption.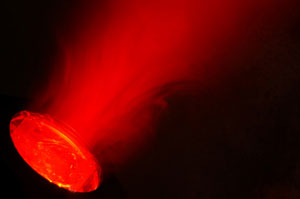 Researchers found that red light produced fewer signs of depression than blue light
If the hamsters drank an amount of sugar water that was considered lower than normal, this was evidence of a mood shift. The hamsters kept in the dark drank the most, while those in white or blue light drank the least.
Additionally, the researchers analyzed the hippocampus area of the hamsters' brains in order to study the density of their dendritic spines - hairlike bits on brain cells that send chemical messages from cell to cell.
Prof. Randy Nelson, co-author of the study, notes that depression has been linked to dendritic spines with a lowered density.
The hamsters who were exposed to blue or white light had dendritic spines that were much less dense than those of the hamsters who stayed in complete darkness or were exposed to red light.
Prof. Nelson says:
"In nearly every measure we had, hamsters exposed to blue light were the worst off, followed by those exposed to white light. While total darkness was best, red light was not nearly as bad as the other wavelengths we studied."
Humans on the night shift
The researchers believe their findings are significant for humans, especially those exposed to artificial light at night, such as night-shift workers.
Special photosensitive cells in the retina, called ipRGCs, which are not a major component of vision but can detect light and send messages to the brain, play a role in regulating the body's circadian rhythms, say the researchers. They point to other studies that suggest these light-sensitive cells also send messages that can affect mood and emotions.
Tracy Bedrosian, co-author of the study, says:
"Light at night may result in parts of the brain regulating mood-receiving signals during times of the day when they shouldn't. This may be why light at night seems to be linked to depression in some people."
The researchers add that different colors are simply lights with varying wavelengths, and that ipRGCs are more sensitive to blue wavelengths and less sensitive to red ones. This may be a contributing factor for why the hamsters were affected by the varying colors.
Prof. Nelson adds that the findings "suggest that if we could use red light when appropriate for night-shift workers, it may not have some of the negative effects on their health that white light does."
Along with shift workers, the researchers conclude that other people could benefit from limiting their light at night.
A recent study showed that artificial light at night affects our biological rhythms.
Tracy Bedrosian concludes: "If you need a night light in the bathroom or bedroom, it may be better to have one that gives off red light rather than white light."