Estimates show that 19.5% of surviving US troops deployed in the Iraq and Afghanistan conflicts have sustained blast traumatic brain injuries (bTBIs) since 2001. And now, new research shows that these injuries can cause pituitary hormone problems.
A Medical Research Council (MRC) study, published in the journal Annals of Neurology, revealed that soldiers who have pituitary gland problems as a result of Improvised Explosive Devices (IEDs) may experience psychological and metabolic symptoms, which get in the way of their recovery.
Researchers, led by Dr. Tony Goldstone, say identifying these soldiers will help to get them appropriate hormone replacement therapy.
To arrive at their results, the team looked at 19 soldiers in the UK with moderate or severe brain injuries that were caused by IED blasts while on duty in Afghanistan. These soldiers were compared with a group of 39 people with moderate or severe brain injuries caused by traffic accidents, falls or assaults.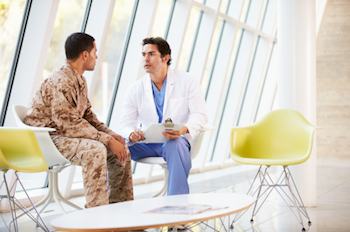 Researchers found that more soldiers with blast injuries had pituitary hormone problems than individuals with non-blast injuries.
Results showed that 32% of the soldiers with blast injuries had pituitary hormone problems, compared with only 2.6% of the individuals in the non-blast control group.
The soldiers then underwent structural brain magnetic resonance imaging (MRI), including diffusion tensor imaging (DTI), as well as a cognitive assessment.
Soldiers with the pituitary problems had worse damage to white matter connections in the brain, as well as more severe cognitive problems, compared with the soldiers who did not have hormone problems.
Dr. Goldstone says:

"This study involved a relatively small number of soldiers, and so assessment of additional patients will be needed to confirm such a prevalence rate. However, the results do emphasize the importance of actively screening for pituitary problems in all soldiers and others who have had moderate to severe brain injury from exposure to blast."
Effects of pituitary gland problems
Sitting at the base of the brain, the pituitary gland secretes hormones that regulate other hormone secretions throughout the body.
The researchers note that a lack of growth hormone in adults can produce a multitude of symptoms, including fatigue, a depressed mood, low emotional or social well-being, increased body fat, reduced muscle and thinning bones.
Problems associated with these symptoms can be reversed, the researchers note, with growth hormone replacement.
From the study, one in five of the soldiers received hormone treatment with growth hormone, testosterone or hydrocortisone, the researchers note.
Dr. Goldstone says that by screening soldiers for pituitary problems, "this will enable identification of those who may benefit from hormonal treatments to aid their rehabilitation, recovery and quality of life."
Routine pituitary testing needed
In the introduction to their study, the researchers note that since 2001, more than 400 UK and 2,000 US soldiers have been killed by blast injuries in Afghanistan.
However, they note that there have also been "rapid advances in personal protective equipment and in the medical management of severe trauma," which means that more soldiers are surviving injuries that were previously fatal.
Because most soldiers are so young, the team says that the long-term impact of problems resulting from the blast injuries pose a substantial health burden.
They conclude their study by writing:
"Given that there were no completely diagnostic predictors of pituitary dysfunction in bTBI, we recommend that in clinical practice all soldiers with moderate to severe bTBI undergo routine and comprehensive pituitary function testing during rehabilitation."
In an exclusive interview, Dr. Goldstone told Medical News Today that as part of medical care at the TBI clinic at St. Mary's Hospital, Imperial College Healthcare NHS Trust, they now routinely screen soldiers with these types of injuries for pituitary problems, in collaboration with the Defence Medical Rehabilitation Centre at Headley Court.
He and his team are accumulating data on a larger number of solders as a result of these routine assessments.