New research suggests that infants born to mothers who have been through stressful life events may experience changes at birth that impact their emotional behavior well into adulthood. This is according to a study published in the journal Biological Psychiatry.
Researchers from the University of Haifa in Israel say that previous research conducted in both humans and animals has shown that females who are exposed to stress even before they conceive can have have an impact on offspring.
Late last year, Medical News Today reported on a study suggesting that children born to stressed mothers have a higher chance of being bullied.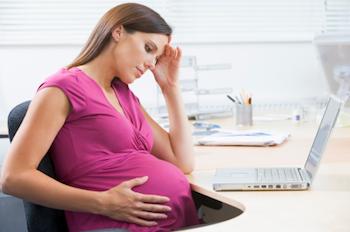 A study suggests that infants born to mothers who have been through stressful life events show increased CRF1 expression at birth - a gene linked to anxiety and stress.
But the researchers wanted to determine the mechanisms as to why a parent's stress appears to have such an impact on subsequent generations.
They focused their attention on a gene called CRF1 (corticotropin releasing factor type 1).
CRF1 is a well-known and well-studied component involved in stress response. When a person experiences stress, CRF1 prompts cells to release hormones that are linked to anxiety and stress.
The researchers analyzed a group of adolescent female rats, and some underwent a chronic stress procedure prior to mating.
Increased CRF1 expression found at birth
On monitoring the levels of CRF1 expression in the stressed female rats, the researchers found expression increased in the frontal cortex of the brain - a region associated with emotional regulation and decision making.
Furthermore, there was a significant increase in CRF1 expression in the rats' egg cells.
When monitoring the offspring of the stressed female rats, they showed increased CRF1 expression at birth.
The researchers also found there were behavioral differences between the offspring of stressed female rats and the offspring of female rats that were not stressed.
In adult daughters of stressed females, CRF1 expression was increased only if the offspring experienced stress themselves. The researchers note that this indicates CRF1 expression in adults is dependent on the mother's experience of stress in conjunction with the offspring's sex and own stress experiences.
Generation-to-generation transfer through the germline
Explaining the findings, Dr. Inna Gaisler-Salomon, of the Department of Psychology at the University of Haifa, says:
"It seems that CRF1 is a marker molecule that tracks the stress experience across generations, perhaps via the germline, and maternal care is minimally involved in this particular effect."
She adds that these findings are of importance:
"Traditionally, it was believed that only genetic information is transferred from generation to generation via eggs and sperm cells.

This study contributes to the notion that soft-wired information that is not written into the genetic code can also be transferred from one generation to the next via the germline."
The researchers note that since many psychiatric illnesses are associated with stress, such as post-traumatic stress disorder and schizophrenia, a clearer understanding of mechanisms relating to this may lead to improved treatments and diagnostics.
Medical News Today recently reported on a study revealing that dealing with stress during middle age is linked to risk of dementia later in life.