In a new study published in the journal Cell Metabolism, researchers from the Karolinska Institutet in Sweden have identified a gene that they believe is responsible for the development of unhealthy human body fat. The team says the gene could be a risk factor for insulin resistance and type 2 diabetes.
Adipose tissue, commonly known as body fat, is loose connective tissue mainly consisting of fat cells called adipocytes. These fat cells are important for storing and releasing energy in the body.
Humans have two types of body fat; white fat (white adipose tissue) and brown fat (brown adipose tissue). In recent years, brown fat has been deemed the "good" fat. Its main function is to generate body heat. Scientists have found that people of a healthy weight are more likely to have brown fat and, when stimulated through exercise, it can burn calories.
White fat, on the other hand, is believed to be "bad" fat. Those who are overweight or obese tend to accumulate excessive amounts of white fat.
According to the research team, an increase in the size or number of fat cells can lead to an overproduction of white adipose tissue. They note that past research has associated a low number of large fat cells - known as hypertrophy - with development of type 2 diabetes.
In this latest study, the researchers found that a gene called EBF1 may be closely linked to hypertrophy.
Low EBF1 expression 'promotes hypertrophy and insulin resistance'
To reach their findings, the team collected adipose tissue samples from participants who had either small or large fat cells.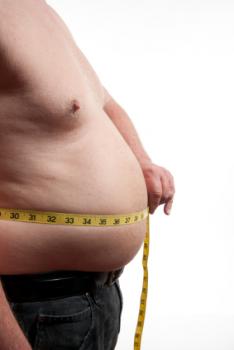 Researchers say the EBF1 gene may be responsible for the development of white adipose tissue - or "bad fat - in humans.
They found that subjects with large fat cells had much lower EBF1 expression in their adipose tissue, compared with those who had small fat cells. They also had altered lipid movement in their blood and insulin resistance.
Insulin resistance is the inability of the body's cells to effectively respond to the hormone insulin when blood glucose levels increase, usually after a meal. The team explains that insulin resistance is an important risk factor for diabetes in people who have hypertrophy. Those with insulin resistance tend to have higher circulating glucose and lipid levels in the blood.
To investigate their findings further, the researchers analyzed mice that had been genetically modified to produce lower levels of the EBF1 gene.
The mice developed hypertrophy in their adipose tissue and showed higher lipid movement from fat cells. When the mice were fed a high-fat diet, they also developed insulin resistance.
The researchers found that the EBF1 gene acts a "transcription factor." It binds to a protein that controls other genes and regulates fat cell formation and metabolic function.
Study co-leader Prof. Peter Arner says the team's findings may open the doors to new treatments for type 2 diabetes:
"Our findings represent an important step forward in the understanding of how adipose tissue links to the development of metabolic disease.

This is the first time someone has identified a gene that may cause malfunctioning adipose tissue in man. In the future, it might be possible to develop drugs that improve EBF1 function in adipose tissue, which could be used to treat type 2 diabetes."
Medical News Today recently reported on a study published in JAMA Internal Medicine, which suggests that physical activity may reduce the risk of gestational diabetes progressing to type 2 diabetes.
Another study, led by researchers at the Harvard School of Public Health in Boston, MA, found that increasing coffee consumption may reduce the risk of type 2 diabetes.