This year, approximately 18,860 cases of acute myeloid leukemia will be diagnosed, and there will be around 10,460 deaths from the disease. Now, researchers from Cincinnati Children's Hospital Medical Center, OH, say they have uncovered a genetic network that drives an aggressive form of the condition and its precursor disease - myelodysplastic syndrome - paving the way for new treatment strategies.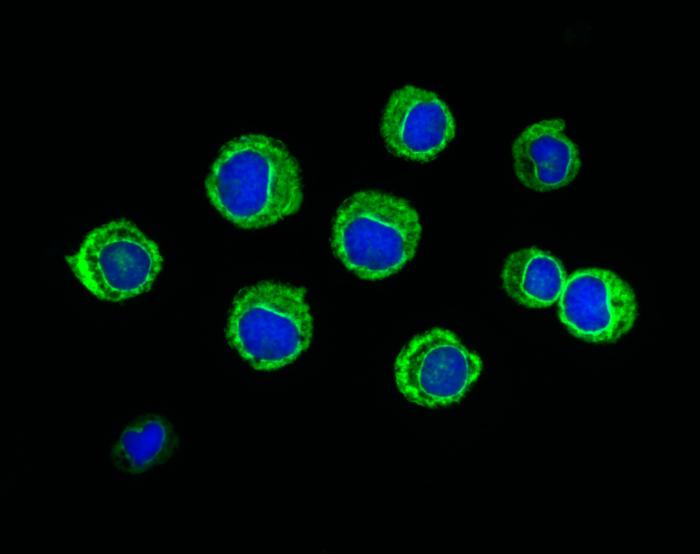 Approximately 1 in 3 people with MDS go on to have acute myeloid leukemia - a form of cancer in which the bone marrow makes abnormal blood cells or platelets.
The research team, led by Daniel Starczynowski, PhD, of the division of Experimental Hematology and Cancer Biology at the Cancer and Blood Diseases Institute at Cincinnati Children's Hospital Medical Center, recently published their findings in the journal Cell Reports.
Myelodysplastic syndrome (MDS) occurs when cells in the bone marrow that form blood are damaged, causing a low number of platelets and red and white blood cells. Approximately 1 in 3 people with MDS go on to have acute myeloid leukemia (AML) - a form of cancer in which the bone marrow makes abnormal blood cells or platelets.
In this latest study, the researchers say they have pinpointed a driver of a near untreatable form of MDS and AML, called deletion 5q (del 5q). This occurs when chromosome 5 is missing or deleted.
According to Starczynowski, a lot of del 5q AML and MDS patients have high numbers of bone marrow blasts - immature blood cells - as well as other chromosome mutations.
"These patients have very poor prognosis because the disease is very resistant to available treatments, such as chemotherapy and radiation," says Starczynowski. "Finding new therapies is important and this study identifies new therapeutic possibilities."
Targeting p62 protein in NF-kB network 'halted leukemic cell growth in mouse models'
To reach their findings, the team investigated mouse models of del 5q AML/MDS and human cell lines of the diseases.
They discovered that reducing expression of miR-146a - a gene found in blood cells - led to overexpression of a protein called p62 and stable activation of a molecular signaling network it forms a part of, identified as NF-kB.
Fast facts about AML
AML is more common among older people, with the average age of onset being 66 years old
AML is slightly more common among women than men
The exact cause of AML is unknown, but some studies have indicated smoking, exposure to certain chemicals and radiation exposure are risk factors for the disease.
The p62 protein is responsible for regulating cell metabolism and is involved in cellular remodeling and development of some cancers, while the NF-kB network is known to play a role in leukemia development.
The overexpression of p62 and activation of NF-kB appeared to fuel the aggressive growth and survival of leukemic cells in both the del 5q AML/MDS mouse models and human cell lines, the researchers say.
Scientists have tried to block NF-kB activity in the past in an attempt to halt development of leukemic cells, but to no avail.
In this study, Starczynowski and colleagues tried knocking out the p62 protein in the mouse models and human cell lines. They found that this stopped leukemic cell growth in the mouse models and reduced the number of leukemic cell colonies in the human cell lines by 80%.
Although these findings pave the way for potential new treatment strategies for MDS and AML, Starczynowski warns that the results found in the mouse models may not necessarily be seen in humans.
He notes that further research is warranted to confirm these findings and better determine the underlying mechanisms.
Earlier this year, Medical News Today reported on a study published in the journal Science Signaling, which claimed it is a gene called microRNA-3151 inside a larger gene, BAALC, that drives AML.