Rather than initial screening with electrocardiograms, a 14-point screening checklist including questions about an individual's personal and family history should be used when evaluating patients aged 12-25 for heart disease.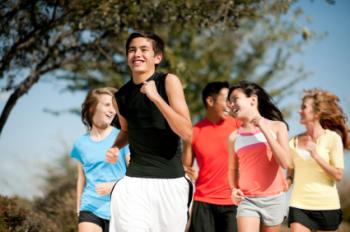 Young people who do not take part in sporting activities have the same risk of sudden cardiac death as young athletes, according to the AHA and ACC.
This is the latest screening recommendation for congenital and genetic heart disease, announced in a joint statement from the American Heart Association (AHA) and the American College of Cardiology (ACC).
The writing panel are concerned that media coverage of sudden cardiac death in athletes may be creating the impression that these events are limited solely to athletes.
They state there is no evidence that sudden cardiac arrests are more common in athletes than the general population of people aged 12-25.
"Those who do not sign up for sports are just as likely to have the genetic heart diseases that raise the risk for sudden death, says Dr. Barry J. Maron, chair of the writing panel and director of the Hypertrophic Cardiomyopathy Center at the Minneapolis Heart Institute Foundation.
As a result of these concerns, the writing panel advise that a 14-point screening checklist should be used by health care providers as the first step for investigations into whether a young person may have an underlying heart condition or not.
ECG limitations
In some countries, arguments have been made calling for all athletes to be screened with an electrocardiogram (ECG), following the event of seemingly healthy young people dying from sudden cardiac arrest while participating in sporting activities.
The experts state that the utilization of twelve-lead ECGs as a way of screening for congenital and genetic heart disease has not been found to save lives and has several limitations, especially when being used with patients aged 12-25.
The AHA and ACC explain that it is difficult to define an abnormal ECG in growing adolescents as a result of changes to the heart during normal growth patterns. The ECG can also provide false negative and false positive results, in turn leading to either unnecessary further testing or missing something important.
Additionally, the writers argue that adopting a mandatory mass ECG screening program would require a great deal of funding in order to implement. They state that the estimated costs of such a program would be around $2 billion a year to begin with, and the development of an infrastructure to enact it would require further resources.
ECGs record the electrical activity of the heart and can be used to detect abnormalities in the heart that can lead to sudden cardiac arrest. The writing panel suggests that these and other diagnostic testing methods should be used after a health care provider has identified a young person as being at a higher risk of heart abnormalities using the 14-point checklist.
Supporting research
The following list is a selection of the elements from the 14-point checklist recommended by the AHA and ACC, to be utilized during the initial screening of people aged 12-25:
Chest pain related to exertion
Unexplained fainting (syncope)
Excessive exertional and unexplained fatigue or palpitations associated with exercise
Elevated systemic blood pressure
Prior testing for the heart, requested by a health care provider
Prior restriction from participating in sports
Family history of premature death before the age of 50 attributable to heart disease
Specific knowledge of certain cardiac conditions in family members
Heart murmur on physical examination
Physical signs of Marfan syndrome on examination.
Previous research supports the AHA and ACC's position on the prevalence of sudden cardiac death in young athletes. In 2012, Medical News Today reported on one study that suggested sudden cardiac death is less likely if an individual is exercising, and another that found that marathon running is not linked to a higher risk of cardiac arrest.
The statement, published in both the AHA's journal Circulation and the Journal of the American College of Cardiology, also notes that wider provision of automatic external defibrillators (AEDs) in public spaces such as schools and sports centers can be an effective measure in saving young lives from cardiac arrest.
In concurrence with this, earlier this year, a study from the UK reported that making AEDs "as common as fire extinguishers" could save lives.