This year, the world has seen the largest outbreak of Ebola in history. So far, the virus has infected 8,917 people and killed 4,447. The majority of these cases have been in West Africa. But at the end of last month, the first case of Ebola was diagnosed in the US. With two more cases diagnosed since, there is now widespread panic across the country. But should we be concerned about an Ebola outbreak in the US or is it under control?
The first cases of Ebola, previously known as Ebola hemorrhagic fever, were reported in 1976 through two simultaneous outbreaks. One outbreak occurred in Nzara, Sudan, while the other occurred in Yambuku, Democratic Republic of Congo.
Ebola is a severe illness caused by five viruses that are a part of the Filoviridae family, genus Ebolavirus. Four of these viruses are known to infect humans: Zaire ebolavirus, Sudan ebolavirus, Taï Forest ebolavirus (formerly Côte d'Ivoire ebolavirus) and Bundibugyo ebolavirus. The current outbreak is caused by the Zaire ebolavirus.
Symptoms of Ebola include a fever (greater that 38.6 degrees celsius), severe headache, muscle pain, diarrhea, vomiting, weakness, stomach pain and unexplained bleeding or bruising. Symptoms can appear 2-21 days after infection, but most commonly occur after 8-10 days.
The virus is transmitted through direct contact with blood or bodily fluids (such as urine, saliva, sweat and feces) of an infected individual, infected animals or through objects that have been contaminated, such as syringes and needles.
Ebola is not an airborne virus, so it cannot be spread through coughing and sneezing. However, some health care professionals have recently voiced concerns that the virus could mutate to become airborne, although others have stated this is very unlikely.
There is no vaccine or medication that can treat Ebola, although scientists around the world are working hard to address this. Last month, Medical News Today reported on a study by researchers from the National Institutes of Health, revealing that an Ebola vaccine is set for human trials after inducing long-term immunity in monkeys.
At present, however, symptoms of the virus are managed by providing intravenous fluids, balancing electrolytes (body salts), regulating blood pressure and oxygen, and treating other infections if they occur alongside the Ebola virus.
Our Knowledge Center article, "What is Ebola? How is Ebola contracted?," provides further information on the virus.
The current Ebola outbreak is thought to have begun in December last year, after a 2-year-old child died of a hemorrhagic fever in Guéckédou, Guinea. By March this year, the virus had killed 59 people and was confirmed as Ebola. The virus had reached Sierra Leone by May, Liberia by July, and Nigeria and Senegal by August.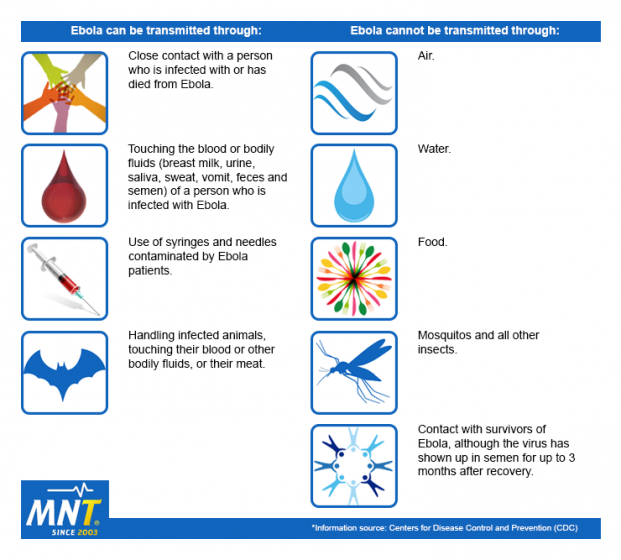 Ebola is not an airborne virus, so it cannot be spread through coughing and sneezing.
In August, the World Health Organization (WHO) declared Ebola as an "international health emergency," after the death toll from the virus reached more than 1,000.
On September 10th, MNT reported on a study published in the journal PLOS Currents: Outbreaks, in which researchers claimed there was a 1 in 5 chance that Ebola would spread to US by the end of the month.
It seems the team's predictions were correct. On September 30th, the Centers for Disease Control and Prevention (CDC) confirmed that the first case of Ebola had been diagnosed in the US.
The patient – named as Thomas Duncan – had flown from Liberia to Dallas, TX, and had presented at the Texas Health Presbyterian Hospital in Dallas with Ebola symptoms 4 days after landing. The patient died on October 8th.
On October 12th, the CDC confirmed that a second patient in the US had tested positive for Ebola – a health care worker at the Texas Health Presbyterian Hospital who had cared for Mr. Duncan, whom the CDC refer to as the "index" patient. The health care worker is believed to be "doing well."
Yesterday, the CDC confirmed that the virus had been found in a second health care worker who had treated the index patient. It was later revealed that this patient had flown on a commercial plane from Cleveland to Dallas the day before presenting with Ebola symptoms.
With three Ebola cases confirmed in the US within the last 3 weeks, and one death from the virus, America has been hit with fears of a widespread outbreak in the country. But is this fear justified?
Following a crisis meeting on Ebola after the virus had been confirmed in the second health care worker, President Barack Obama claimed the risk of Ebola spreading in the US is "extremely low."
This is a claim that has been voiced from the first Ebola diagnosis in the US. "Ebola can be scary. But there's all the difference in the world between the US and parts of Africa where Ebola is spreading," said CDC director Dr. Tom Frieden, adding:
"The United States has a strong health care system and public health professionals who will make sure this case does not threaten our communities. While it is not impossible that there could be additional cases associated with this patient in the coming weeks, I have no doubt that we will contain this."
But not everyone is confident about America's ability to contain the virus. In a statement on September 30th, Dr. Michael C. Burgess – congressman of the 26th District of Texas – said the US faces a "grave situation that requires all hands on deck."
"The scale of this outbreak is unprecedented," he added. "More than 6,000 people are confirmed to be infected [at the time of this statement], and this number is known to be greatly underreported. While our country's infection control capabilities and isolation techniques to contain the virus are strong, the seriousness of this virus and the ease with which it may be contracted makes intense vigilance in the monitoring of local contacts critical."
But are US officials doing enough to contain the virus?
Following the diagnosis of Ebola in the index patient, the CDC sent a team of experts to Dallas to ensure the patient was isolated and received treatment. The team also interviewed the patient to determine his travel history and potential exposures to the virus, and to identify people he had been in contact with.
"We recognize that it is essential that appropriate measures are taken to prevent the virus from spreading," said Dr. Frieden. "CDC is working closely with partners to implement those measures."
But it seems one of the measures the CDC say they implemented has come under fire. In a statement, the CDC claim the experts sent to Dallas would ensure the Texas Health Presbyterian Hospital "uses appropriate infection control measures." How, then, have two health care workers who treated the index patient contracted the virus?
In a press briefing following the Ebola diagnosis of the first health care worker, Dr. Frieden said: "At some point there was a breach in protocol and that breach in protocol resulted in this infection." However, he noted that the health care worker was unable to identify what the breach was.
Dr. Frieden said there is "a need to enhance the training and protocol to make sure the protocols are followed." As such, on October 14th the CDC announced they had sent a second team to Dallas to "support the highest standard of infection control" in the Texas Health Presbyterian Hospital.
The CDC team was sent to monitor the personal protective equipment being used by health care workers, the medical procedures being used that may have led to the health care worker becoming infected, the decontamination processes used, what infection control processes were in use and to identify any training or changes in protocol that may be needed.
Two days later came the confirmation that the second health care worker had tested positive for Ebola.
The CDC themselves, however, openly acknowledge that they could have done more to prevent the first health care worker from becoming infected – such as sending a more specialist team to the hospital in the first place.
In a press conference held on October 14th, Dr. Frieden said:
"We did send some expertise in infection control, but I think we could in retrospect, with 20/20 hindsight, we could have sent a more robust hospital infection-control team and been more hands-on with the hospital from day one about how exactly this should be managed."
On October 8th – the day the index patient died from Ebola – the CDC and the Department of Homeland and Security's Customs & Border Protection (CBP) announced they would be ramping up Ebola screening at five US airports: New York's JFK, Washington-Dulles, Newark, Chicago-O'Hare and Atlanta international airports.
The screening process means that all passengers from Guinea, Liberia and Sierra Leone who arrive at one of these five airports will be taken to a screening area by CBP following passport review.
There, passengers will be assessed for signs of illness, have their temperature taken with a non-contact thermometer by trained staff, and be questioned about their general health and possible Ebola exposure. Passengers will also be provided with health information about Ebola and told how to monitor themselves for symptoms.
Passengers who exhibit any potential Ebola symptoms will undergo evaluation by a CDC quarantine station public health officer, who will make a public health assessment and take further temperature readings. Passengers who require additional evaluation monitoring after this assessment will be referred to a public health authority.
Passengers who show no signs of illness and have no history of exposure to the virus will receive health information for self-monitoring.
"We work to continuously increase the safety of Americans," said Dr. Frieden. "We believe these new measures will further protect the health of Americans, understanding that nothing we can do will get us to absolute zero risk until we end the Ebola epidemic in West Africa."
However, some health experts have questioned the effectiveness of such screening. Dr. Bruce Aylward, assistant director general of the World Health Organization (WHO), told BBC World Service:
"You're looking for a needle in a haystack. The probability that you will find something on screening someone coming in is quite low. What's going to be effective is controlled measures in the affected countries and screening people who are leaving those countries."
In another report, Dr. Jay Keystone, a senior staff physician at the Tropical Disease Unit at Toronto General Hospital, Canada, said: "[Airport screening] is mostly optics to make the country feel safer. Is it going to stop Ebola from entering the country? Highly, highly, highly unlikely."
Instead of airport screening, some health experts have suggested that banning all travel to and from West Africa would be more effective. In response to such calls, Dr. Frieden said:
"The problem with that approach is that it makes it extremely difficult to respond to the outbreak. It makes it hard to get health workers in because they can't get out. If we make it harder to respond to the outbreak in West Africa, it will spread not only in those three countries but to other parts of Africa and will ultimately increase the risk here. That's why the concept of, above all, doing no harm is so important."
Given the news that the second health care worker who tested positive for Ebola traveled on a commercial flight the day before she presented with symptoms, the CDC and flight company – Frontier Airlines – have asked all 132 passengers on board the flight to contact them.
CDC officials will then interview each passenger about their time on the flight, and arrange follow-up appointments. Any passengers deemed to be at risk of infection will be closely monitored, the agency say.
Of course, the fact that 132 more individuals have been put at risk of infection has further fueled concerns about an Ebola outbreak in the US. But some health experts say there is no reason for the general public to be worried.
"The issue is with the health care workers at hospital in Dallas who were exposed while caring for a sick individual. The average person does not have to be concerned," Dr. William Schaffner, chair of preventive medicine at Vanderbilt University Medical Center in Nashville, TN, told ABC News.
This is echoed by Dr. Friedman, who acknowledges that there are likely to be further Ebola cases among the health care workers who treated the index patient, but remains confident that the infection will travel no further.
"Ebola is hard to fight, but we know how to fight it and how to beat it. The situation changes every day. We're always going to be open with what we know, share more rather than less. We're going to put in extra measures of safety to protect Americans," he said in a press briefing yesterday.
But it seems many people have little confidence in the CDC's approach to tackling Ebola. At a Brooklyn candidates forum on Tuesday, Michael Grimm – congressman for New York's 11th district – claimed the agency is not doing enough.
"As evidenced by the fact that we have in this district, on the other side of the bridge, we have the largest Liberian population in the entire country. The entire country. And the fact that the CDC has not reached out to me, as the local federal elected that lives in that borough, tells me they're not doing enough," he said, adding:
"Panic is the worst thing in the world, we don't want to panic. But as we approach flu season, as we know, the beginning stages of Ebola are identical, symptomatically, to the flu. We need to get ahead of this, we need to make sure people who come down with the common flu aren't panic-stricken into thinking that they have Ebola. The only way to do that is through mass education, and I haven't seen that from the CDC."
You can keep up to date with the latest Ebola news from MNT here.