Worldwide, 35.6 million people have dementia, a group of cognitive disorders characterized by memory impairment, language difficulty and disturbance of executive function. This cluster of disorders, which includes Alzheimer's disease, causes many of its sufferers to rely on carers, who in turn may face depression and anxiety as a result. Now, a new study shows a coping strategies therapy can provide stress relief and emotional support for these carers - without extra costs.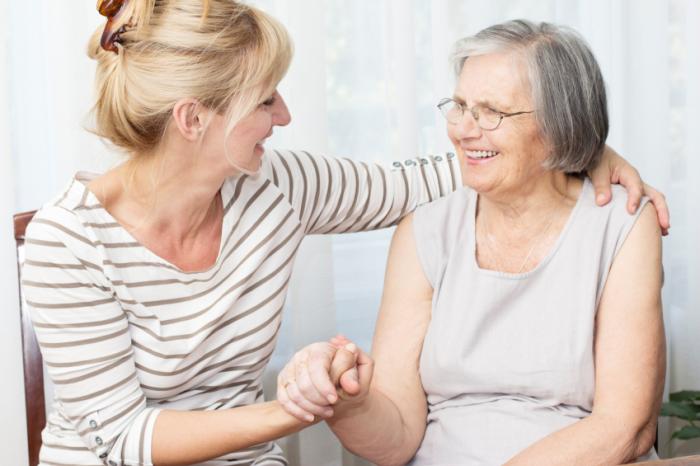 In the US, over 15 million family caregivers provide support for patients with dementia.
The study - led by Prof. Gill Livingston from University College London in the UK - is published in The Lancet Psychiatry.
The researchers note that around two thirds of people with dementia live at home, with family members acting as caregivers. Though having a family carer significantly helps patients with dementia, around 40% of family carers develop clinical depression or anxiety, affecting care and resulting in the patients moving to a care home.
In the UK, there are around 670,000 of these caregivers, while in the US, there are over 15 million - a significant number of people in both countries.
Alzheimer's disease accounts for 50-70% of dementia cases, though other types of dementia include vascular dementia, mixed dementia, dementia with Lewy bodies and frontotemporal dementia.
The sixth leading cause of death in the US, Alzheimer's destroys brain cells, causing memory, thinking and behavior problems that can affect work, hobbies and social life.
START program improved HADS score for carers
To understand how life can be improved for carers of those with dementia - thus improving care and avoiding the patients needing to move to a care home - Prof. Livingston and colleagues assigned 260 family carers who were free from depression to an eight-session program or to usual care consisting of medical, psychological and social services for the patient with dementia.
Fast facts about Alzheimer's carers in the US
Around 25-29% of caregivers of people over 50 care for someone with a cognitive impairment, including dementia
The average of an Alzheimer's carer is 48 years old
18% of children aged 8-18 provide unpaid care for someone.
The program used in the study is called the START (STrAtegies for RelaTives) program, and it was delivered by non-clinically trained psychology graduates working one on one with family carers at their home.
There, the psychology graduates worked with carers to identify difficulties and initiate coping strategies. For example, they helped with accessing emotional support and relaxation.
Meanwhile, the researchers made assessments of anxiety and depression using the Hospital Anxiety and Depression Scale (HADS), and they also assessed cost-effectiveness for 2 years.
Results showed that carers in the START group had more than a 2-point improvement in their HADS total score, compared with the control group in both short-term (8 months) and long-term (24 months) assessments.
What is more, the START program was no more expensive than usual care, even showing the best value for money.
Commenting on their study, Prof. Livingston says:

"Worldwide, there are an estimated 44 million people with dementia, and this figure is likely to double every 20 years. Too often, people forget the substantial effect dementia has on family members caring for relatives with dementia. Policy frameworks assume that families will remain the main providers of their (unpaid) support."
In a linked comment to the study, Prof. Sube Banerjee, of the University of Sussex in the UK, says the START program should be offered "to all family carers of people with dementia as part of the support with a timely diagnosis."
Prof. Livingston agrees, adding that this "new cost-neutral program is an effective way to support carers and improve their mental health and quality of life and should be made widely available."
Medical News Today recently reported on a study that identified a new neurological disorder linked to Alzheimer's.