For many of us singletons, Valentine's Day is a kick in the teeth. Our loved-up friends gushing over their flowers, chocolates and slushy texts from their partners are just another reminder of how unromantic our lives are. But do not fear, online dating is here! And a new study provides some tips that could help you find the love of your life.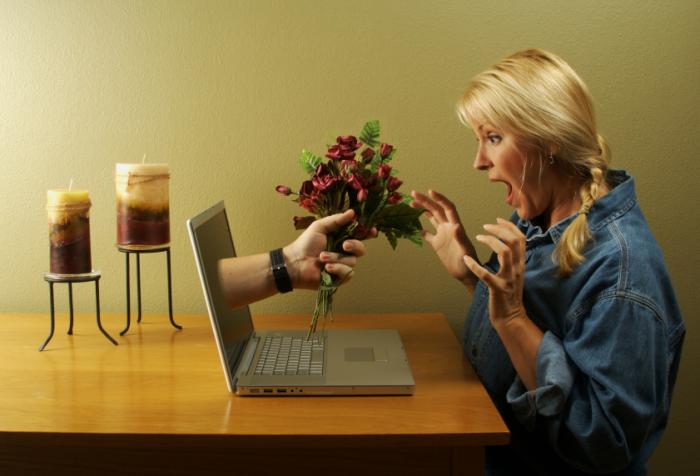 A username beginning with a letter in the first half of the alphabet could bring you closer to finding a date online, according to the study.
More than 40 million Americans have tried online dating. While some people are lucky enough to get a date within days of signing up, it can be weeks or months before other users even generate any interest. So where are they going wrong?
Many of you may be thinking that an attractive photo and a good headline message are bound to gain interest on dating sites, and you are right. But according to new research published in Evidence Based Medicine - a journal of The BMJ - your username is just as important.
The research team, including Prof. Khalid Khan of the Queen Mary University of London in the UK, found that choosing a screen name that begins with a letter in the first half of the alphabet may lead to greater success with online dating.
According to the researchers - who reached their findings by analyzing almost 4,000 studies that investigated the art of attraction and persuasion - this is because people associate names beginning with letters higher in the alphabet with measures of success, such as income and educational attainment.
"Search engine listings are also sorted alphabetically: screen names starting with a letter near the top of the alphabet are presented first," the authors note. "Those in the lower quarter of the alphabet will be lost in the bottom of the pile if you start at the top."
The researchers also found that people are more likely to respond to positive usernames, such as "Fun2bwith," but are more likely to avoid usernames associated with negativity. "Names with negative connotations - such as 'Little' or 'Bugg' - are often associated with inferiority," they explain. "Playful screen names are universally attractive."
In addition, the team found that men are more likely to be drawn to usernames that indicate physical attractiveness, such as "Cutie" or "Blondie," while women are more attracted to usernames that suggest intelligence, such as "Cultured."
Profile pictures: more than meets the eye
It is well established that having an attractive profile picture is important for generating interest on dating sites, but according to the study, you should focus on more than just your hair or makeup.
The researchers found that people are more likely to respond to those with profile pictures that feature a genuine smile that crinkles up the eyes, and a slight head tilt can boost attractiveness. In addition, they found men appear to be more attracted to women who wear red in their picture.
A group photo can also generate interest, according to the team, and standing in the middle can generate a sense of importance that is attractive to other users.
"This can be further enhanced in group photos where you are shown touching another person - confining this to the upper arm to be socially acceptable," they add. "This is because a toucher is perceived to be of higher status than the one touched."
Furthermore, they found that women are more attracted to a man in a photo when they see other women smiling at him.
Complex language will not make you appear more intelligent
The headline message on a user profile is equally as important as the photo and username, according to the researchers, but many people make the mistake of using complex words in an attempt to make themselves sound more intelligent. This should be avoided.
The researchers explain:
"Simple language, not overcomplicated wording, is likely to result in significantly higher ratings of intelligence because people are naturally drawn to words that are easy to remember and pronounce. It makes information-processing easier, which also increases likeability."
The team adds that increasing interest in the headline message also increases exposure to the profile picture, which will make the individual appear more likable.
A "good sense of humor" seems to be a staple in a dating profile. But the researchers say more interest is generated through a "show" rather than a "tell" approach. "A profile written in a humorous, clever manner will be seen as more credible evidence of a sense of humor than the use of the words 'I am hilarious,'" they add.
As a general rule, the researchers say a user profile should have a balance of "comprehensive honesty and positive self-presentation." After all, any lies or exaggerations are likely to be exposed in face-to-face meetings.
Other tips that may help you get that first date
The researchers provide some other online dating tips that, based on their research, may increase the likelihood of getting a first date:
Once you have started generating more interest, compile "short and sweet" personalized email invitations to chat online
If a user contacts you, respond quickly
Tell the user a bit more about yourself and ask them open questions
Introduce some humor to the conversation
If talking via webcam, smile, mimic body language and do not slouch
Do not attempt to portray yourself as perfect - the other user will become suspicious
Do not wait too long to arrange a face-to-face meeting.