There is a risk that cholera, dysentery and other serious waterborne diseases will break out in the aftermath of the Nepal earthquake.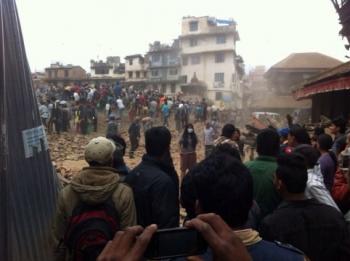 Aid agencies say shelter, drinking water and sanitation are key priorities in the aftermath of the earthquake in Nepal.
Image credit: ActionAid
People are defecating out in the open and there are already reports of diarrheal disease outbreaks and chest infections, say the Disasters Emergency Committee (DEC) - a group of 13 UK aid agencies.
Nepal, a landlocked Himalayan nation that is home to 28 million people, was struck by a devastating earthquake on 25th April.
The 7.8 magnitude quake and subsequent aftershocks are known to have killed over 7,500 people and injured nearly twice that number.
The natural disaster has also wreaked large-scale damage across the country. Aid agencies warn that in many areas people lack shelter, have no clean water and no sanitation.
The UN Office for the Coordination of Humanitarian Affairs (UNOCHA) announced the UN and its partners are appealing for $415 million to provide urgently needed humanitarian relief.
Seventy thousand houses have been destroyed and more than half a million homes damaged across 39 of Nepal's 75 districts and millions of people are in need of food assistance, they say.
Thousands of international aid workers are in Nepal helping with relief and rescue operations.
Shelter, drinking water and sanitation key priorities
Many of the aid organizations are working to provide better emergency shelter and ensure drinking water and sanitation remain key priorities in the emergency response.
However, DEC urge that action needs to take place now - ahead of the rainy season that starts in June.
They say cholera is endemic in Nepal so an outbreak would not be unprecedented. Last year, 600 people caught the disease - an intestinal bacterial infection caused by drinking contaminated water or eating food that has been in contact with contaminated water. In 2009, a major outbreak affected over 300,000 people.
Relief work in water, sanitation and hygiene (WASH) is one of the actions DEC agencies are leading to ensure families affected by the disaster have access to safe water.
This work includes delivering water via trucks, establishing toilets in camps, distributing hygiene kits and raising awareness about the importance of hand washing.
Glynnis Brooks, head of health and WASH at British Red Cross, says:
"We are working to ensure that safe water is available to drink, cook with and use for personal hygiene purposes. This is essential in order to prevent dehydration and water-related disease such as diarrhea and cholera."
There is also a need to build communal latrines to stop further contamination of limited water supplies, says Brooks, adding that given the scale of the damage near the quake epicenter - in the Gurkha heartlands in north central Nepal - "rehabilitation of water supplies will take time, so it is essential that humanitarian agencies assist the government by providing people affected with clean, safe water supplies."
Yeeshu Shukla, emergency programme officer at Christian Aid, says the challenge for aid agencies is meeting the needs of so many people, most of whom are in remote villages that have been cut off by the disaster:
"Not only is it vital for people to have safe drinking water to survive but also when access to health care is such a problem, stopping the spread of disease is paramount."
Nepal is a poor country without the resources to cope with a crisis this size. Half of its people live below the poverty line with no access to improved sanitation. The economic and social infrastructure that people in the West take for granted simply does not exist in Nepal, say DEC, adding that:
"Many thousands of Nepalese are going to need a great deal of help."