What are the health benefits of barley?
Last updated
Last updated Mon 15 Jan 2018
If you buy something through a link on this page, we may earn a small commission.
How this works.
Barley is a major cereal grain, commonly found in bread, beverages, and various cuisines of every culture.
One of the first cultivated grains in history, it remains one of the most widely consumed grains, globally.
Barley and other whole grain foods have rapidly been gaining popularity over the past few years due to the various health benefits they can offer.
Whole grains are important sources of dietary fiber, vitamins, and minerals that are not found in refined or "enriched" grains. Refining grains removes the bran, germ, and most of their fiber and nutrients.
Choosing whole grains over their processed counterparts can help reduce the risk of obesity, diabetes, heart disease, cancer, and other chronic health problems.
Fast facts on barley
Here are some key points about barley. More detail is in the main article.
Consuming barley might have benefits for the heart, blood pressure, and bones
Barley may be useful in maintaining a healthy weight
Barley provides a high percentage of an individual's daily requirement of manganese and selenium
Thanks to barley's versatility, it is easy to incorporate into meals
Benefits
Barley contains important nutrients that can offer a range of health benefits.
1) Blood pressure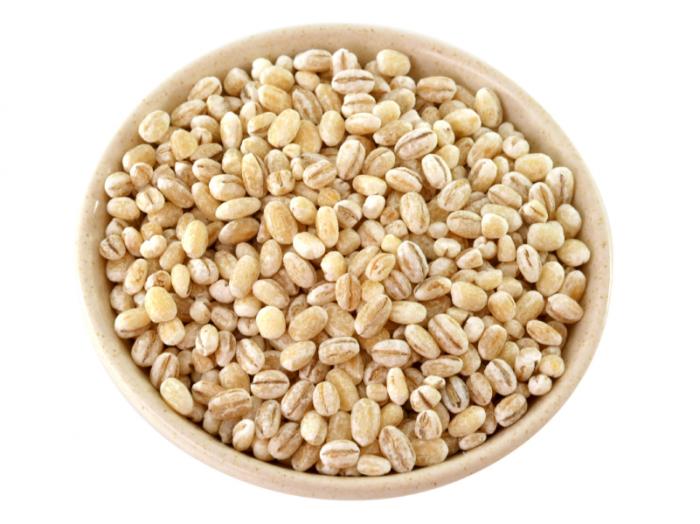 Pearl barley is by far the most popular form of barley in the US.
Maintaining a low sodium intake is essential to lowering blood pressure, but increasing potassium intake may be just as important.
According to the National Health and Nutrition Examination Survey (NHANES), fewer than 2 percent of American adults meet the daily 4,700-milligram recommendation.
Also, potassium, calcium, and magnesium, which are all present in barley, have been found to decrease blood pressure naturally.
A study published in the Journal of the American Dietetic Association in 2006 concluded that: "In a healthful diet, increasing whole grain foods, whether high in soluble or insoluble fiber, can reduce blood pressure and may help to control weight."
2) Bone health
The iron, phosphorous, calcium, magnesium, manganese, and zinc in barley all contribute to building and maintaining bone structure and strength.
A careful balance of phosphate and calcium is necessary for proper bone mineralization. Consuming too much phosphorus with too little calcium intake can result in bone loss.
Bone formation requires the mineral manganese; also, iron and zinc play important roles in the production and maturation of collagen.
3) Heart health
Barley's fiber, potassium, folate, and vitamin B6 content, coupled with its lack of cholesterol, all support a healthy heart. Barley is an excellent source of fiber, which helps lower the total amount of cholesterol in the blood, thereby decreasing the risk of heart disease.
In 2007, researchers found that barley intake significantly reduced serum cholesterol and visceral fat, both of which are markers of cardiovascular risk.
The beta glucan fiber found in barley lowers LDL ("bad") cholesterol by binding to bile acids and removing them from the body via excretion. An intake of 3 grams of beta-glucans per day can lower blood cholesterol levels by 5 percent.
In one study, those who consumed 4,069 milligrams of potassium per day had a 49 percent lower risk of death from ischemic heart disease compared with those who consumed less potassium (about 1,000 milligrams per day).
Vitamin B6 and folate, both present in barley, prevent the buildup of a compound known as homocysteine. When excessive amounts of homocysteine accumulate in the body, it can damage blood vessels and lead to heart problems.
4) Cancer
Selenium is a mineral that is not present in most foods, but it can be found in barley. It plays a role in liver enzyme function and helps detoxify some cancer-causing compounds in the body.
Additionally, selenium from dietary sources can help prevent inflammation. It may decrease tumor growth rates, and improve immune response to infection by stimulating production of killer T cells.
Fiber intake from plant-based foods is associated with a lower risk of colorectal cancer. Some studies have suggested that beta-glucan fiber may stimulate the immune system. As a result, it could help fight cancer cells and prevent tumors from forming. However, more evidence is needed to support this claim.
5) Inflammation
Choline is an important and versatile nutrient in barley that helps with sleep, muscle movement, learning, and memory.
Choline helps to maintain the structure of cellular membranes, aids in the transmission of nerve impulses, and assists in the absorption of fat. It may also help to reduce chronic inflammation.
6) Digestion and regularity
Barley's fiber content helps prevent constipation and promote regularity for a healthy digestive tract.
7) Weight management and satiety
Adequate fiber intake is commonly recognized as an important factor in weight loss by functioning as a "bulking agent" in the digestive system.
Fiber in the diet helps to increase satiety and reduce appetite, making people feel fuller for longer. This can help lower the overall calorie intake.
Nutrition
Barley is commonly found in two forms: hulled and pearled. Hulled barley has undergone minimal processing to remove only the inedible outer shell, leaving the bran and germ intact. Pearled barley has had the layer of bran removed along with the hull.
A cup of hulled barley, weighing 184 grams (g) contains:
651 calories
22.96 g of protein
4.23 g of fat
0 g of cholesterol
135 g of carbohydrate
31.8 g of dietary fiber
61 milligrams (mg) of calcium
6.62 mg of iron
1.189 mg of thiamin
0.524 mg of riboflavin
8.471 mg of niacin
0.585 mg of vitamin B6
35 micrograms (mcg) of folate
245 mg of magnesium
486 mg of phosphorus
832 mg of potassium
5.1 mg of zinc
The amount of each nutrient that an individual needs depends on their age and gender. The Dietary Guidelines for Americans 2015-2020 give details on each requirement.
Beta-glucans are a type of fiber that is found in barley. Studies have found that they can help reduce the risk of obesity and its complications, such as stroke, diabetes, and cardiovascular disease.
Dietary tips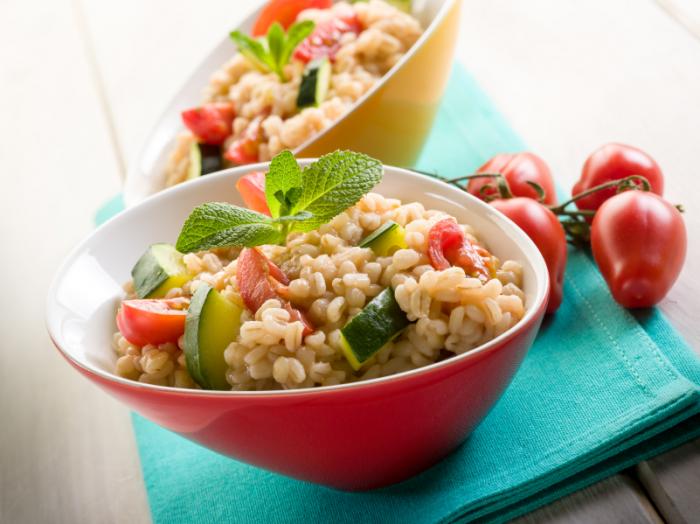 Barley can be added to soups, stews, salads, and risottos to make them more hearty and flavorful.
Barley is a versatile grain with a nutty flavor and a chewy, pasta-like texture. It can be prepared in a number of ways and is usually found in stores in hulled or pearled form.
Hulled barley has a chewier consistency than pearled barley and requires longer soaking and cooking times due to its outer bran layer.
To prepare hulled barley, it must be soaked overnight or at least for several hours to reduce the cooking time and achieve optimal flavor and texture.
After soaking the barley in twice its amount of water, it should be drained and rinsed before cooking.
To cook barley, add 1 cup of the grain to 3 cups of water and bring it to a boil, then reduce the heat and let the barley simmer for about 45 minutes.
The same cooking process can be applied to pearled barley, minus the soaking step.
Quick tips:
Add barley to any pot of soup or stew to make it heartier and more flavorful.
Cook barley in your choice of broth and add a variety of vegetables for a tasty pilaf or risotto.
Toss chilled cooked barley with diced vegetables and homemade dressing for a quick cold salad.
Combine barley with onion, celery, mushrooms, carrots, and green pepper. Add broth to the mixture, bring it to a boil, and then bake for approximately 45 minutes for an easy and healthy barley casserole.
Risks
Barley contains gluten, so it is not suitable for those with celiac disease. Malt, malted beverages such as beer, and several flavorings are derived from barley. As a result, they too contain gluten.
People who want to increase their fiber intaker should do so gradually over 1 to 2 months. This can help prevent digestive problems as the body adjusts to the change. Drinking plenty of liquids while increasing fiber intake can help prevent constipation.
A range of barley products is available for purchase online.