Sarcoma: Symptoms, types, treatments, and causes
Last updated
Last updated Tue 23 May 2017
Soft tissue sarcomas are tumors that affect tissues connecting, supporting, or surrounding any of the body's systems. Sarcomas affect bone, skin, and other soft tissues. This page explains soft tissue sarcomas in particular.
Sarcoma is a tumor that affects connective tissue. Soft tissue sarcomas, as the name suggests, affect the soft tissues; these include fat, muscle, blood vessels, deep skin tissues, cartilage, tendons, and ligaments.
Sarcomas are a relatively rare type of cancer. Around 14,000 cases of soft tissue sarcoma are diagnosed annually in the United States.
Fast facts on sarcoma
There are over 50 types of soft tissue sarcoma.
Symptoms may not be apparent; often, the only sign of sarcoma is a lump.
Pain may occur depending on where the tumor is located, or if it presses on nearby nerves.
Treatment, as for other forms of cancer, can include surgery, radiation therapy, and chemotherapy.
Symptoms of soft tissue sarcoma
People with soft tissue sarcomas often have no symptoms. There may be no signs until the lump grows to a large size and can be felt; however, even this may go unnoticed. The main symptoms are:
Pain - the most obvious symptom. Once the tumor affects local tissues, nerves, or muscles, it can be felt as pain in the general area.
Inflammation - the tumor grows and eventually affects the area with inflammation and swelling.
Location specific symptoms - inability to move limbs properly (if the sarcoma is on the arms or legs for example) and other impairments depending on the location.
Specific symptoms may reflect the particular type of sarcoma. For instance, tumors in the gastrointestinal system may bleed, so these sarcomas might produce symptoms like blood in the stool, or a stool that has a black, tarry appearance.
Types of sarcoma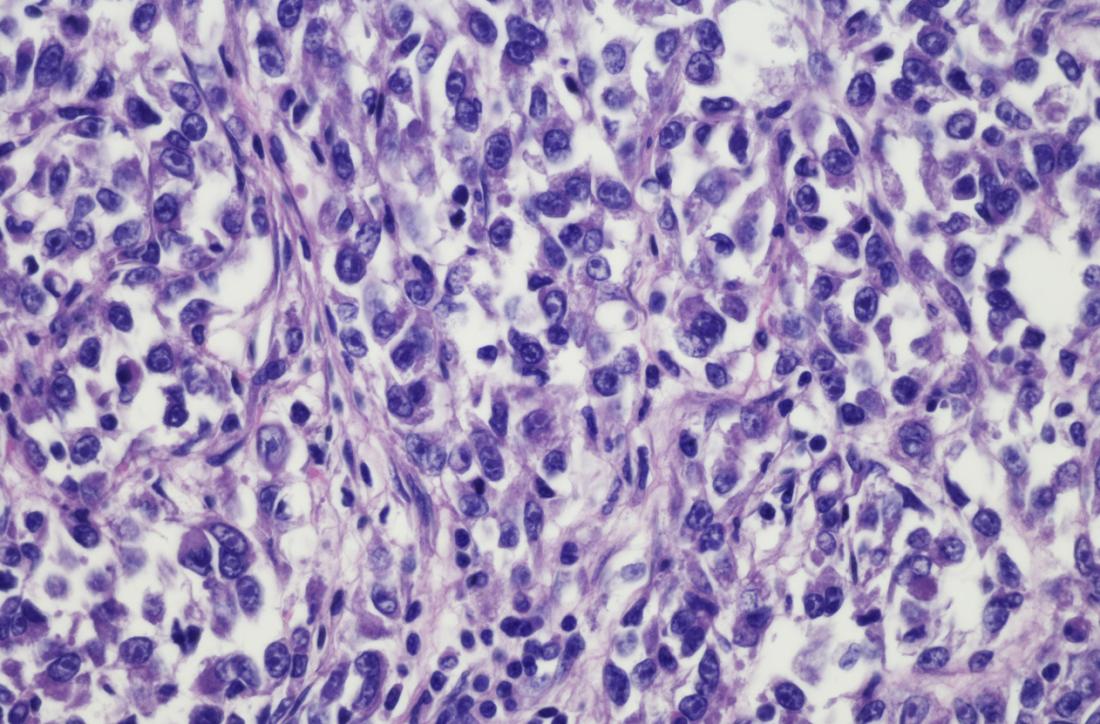 A close-up biopsy image of clear cell sarcoma of the leg.
Types of soft tissue sarcoma are defined by the specific tissue or location affected; they include:
Undifferentiated pleomorphic sarcoma - previously known as malignant fibrous histiocytoma - this tumor is most often found in the arms or legs but sometimes at the back of the abdomen.
Gastrointestinal stromal tumor (GIST) - this affects specialized neuromuscular cells of the gut.
Liposarcoma - sarcoma of fat tissue.
Leiomyosarcoma - affects smooth muscle in organ walls.
Synovial sarcomas - these are usually found around a joint in the arms or legs.
Malignant peripheral nerve sheath tumor - also known as neurofibrosarcoma, it affects the protective lining of the nerves.
Rhabdomyosarcoma - this forms in muscle and is a childhood cancer. While rare overall, it is a relatively common tumor in children.
Angiosarcomas - these develop in the cells of the blood or lymph vessels.
Fibrosarcomas - sarcomas that usually form in the limbs or on the trunk, forming from fibroblasts, the most common cell type in connective tissue.
Further examples - these include dermatofibrosarcoma protuberans, a skin lesion; epithelioid sarcoma, which often affects young adults' hands or feet; myxoma, which affects older adults, usually in the arms and legs; mesenchymomas, which are rare and combine elements of other sarcomas and can be found in any part of the body; vascular sarcomas, containing many blood vessels; and malignant neurilemmoma (also known as schwannoma).
The full list runs to more than 50 types. Sarcoma of the bone includes osteosarcoma, Ewing sarcoma, and chondrosarcoma - for more information about these; see our page dedicated to bone cancer.
Kaposi's sarcoma
This is a sarcoma that affects the skin and is caused by a virus. There is an Medical News Today page dedicated to Kaposi's sarcoma. Some details on it include:
The most common form of Kaposi's sarcoma is related to AIDS.
Kaposi's tumors often produce distinctive skin lesions but also affect other soft tissues.
Kaposi's sarcoma is caused by the human herpesvirus 8.
Causes of sarcoma
Most often, there is no known cause of sarcoma. However, some causes have been identified:
Kaposi's sarcoma - the only type of soft tissue sarcoma that has a clearly defined cause - the human herpesvirus 8.
High doses of radiation - for example during a previous cancer therapy, are a clear risk factor for soft tissue sarcomas.
Genetic conditions - for some there can be an association with certain genetic conditions.
Risk factors include age, which is associated with cancer in general. Increased risks of sarcoma have also been observed in relation to exposure to certain chemicals, including vinyl chloride, dioxins, and phenoxyacetic herbicides.
Tests and diagnosis of sarcoma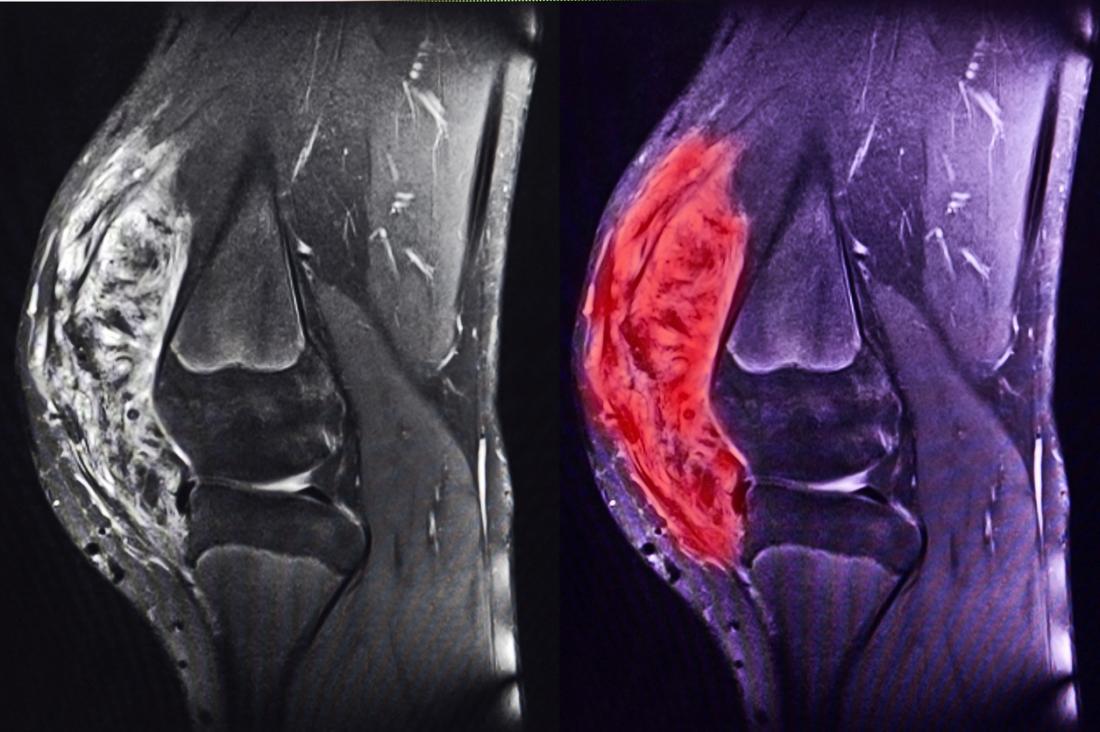 Imaging scans help aid diagnosis, this picture shows an MRI of sarcoma of the knee.
After speaking about the patient's medical history and doing a medical examination, medical imaging scans will help to inform a diagnosis, which will need to be confirmed through laboratory analysis of a tumor sample.
The following physical features should prompt a doctor to investigate:
larger than 2 inches in diameter or growing in size
fixed, immovable, or deep
painful
return of tumor previously removed
Medical imaging helps to locate, characterize, and give further information about a tumor to guide diagnosis. It may also be used to gauge the success of treatment or to look for spread of cancer.
Imaging techniques include X-rays, CT scan (computed tomography), MRI (magnetic resonance imaging), ultrasound, and PET (positron emission tomography).
Treatments for soft tissue sarcoma
The following treatment options can be used for sarcomas:
Surgery - the most common sarcoma treatment. It aims to remove the tumor and even some of the normal surrounding tissue. A biopsy sample is often taken at the same time to confirm the exact type of tumor.
Radiation therapy - this destroys cancer cells and may be done in addition to surgery, before or after the operation.
Chemotherapy - this could also be used in addition to surgery, though less often than radiation therapy.
Some soft tissue sarcomas have other available treatments, such as specific drug treatments, gene-targeted therapies, or biological therapies such as immunotherapy.
Treatment choice and intensity are also guided by the stage and grade of cancer, by the size of the tumor, and extent of any spread.
Prevention of sarcoma
Sarcoma is not typically preventable. Radiation therapy is a risk factor, so reducing exposure to it may be preventive, although a need for radiation therapy usually outweighs any subsequent sarcoma risk.
---