Is matcha good for you, and how can you use it?
Last updated
Last updated Thu 19 Oct 2017
Matcha is a form of powdered green tea that is used in the Japanese tea ceremony. It has recently appeared in various drinks, desserts, and other forms in the United States. It is thought to have a number of health benefits.
Most green teas are prepared as an infusion. We drink the water in which the tea leaves have been steeped. Matcha tea is ground into powder and mixed with hot water, so we consume the leaves.
Studies suggest that green tea provides antioxidants that are beneficial to health. There is some evidence that matcha green tea provides a more concentrated dose of at least one of these antioxidants.
This feature is part of a collection of articles on the health benefits of popular foods.
It looks at the nutritional content and possible health benefits of matcha, how to use matcha, and any potential health risks.
Fast facts on matcha:
Matcha is a green tea powder used in Japanese tea ceremony. It has a mellow flavor.
It is assumed to be more healthful than green tea, a good source of antioxidants.
More research is needed to confirm its benefits.
Matcha can be added to cakes, desserts, and granola bars, as well as for matcha tea latte.
What is matcha?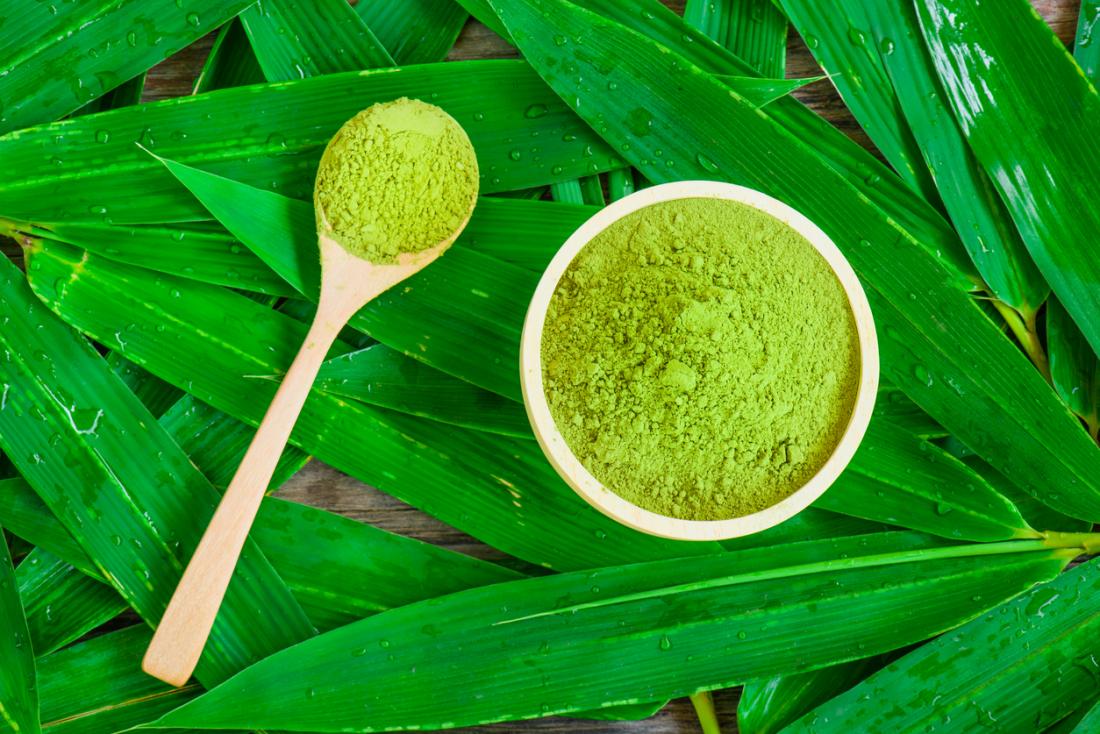 Matcha is a powdered green tea that may or may not have special health benefits.
Matcha is a form of Japanese green tea that is used in the traditional Japanese tea ceremony. It is powdered, and the tea it makes has a smooth, mellow flavor that should not be bitter. Whisked into hot water with a tea whisk, the tea it produces should be foamy in texture. Its color is bright green.
Matcha is made from a special kind of tea plant, the Camellia Sinensis. This produces a type of tea known as tencha. Tencha spends some of its growing time partially covered. This technique increases the amount of chlorophyll it contains, giving it a bright green color.
Matcha is made by removing the stems and veins from tencha and stonegrinding the rest of the leaf to make a powder.
There are different grades of matcha. Ceremonial grade is the highest quality, used in tea ceremonies. Premium grade is suitable for daily consumption. Matcha for cooking is the cheapest kind. It can be added to desserts.
Health benefits
Some studies have suggested that green tea may have health benefits. Since matcha is a concentrated form of green tea, it has been assumed that the benefits of green tea would be obtained from matcha as well, and that they might be stronger.
As yet, there is little evidence to support this claim.
Concentration and cognition
L-theanine is an amino acid found in tea. It promotes a state of relaxation and well-being. Combined with caffeine, it can induce a state of relaxed alertness.
Studies suggest that L-thiamine may have cognitive and antibacterial benefits.
It has been found to improve relaxation, tension, and calmness. With caffeine, it improves performance, attention, memory, focus, and alertness.
Some advocates claim that matcha contains five times as much L-theanine as other types of tea, but there does not appear to be any research to support this.
Anticancerous properties
Green tea contains a class of antioxidant known as catechins, particularly the catechin epigallocatechin gallate (EGCg) that has anti-tumor properties.
One study found that matcha green tea contained at least 3 times as much EGCg as other green teas studied in research.
EGCg may help prevent cancer by protecting cells from DNA damage and inhibiting tumor cell proliferation.
Chlorophyll is what gives plants their green color. Studies have linked a higher chlorophyll consumption with lower rates of aflatoxin-associated liver cancer.
Matcha is green, because it is rich in chlorophyll.
Type 2 diabetes
Some studies have suggested that people who drink green tea have a lower risk of developing type 2 diabetes than those who consumed no tea. Others have found no association between tea consumption and diabetes.
No studies have looked at the link between matcha and diabetes.
Heart disease
A study published in JAMA in 2006 concluded that green tea consumption is associated with reduced mortality due to cardiovascular disease and other causes, but not cancer.
The study followed over 40,000 Japanese participants between the ages of 40 and 79 for 11 years, starting in 1994.
Those who drank at least 5 cups of green tea per day had a significantly lower risk of dying, especially from cardiovascular disease, than those who drank less than one cup of tea per day.
Another study concluded that catechins in green tea have anti-hypertensive and antithrombogenic effects, and that they can lower lipids.
The scientists found that consuming 10 cups of green tea per day can lower total cholesterol, however, consuming 4 cups or less had no effect on cholesterol levels.
Matcha has not been studied in this way, but it could have similar or stronger effects.
Nutrition
There have not been many direct studies on matcha, and a search of the United States Department of Agriculture (USDA) database does not reveal any nutritional content for matcha.
Uses
Traditionally, a teaspoon of matcha powder is mixed with one third of a cup of water that is hot, but not quite boiling, to make tea.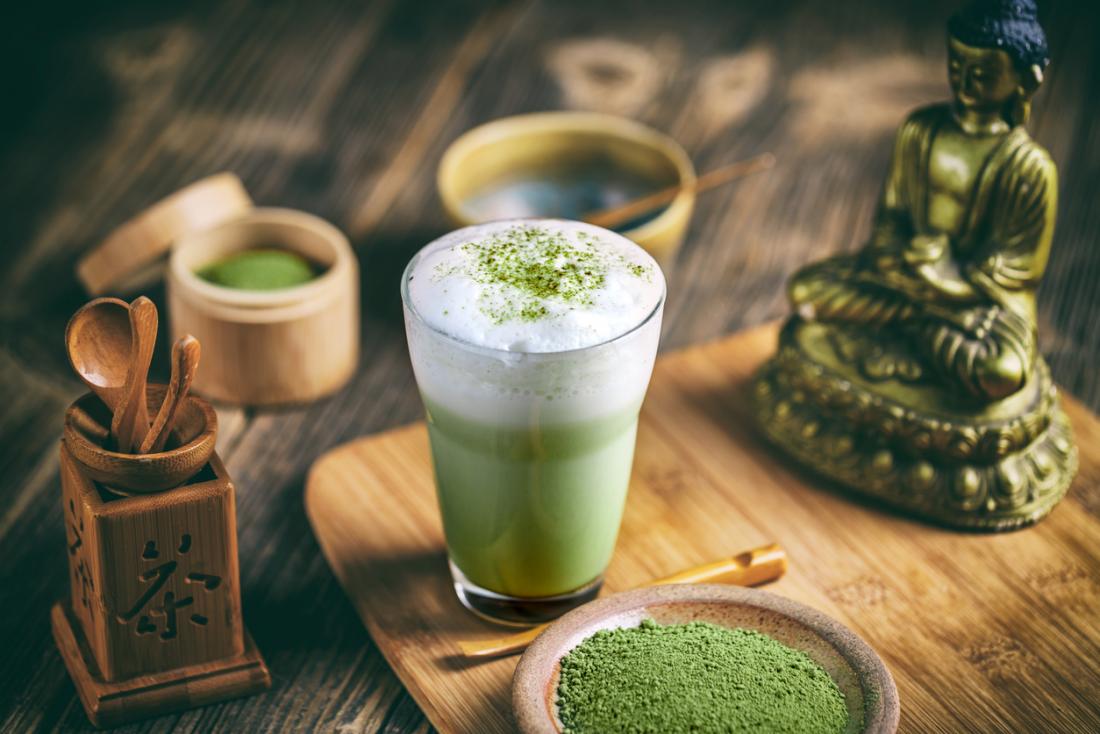 Matcha tea latte is tea made with matcha green tea and milk.
A growing interest in matcha has given rise to new ways of using it.
One suggestion is to make hot or iced tea by mixing a teaspoon of matcha powder with one third of a cup of hot water and drinking it as it is or pouring it over ice.
Here are some other ideas:
Add foamed milk to make a matcha latte
Add matcha powder to a smoothie
Mix matcha powder into oatmeal
Make homemade granola bars using matcha
Add matcha to simple salad dressings, with a little oil, vinegar, and sweetener
The following healthful and delicious recipes have been developed by registered dietitians:
Matcha green tea latte popsicles
Matcha can be purchased at health food stores, specialty tea stores, and online. Be sure the only ingredient is matcha powder. Many packages or premixes will have added sugar, artificial sweeteners, or other unnecessary ingredients.
As matcha becomes more widely available, it can sometimes be found as a specialty drink in cafés and coffee shops. A high amount of sugar may be added, so check the label or ask if sugar is added and order unsweetened or lightly sweetened if possible.
Possible risks
Matcha has not been studied extensively, so it is unclear exactly what the benefits or risks might be.
In one study, a high consumption of green tea was linked to reproductive problems in fruit flies. It is unclear whether this could have the same effect on humans, however.
Concerns have also been raised about the effect of radiation following the nuclear accident in Fukushima in 2011. The website Matcha Reviews recommend checking where matcha comes from and what the radiation status is for that area.
---