All you need to know about spider bites
Last updated
Last updated Mon 26 Jun 2017
If you buy something through a link on this page, we may earn a small commission.
How this works.
Spider bites can be painful and are sometimes dangerous, even life-threatening. There are thousands of species of spiders in the United States, but very few can harm humans.
This article will cover the reasons spiders bite, a guide to the most dangerous species in the United States (U.S.), how to prevent spider bites, and treatment options if the worst should happen.
Fast facts on spider bites
Here are some key points about spider bites. More detail and supporting information is in the main article.
Very few American spider species are harmful to humans.
The two most common species of dangerous spiders are widow and recluse spiders.
Severe symptoms of a spider bite can include muscle spasms, breathing problems, and stomach pain.
Why do spiders bite?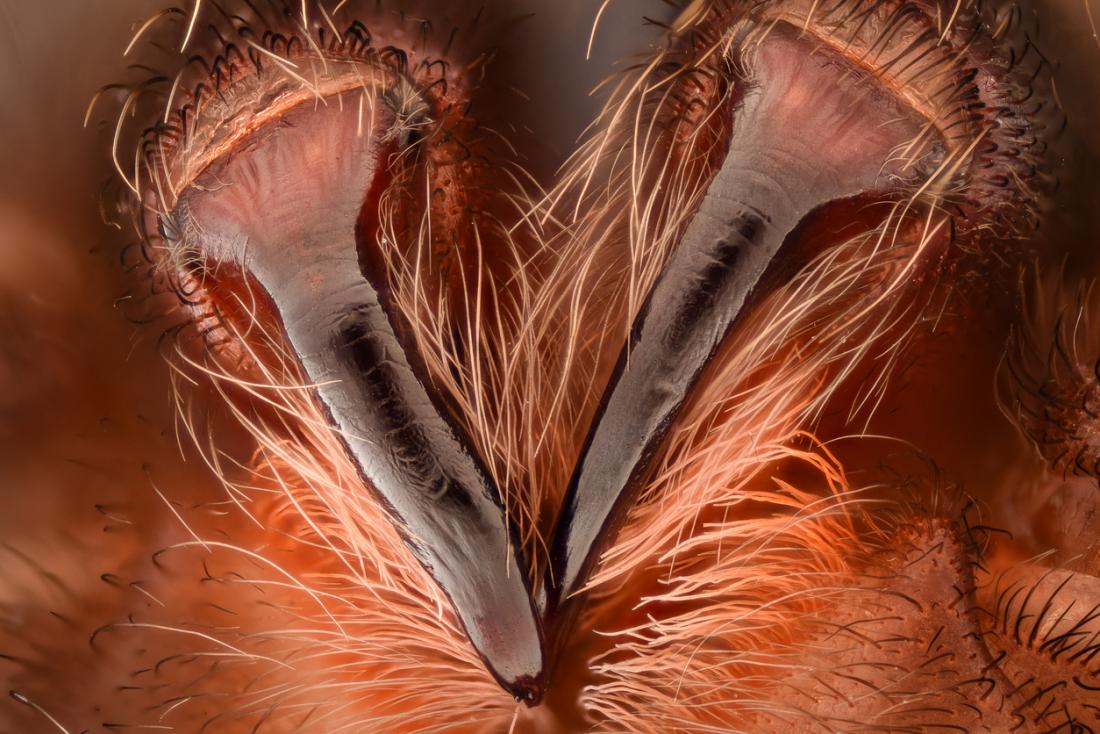 Only a small number of American spider species are dangerous to humans.
Spider bites are quite rare. Spiders are not bloodsucking creatures and do not feed on humans.
In fact, many species' fangs cannot pierce human skin.
The only reason a spider would bite a human is defense. Spiders will bite when they are surprised or feel trapped.
Quickly putting a hand or foot into a place where a spider lives, like a shoe or box, may surprise the spider and cause it to attack.
A spider may also attack if it is trapped, such as in a jacket that has been hanging in the closet for some time.
Are spider bites venomous?
Almost all spiders use venom to kill their prey. In other words, nearly all spiders are venomous. However, most spider venom is not made to kill large prey like humans. In many cases, a spider bit will cause a person no more harm than an average insect bite.
However, a few species do produce strong enough venom to harm humans. Of those considered dangerous to humans, the two most common are widow spiders and recluse spiders. However, bites from these spiders are rare in the U.S.
Identifying a spider bite
Not many distinct features are linked only with a spider bite. Spider bites look similar to many other bug bites.
In addition:
the skin around the bite may swell
there might be itching or burning
numbness or a tingling sensation may occur around the wound
Bites by some spiders, such as a widow or a recluse, cause more severe symptoms.
These include:
muscle spasms
stiffness or joint pain
intense pain around the wound
fever or chills
difficulty breathing
stomach pain
nausea or vomiting
ulcerated wound or tissue death surrounding the bite
In rare cases, a person may experience an allergic reaction known as anaphylactic shock.
Symptoms include:
severe itching, swelling, or redness
rash or hives
difficulty breathing or a wheezing cough
stomach cramps
rapid swelling of the tongue, lips, eyes, or throat
loss of consciousness
When to call a doctor
People who experience symptoms of anaphylactic shock should go to the emergency room. Severe allergic reactions need to be treated quickly, as they can be fatal.
If someone knows or believes they have been bitten by a venomous spider, they should see a doctor immediately if they experience any of the following:
severe pain
abdominal cramping
breathing problems
If someone is unsure if the spider they were bitten by is hazardous, they should contact their doctor to be sure. Proper diagnosis can lead to more effective treatment and reduce recovery time. If possible, catch the spider or take a photo of it for identification.
Guide to dangerous American spiders
Anyone who believes that they have been bitten by any of the following spiders should seek medical attention immediately:
Brown recluse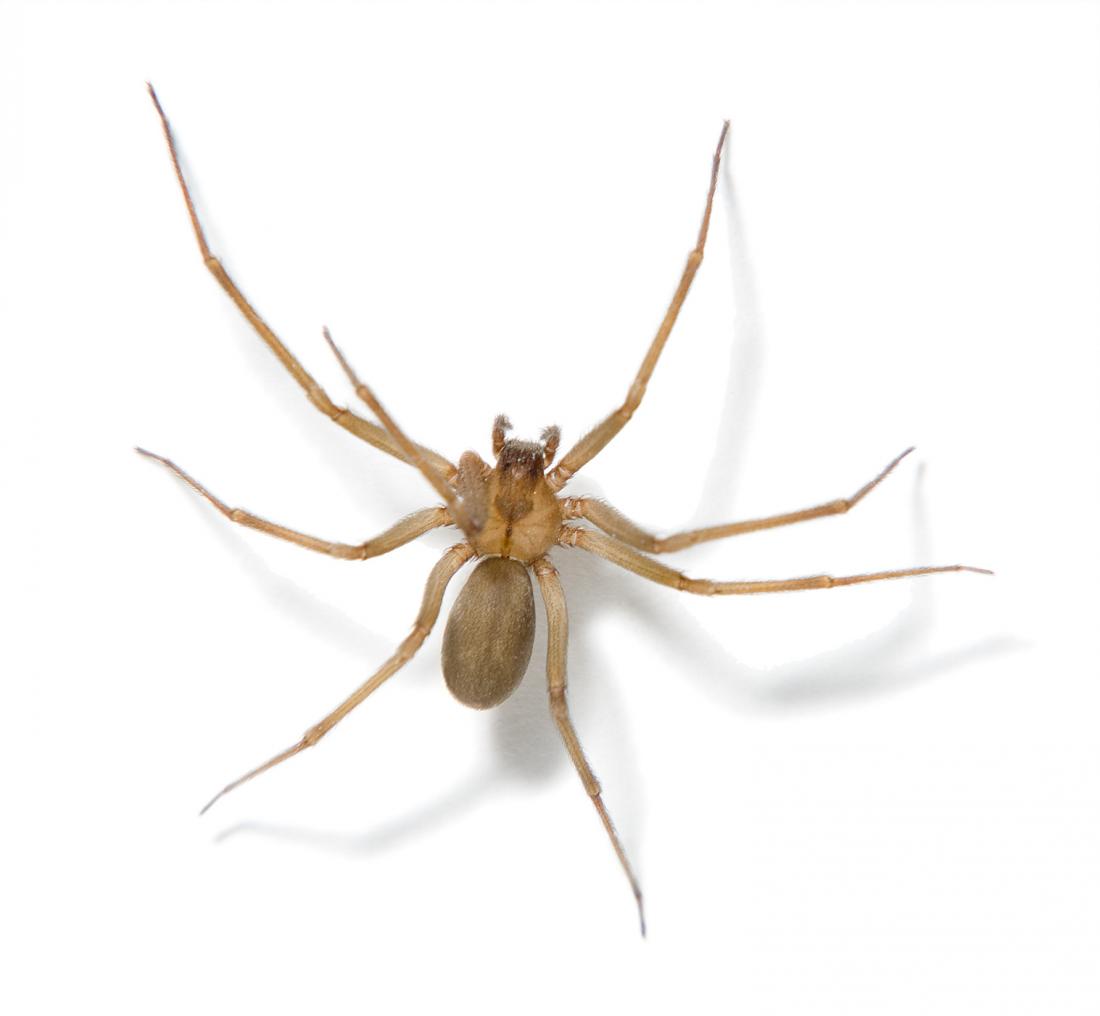 Brown recluse
So called because they naturally hide in dark corners, the brown recluse is found across the southern States. They will only bite in self defense.
Often, there are no symptoms for the first few hours. Then it normally turns red and begins to itch and hurt. A red or purple "bull's-eye" will develop around the bite.
The bite may blister and grow. If untreated, tissue in the region might die and cause chills, fever, and headache.
There is no specific antidote available for the brown recluse.
Keep the area clean to avoid infection. A doctor may prescribe antibiotics. If tissue dies, it may need to be surgically removed. In rare circumstances, it might cause:
Sometimes, what looks like a bite from a brown recluse spider in fact has another cause. Some 40 other conditions can lead to similar symptoms. The mnemonic "NOT RECLUSE" can help doctors distinguish between causes.
Black widow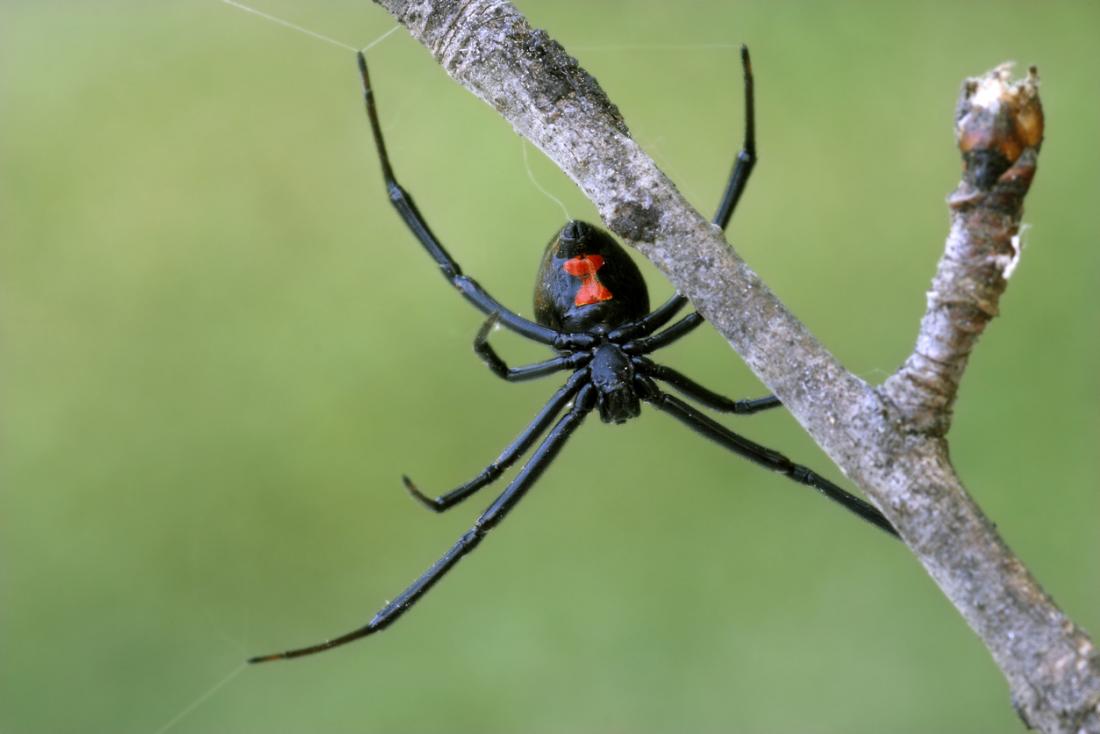 Black widow
Mostly found in the southern States, these black and red shiny spiders tend to be found in woodpiles, fallen leaves, and boxes in the attic. Only the female black widow is toxic.
Initially, the bite will feel painful, and very quickly, two fang marks will appear.
Symptoms include:
pain
headache
muscular cramps
increased saliva production and sweating
nausea and vomiting
high blood pressure (hypertension)
restlessness
Prompt treatment is important, especially for the very young and old.
Hobo spider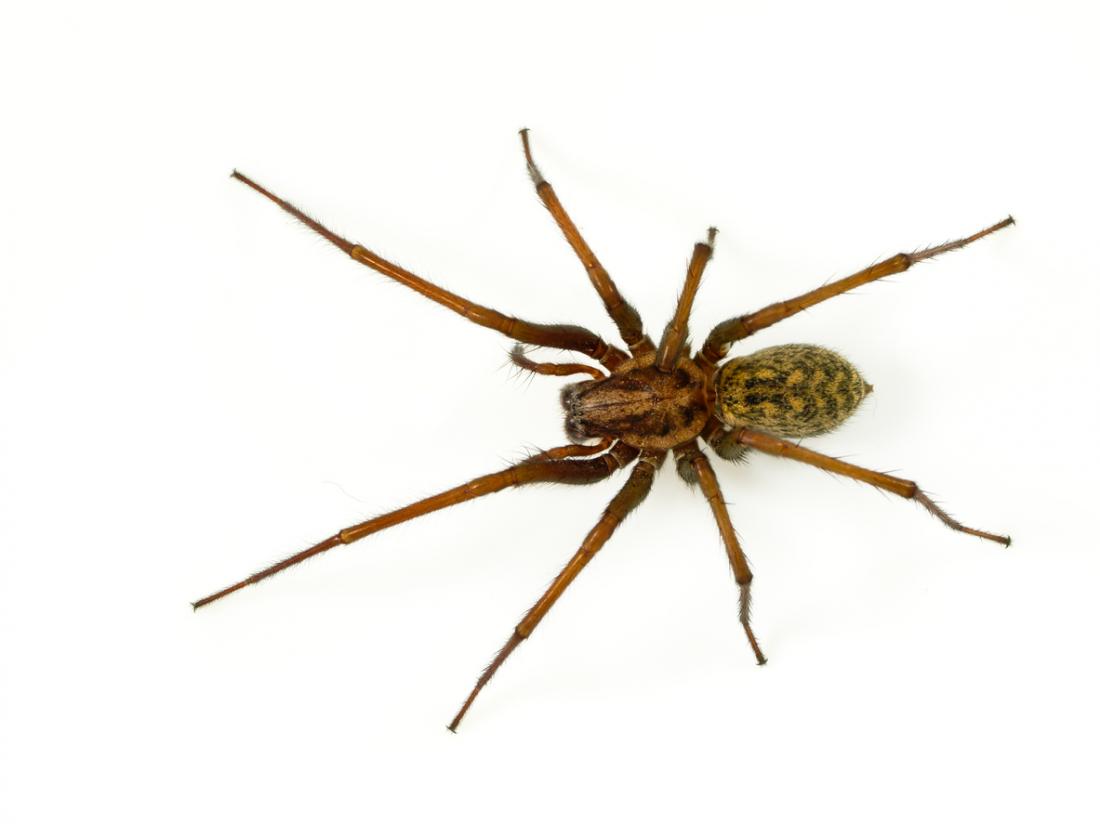 Hobo spider
Found along the Pacific Northwest, hobo spiders can run quickly and will bite if provoked. They often hide around the home.
Within 15 minutes of a bite, the area will feel numb. After 1 hour, the site will turn red. After 8 hours, it will become hard and swollen. After around 24 hours, the bite wound will discharge fluids and turn black.
Additional symptoms include:
visual or auditory disruptions
joint pain
weakness
headaches
increased sweating
nausea
Hobo bites do not heal quickly. It is best to seek medical attention as soon as possible. Treatment normally involves antibiotics, corticosteroids, and possibly surgery.
Tarantula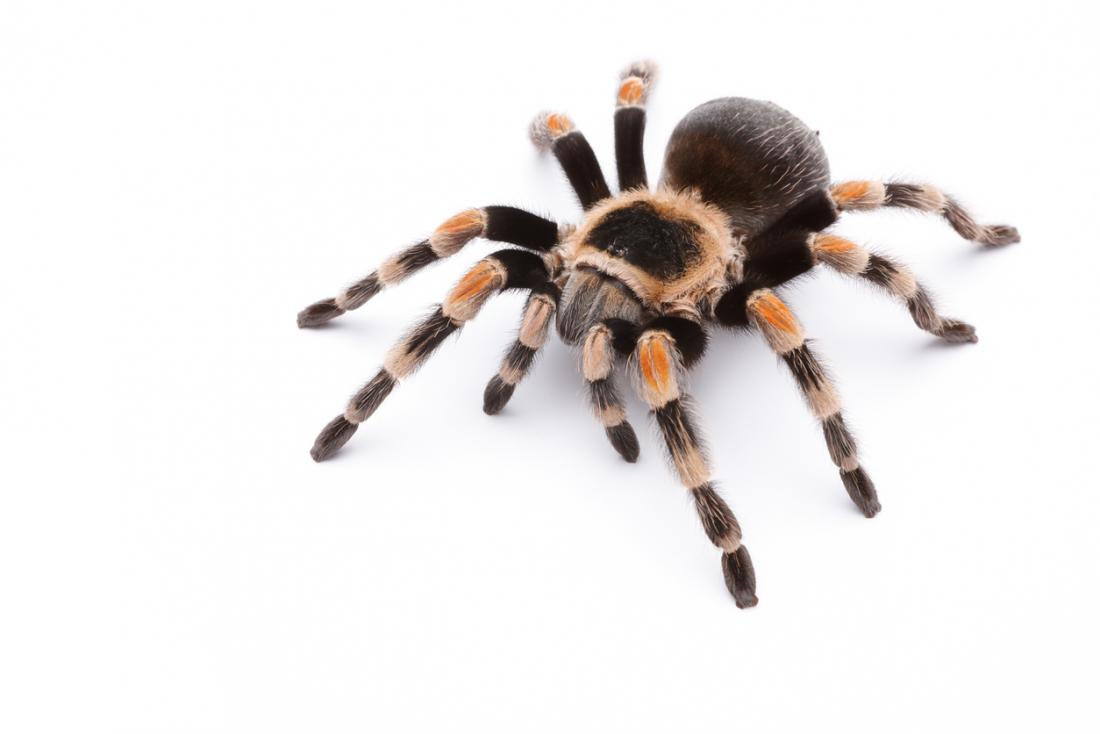 Tarantula
Tarantulas are found in desert-type climates but also turn up as far east as Mississippi. These relatively large spiders can be 3 to 5 inches long. They tend to be shy. They are recognizable by their hairy body and protruding fangs.
In the U.S., tarantulas are not considered dangerous. Their bite is in the same ballpark as a bee sting and has similar symptoms.
Sometimes, symptoms may worsen and include:
swelling
increased heart rate
puffy eyes
low blood pressure (hypotension)
breathing difficulties
Brazilian wandering spider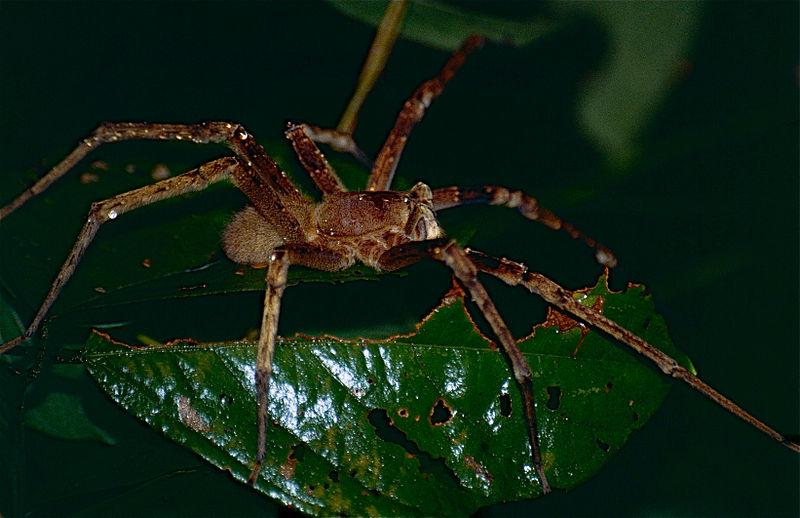 Brazilian wandering spider
Image credit: Bernard Dupont
The Brazilian wandering spider is aggressive and fast moving. It is found in Central and South America. This spider is considered to be one of the most poisonous on earth.
The bite is extremely painful and quickly results in heavy sweating and drooling.
The area around the bite will swell, turn red, and become hot. In severe cases, tissue may die. In men, the venom can cause a long-lasting, painful erection, known as priapism.
Antivenin is available for the Brazilian wandering spider. The sooner it is administered, the better the chance of successful treatment.
Treating a spider bite
If someone has been bitten by a spider, there are steps that can be taken to avoid infection and help the bite to heal.
People should contact their doctor to be diagnosed if they are uncertain about the kind of spider that bit them. If symptoms last longer than 24 hours or get worse after 24 hours, they should also contact their doctor.
Home remedies for spider bites
Symptoms from non-dangerous spider bites usually go away on their own. Below are some ways to reduce the discomfort at home:
Clean the area with water and mild soap to reduce the chances of infection.
Do not scratch the wound.
Apply ice to the area.
Over the counter (OTC) antihistamines may relieve itching.
Anti-inflammatory medicines, such as ibuprofen, may relieve pain.
If blisters develop, apply antibiotic ointment.
Elevate the affected body part above the level of the heart to reduce swelling.
Avoid physical activity, as this can make the venom spread more rapidly through the body.
A range of products is available for purchase over the counter or online, including antihistamines, ibuprofen, and antibiotic ointment.
Call a doctor if there are any signs of infection. Bacterial infections can be treated with antibiotics.
Preventing spider bites
People who live in an area with potentially hazardous spiders should take precautions to avoid being bitten. Always zip up tents when camping and wear pants when hiking in areas where spiders are more common. Turn shoes upside down and tap them on the ground before putting them on.
Always check before reaching into boxes or in areas that are not usually disturbed. These are the places spiders like to call home.
Other things that look like a spider bite
There are many misdiagnoses of spider bites worldwide. One study pointed to the fact that there are many cases of supposed spider bites in areas where the spiders do not exist.
Data were collected on brown recluse spider bites from four states in the United States. In a 41-month period, there were a total of 216 diagnoses of brown recluse spider bites. However, the total number of confirmed brown recluse sightings was only 35.
Wounds with dying tissue are often seen as a sign of a spider bite, but many things can cause tissue to die. More often than not, these misdiagnosed spider bites are caused by other problems.
Infected bites from insects like ticks, mites, and fleas can cause similar wounds, as can:
poison ivy and poison oak
MRSA (methicillin-resistant Staphylococcus aureus)