What types of inhalers are available for COPD?
Last reviewed
Last reviewed Mon 13 Feb 2017
Chronic obstructive pulmonary disease is a group of inflammatory lung diseases that hamper airflow to the lungs. These diseases include emphysema and chronic bronchitis.
These conditions are progressive with the disease worsening as time passes. Common issues with chronic obstructive pulmonary disease (COPD) include coughing up large amounts of mucus, shortness of breath, chest tightness, wheezing, and other upper respiratory symptoms.
Although cigarette smoking is a leading cause, long-term exposure to lung irritants is also considered to be a leading factor in causing COPD.
Some of the most common treatment options for COPD include inhalers because the medicine goes straight to the lungs for absorption.
Different types of COPD inhalers
COPD inhalers are designed to bring medication directly to the lungs, where the symptoms of COPD occur. Based on the severity of the COPD symptoms, a doctor may prescribe both fast-acting and long-acting inhalers. The severity of the COPD will also help determine whether medication alone or a combination of medication and steroids is needed.
A bronchodilator may be used to make breathing easier by relaxing muscles in the airway.
The inhalers available for COPD help improve breathing by opening up the airways. Inhalers are often effective for both quick relief of symptoms and long-term preventive measures to help minimize flares.
Bronchodilators and glucocorticosteroids are two types of inhalers typically used to treat COPD symptoms.
A third type combines these two treatments.
Bronchodilators
Bronchodilators relax the muscles around the lungs' airways, which helps open the airways and makes breathing easier.
In mild cases of COPD, a doctor may prescribe a short-acting bronchodilator to use as symptoms flare. The short acting bronchodilator is taken every 4 to 6 hours as needed.
In more severe cases of COPD, a doctor is more likely to prescribe both a short-term and long-term bronchodilator. The long-term bronchodilator is taken every 12 hours and the short-acting one would be used as needed.
Glucocorticosteroids
Glucocorticosteroids, often referred to simply as steroids, are most often used alongside bronchodilator treatments in severe cases of COPD. Steroid treatments help open up the airways as well.
A doctor may first try steroids on a trial basis for about 6 weeks to 3 months to see if adding steroids to the current treatment is helping to improve breathing.
How do COPD inhalers affect the body?
Bronchodilators work either as short-term or long-term therapy. In the short term, they are often referred to as "rescue" inhalers for the relief of sudden, severe symptoms.
In both cases, bronchodilators act to relax the muscles around the lungs and open up the airways. These combined actions make breathing easier.
In more severe cases of COPD, glucocorticosteroids are used alongside bronchodilators. The steroids help reduce inflammation, swelling, and mucus in the airways.
Common types
There are several inhalers available for the treatment of COPD.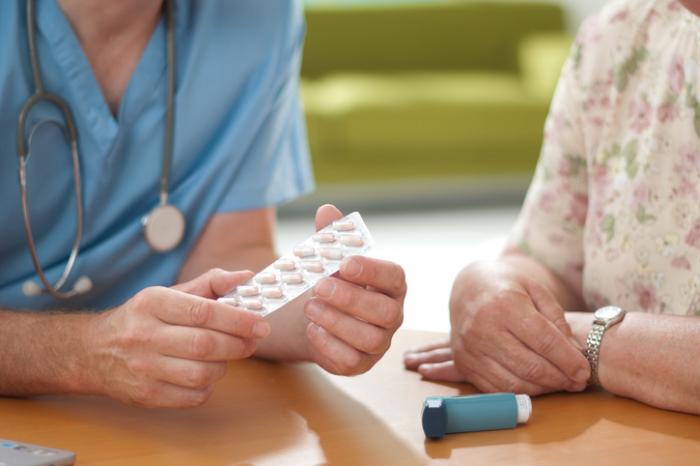 Inhaled COPD medication is available by prescription with inhalers or nebulizers.
Short-term inhalers include:
Albuterol
Levalbuterol
Ipratropium
Long-acting inhalers include:
Tiotropium
Salmeterol
Formoterol
Arformoterol
Indacaterol
Aclidinium
Steroids include:
Different types of inhaler devices
Inhaled COPD medication can come in two forms: inhalers and nebulizers. Both are available by prescription only.
Nebulizers and inhalers are devices that turn medication into a mist to help treat breathing disorders.
While most inhalers are prescription only, there are some inhalers available over the counter. However, it is strongly recommended that a person with COPD should consult a doctor before trying any over-the-counter inhaler.
Inhalers offer inhaled medication in three forms:
MDI is a liquid medication that is inhaled slowly using a spacer in single burst
DPI is a dry, powder medication that is inhaled without a spacer by wrapping lips around the mouthpiece
SMI is a newer form of inhaler, which delivers the medication in a slow mist that does not depend on how fast the medication is inhaled
Unlike inhalers, nebulizers are bulky and are not easy to take away from home. Some users often require around 20 minutes to fully inhale all the medication.
Nebulizers require the user to measure out the medication and add it directly to the machine, while inhalers contain a predetermined amount per puff.
Whether a person with COPD uses an inhaler or a nebulizer comes down to personal preference, what a doctor recommends, and what insurance will cover. Whichever method is used, it is essential that people use the inhaler or nebulizer as prescribed.
Possible risks and side effects
As with any medication, inhalers have the potential to produce side effects. Some of the most common side effects for inhalers include: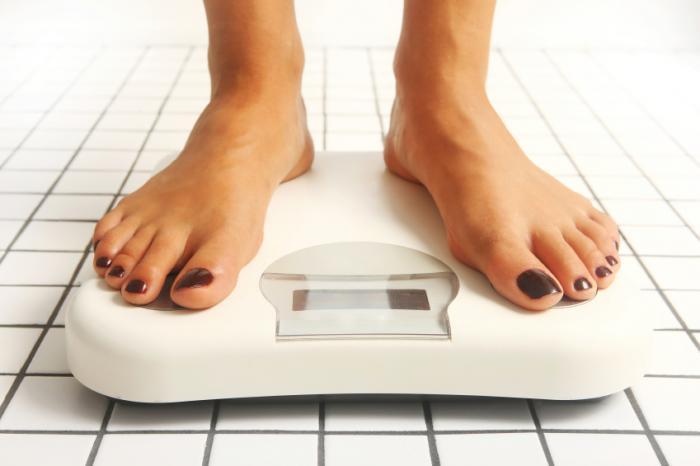 A possible side effect of inhalers may be weight gain.
Weight gain and fluid retention
Mood changes
Loss of muscle mass
Increased sugar levels in the blood
Increased risk of ulcers
Loss of bone tissue
Damaged optic nerve
Recurrent infections
A doctor or pharmacist will be able inform users what side effects a particular inhaler could cause. Medication labels also list possible side effects of the inhaler.
Things to discuss with a doctor
Talking to a doctor and asking questions about the severity of COPD symptoms, their frequency, and how to reduce them is recommended. A doctor is one of the best resources available for people to find out about further treatment options.
It is also helpful for a doctor to know whether an individual has a history of smoking, if the person is currently smoking, and whether the person has been exposed to pollutants for extended periods. These factors help a doctor determine the best inhaler or inhalers to manage COPD symptoms.
Other treatments for COPD
Although inhalers are some of the most common treatments of COPD, there are a few other treatments that a doctor might recommend.
In addition to inhalers, some doctors might prescribe oral medication to help treat the symptoms of COPD. Phosphodiesterase-4 inhibitors relax the airways and reduce inflammation. Theophylline may help improve breathing and prevent exacerbations. These medications may have unpleasant side effects including nausea, fast heartbeat, headaches, and tremors.
Finally, a doctor might recommend lung therapies that will help improve lung function over time. In some severe cases, surgery to remove parts of the damaged lungs or the entire lung may be discussed.
There are also some lifestyle recommendations a doctor may make to help with symptoms of COPD. These include:
Exercising
Eating a healthful diet