What does lung cancer look like?
Last updated
Last updated Tue 11 Apr 2017
Lung cancer can be a worrying diagnosis. This type of cancer is aggressive and can quickly spread to other organs, such as the pancreas and liver.
More than half of people with lung cancer survive if the disease is detected while it's still localized in the lungs. Lung imaging scans can reveal the location, severity, and even the type of lung cancer, offering an accurate outlook and proper treatment.
Types
Diagnosing lung cancer is challenging, even for radiologists and oncologists. Patients concerned about their diagnosis should talk to their doctor, since comparing images online can give incorrect information.
Here are some characteristics of various lung cancer types:
Small cell lung cancer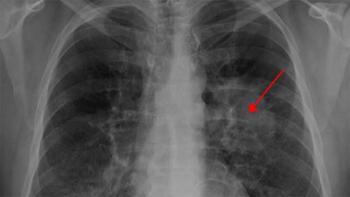 A chest x-ray showing a lung cancer tumor.
Small cell lung cancer, also called oat cell cancer, accounts for about 15 percent of lung cancer cases. This type of cancer tends to spread to other areas of the body more quickly than other types and grows rapidly.
In most cases, the tumors of small cell lung cancer are located toward the center of the lungs. The tumors extend out from the lobar bronchi, divisions of the lung's main airways. On a chest X-ray, small cell lung cancer may resemble white masses situated toward the center of the lungs.
Non-small cell lung cancer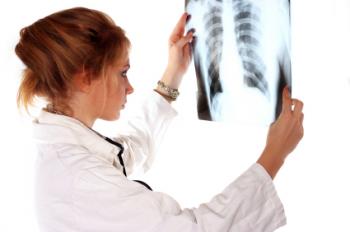 There are several types of non-small cell lung cancers; each with their own characteristic features on lung scans.
Non-small cell lung cancers can be challenging to distinguish from one another, particularly on a chest X-ray.
Adenocarcinoma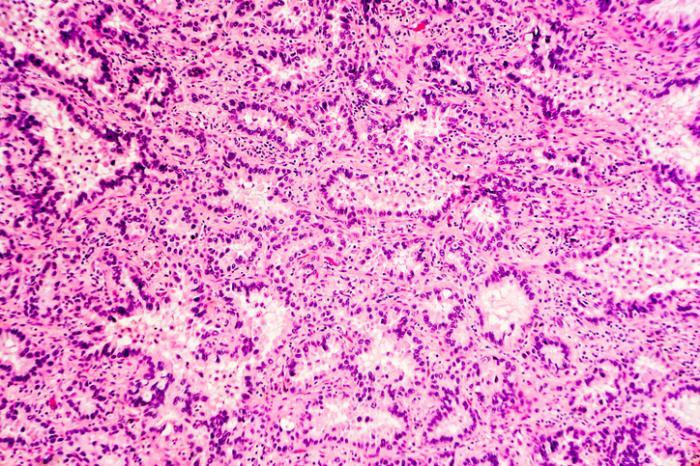 Adenocarcinomas account for about about 40 percent of lung cancer cases. This non-small cell lung cancer grows slowly, and is located in the outer portions of the lungs. On a lung scan, adenocarcinomas can resemble small cell lung cancer, but are situated on the outer portions of the lungs, rather than near the center.
Adenocarcinomas look like round nodules in the lungs, and first appear in cells that produce mucus. It's important to work out what type of adenocarcinoma it is as this can affect treatment and outlook.
Though smoking is the primary risk factor for adenocarcinoma, it is also the most frequent form of lung cancer among nonsmokers.
Squamous cell (epidermoid) carcinoma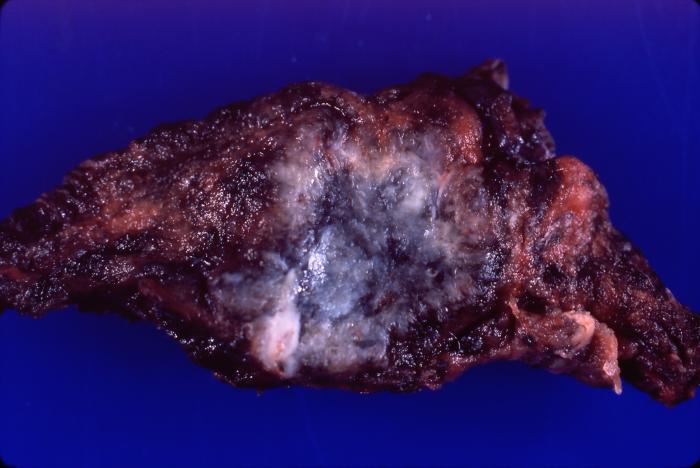 Image credit: Yale Rosen, Apr. 13, 2011.
Between 30-35 percent of all lung cancers are squamous cell carcinomas. This type of cancer originates in the cells that line the lung's airways.
Tumors are usually found near one of the lung's main airways. As tumors grow, they may extend into the wall of the chest.
Large cell (undifferentiated) carcinoma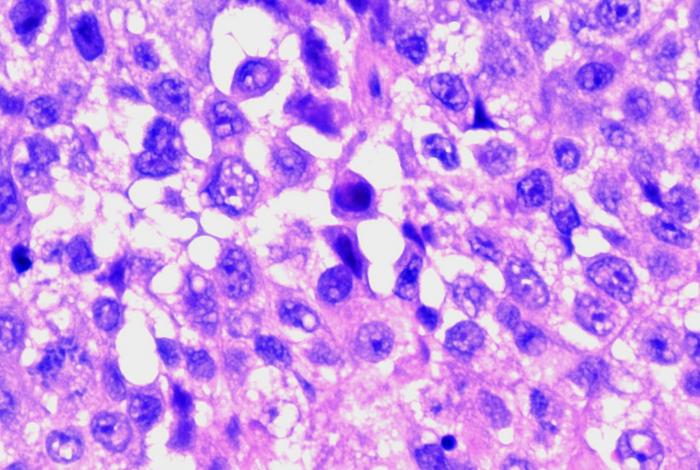 Image credit: Yale Rosen, Aug. 10, 2009.
Large cell (undifferentiated) carcinoma accounts for 10-15 percent of all lung cancer cases.
It can appear anywhere in the lungs. Because it grows and spreads quickly, it may extend outside of the lung.
Large cell carcinoma is one of the most difficult forms of lung cancer to treat.
Mesothelioma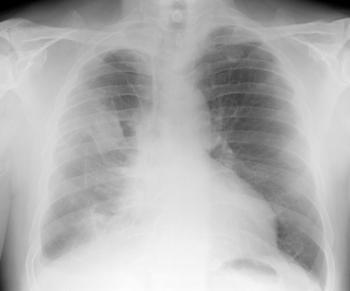 A layer of cells called the mesothelium surrounds the lungs, heart, abdomen, and other organs. The pleura, a type of mesothelium, surround the lungs. Pleural mesothelioma, usually just called mesothelioma, is cancer of this layer of tissue.
Mesothelioma does not tend to stand out on chest X-rays. There may be a volume reduction on one side of the chest, or a large opaque growth covering a large portion of the lung.
Metastatic cancers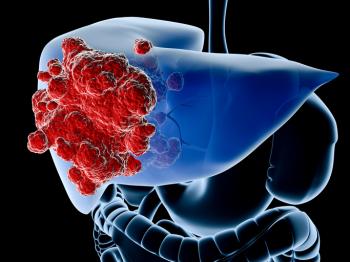 Metastasis is the process through which cancer spreads from one (primary) area of the body to another (secondary) area. It may spread through the tissue by traveling through the blood to a distant region of the body. It may also spread to surrounding areas as a tumor grows.
Lung cancer that is metastatic means that it has spread to another region of the body. Its hallmark is that there will be signs of cancer in another organ. For example, cancer in the lungs and the liver suggests metastatic lung cancer.
Cancers from other areas of the body can sometimes spread to the lungs. These cancers are not technically lung cancer, but can affect lung functioning. They are visible on lung scans, but their specific presentation depends on the type of cancer, the degree of metastasis, and similar factors.
Tests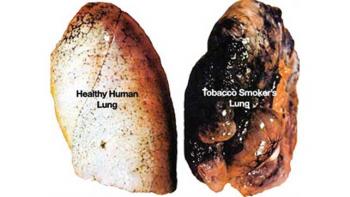 A large percentage of lung cancer patients may have smoked in their lifetime.
Lung cancer is difficult to detect, particularly since the early stages often produce no symptoms. For many people, a chest X-ray is the first diagnostic option. However, about half of adults who get a chest X-ray have at least one growth while less than 5 percent of growths are cancerous.
Depending upon symptoms and risk factors, a doctor may recommend monitoring the growth over time, or performing other tests to assess if it is cancerous.
MRIs and PET scans can provide more details about growths in the lungs. To confirm a lung cancer diagnosis, the doctor will need to perform a lung biopsy. During a biopsy, a doctor takes a small sample of a lung growth before examining it under a microscope for cancer cells.
Who gets lung cancer?
Although anyone can develop lung cancer, someone who smokes presents a major risk factor for all forms of lung cancer except for mesothelioma. Around 80-90 percent of lung cancer patients are current or former smokers. People with mesothelioma typically develop symptoms due to asbestos exposure. Secondhand smoke exposure is also a risk factor for lung cancer.
Some other risk factors for lung cancer include:
a family history of lung cancer
previous radiation therapy to the chest
exposure to radon gas
exposure to pollution, asbestos, diesel, and some other chemicals
diet - some research suggests that smokers who take beta carotene supplements are at an increased risk
Symptoms
In the early stages of lung cancer, when the cancer is most treatable, most patients experience no symptoms. For this reason, doctors may recommend regular chest X-rays for people at a heightened risk of lung cancer.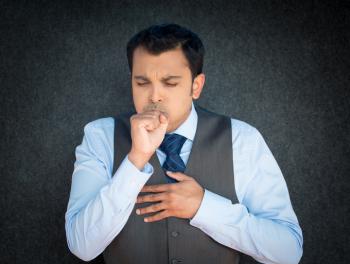 Symptoms of lung cancer may include breathlessness, wheezing, and coughing.
Once symptoms appear, they include:
wheezing and coughing
long-term congestion
breathlessness
coughing up blood
dizziness and fatigue
recurring chest and respiratory infections
As lung cancer grows and spreads, symptoms tend to become more serious. Metastatic lung cancer can trigger a wide range of symptoms depending on the organ or bodily system affected.
Treatment and outlook
The outlook for lung cancer depends on the stage of cancer, the age and health of the patient, and how early cancer is detected. Five-year survival rates are around 55 percent when cancer has not moved beyond the lungs, but just 16 percent of cancers are detected this early.
Treatment options include:
surgery to remove tumors
drugs to slow tumor growth
immunotherapy to support the immune system
radiation therapy
Lifestyle remedies, such as diet, exercise, and stopping smoking, may also prolong life and reduce the severity of symptoms.
---