What is invasive lobular carcinoma (ILC) breast cancer?
Last reviewed
Last reviewed Fri 31 Mar 2017
Invasive lobular carcinoma is a type of cancer that starts in the milk glands of the breast and spreads easily to surrounding tissue.
Invasive lobular carcinoma (ILC) may also be referred to as "infiltrating lobular carcinoma." It affects about 1 out of 10 people diagnosed with invasive breast cancer.
As the name suggests, ILC frequently spreads out of the milk gland (lobule) where it forms, and may invade and infect other lymph nodes.
ILC is similar to other invasive breast cancers in that it can spread easily to other parts of the body. However, unlike other breast cancers, ILC does not cause a lump to form.
ILC is harder to detect than other breast cancers through traditionally used breast cancer screenings using mammograms and ultrasounds.
Similarly, as there is not normally a lump in the breast in cases of ILC, this again makes it harder to detect than other types of breast cancers.
Symptoms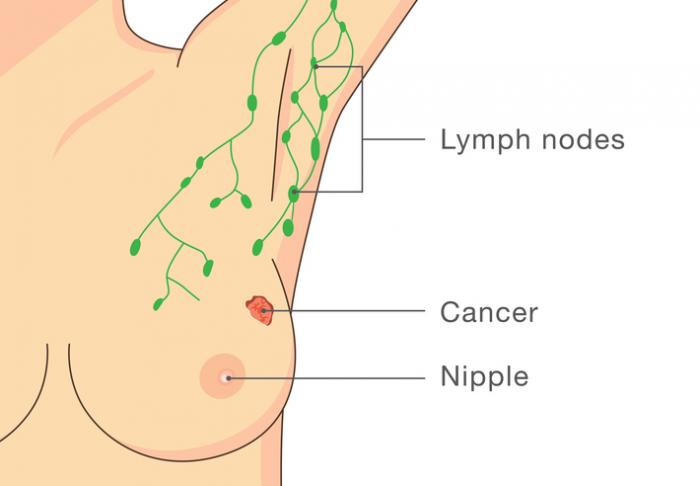 Symptoms may not show at first, but, in time, swelling or a lump may appear under the armpit.
In the earliest stages, ILC may not cause any signs or symptoms. However, as the cancer progresses the following may occur:
thickening on part of the breast
newly inverted nipple
swelling in part of the breast
change in skin texture of the breast
lump under the armpit
redness or scaliness in the breast skin
pain or irritation in the breast or nipple
discharge from the nipple that is not breast milk
Diagnosis
A doctor will run a series of tests to diagnose ILC, which may include:
Mammogram: an X-ray is taken of the breast. Mammograms alone are not that good at detecting ILC, so they often need to be combined with other tests.
Ultrasound: sound waves are used to take pictures of the interior breast tissues. Like mammograms, these are not the most effective way to show ILC.
MRI: magnetic imaging is used to take pictures of the breast tissue and detect cancer if the results of other tests are unclear. They can also show how much of the breast is affected by the cancer and how far it may have spread.
Biopsy: involves removing and testing a sample of breast tissue. It can be done by surgery or a needle extraction. It can confirm the diagnosis of ILC and the subtype, of which there are several.
These tests are used alongside breast examinations, physicals, and blood tests. Together these tests can usually confirm:
whether someone has ILC
the amount it has spread
which stage it is (from 0 to 4)
Subtypes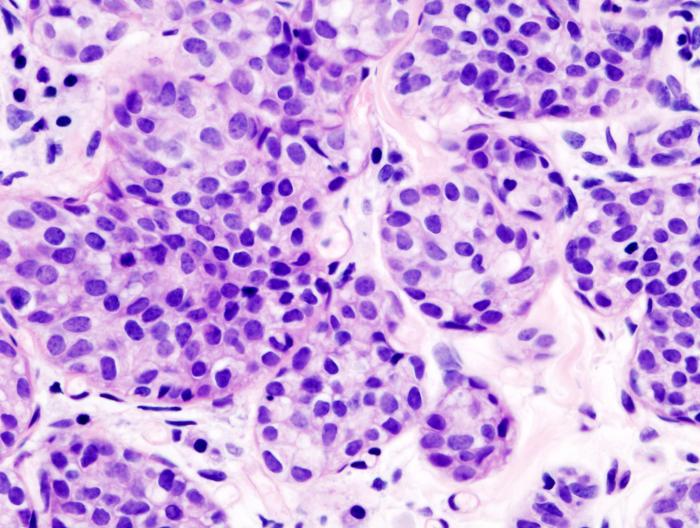 The subtypes of ILC are classified according to their growth pattern when seen under a microscope.
Image credit: KGH, 2005, December 4.
There are several different kinds of ILC. The subtypes are based on how the cancer cells look under a microscope.
Most commonly, ILC is made of small cells that invade the fatty tissue and ligaments around the milk ducts. In classic cases of ILC, the cancer cells look very similar to each other and grow in a single-file pattern.
Other types of ILC are classified according to their growth pattern. These include:
Solid invasive lobular carcinoma: the cancer cells grow in large sheets with little healthy tissue between them.
Alveolar invasive lobular carcinoma: cancer cells grow in groups instead of the classic singular pattern.
Tubulolobular invasive lobular carcinoma: has some of the growth pattern of classic ILC but some of the cancer cells also form small tube-like structures, known as tubules.
Treatment
There are many treatment options to consider for ILC.
It can be hard to determine the extent of ILC and so this cancer tends to be treated aggressively. Surgical treatments are very common.
Different combinations of treatments may be recommended. These depend on a variety of factors including:
how aggressive the cancer is
how far it has spread
the stage of the cancer
a person's overall health
personal preference
Depending on these factors ILC may be treated with a combination of the following:
Surgery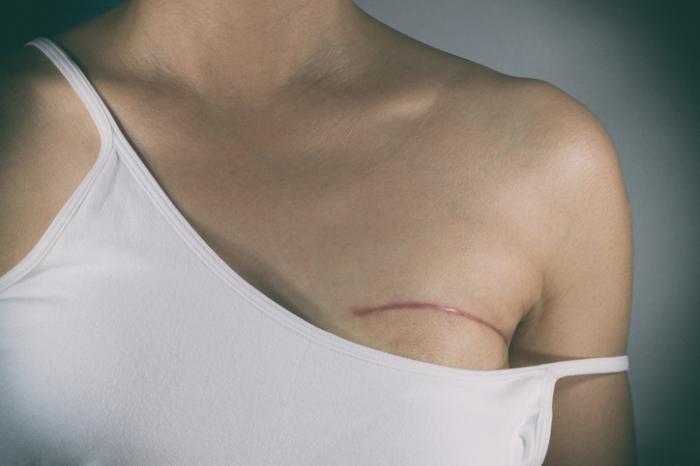 A mastectomy removes all of the breast tissue, not just the portion affected by cancer.
There are several different types of surgery that may be used to treat ILC. The surgical options may include:
Lumpectomy: removing a small portion of the affected breast.
Mastectomy: removing all the breast tissue including healthy tissue surrounding the cancer.
The surgery recommended will vary from person to person and depends largely on the stage of the cancer and how aggressive it is.
Even with a mastectomy, surgical treatment of breast cancer is considered a local treatment. This is because it affects only the areas of the body where the cancer is active.
Radiation
Radiation therapy is another local cancer treatment. During radiation, the cancer is targeted using high-powered, focused beams of radiation aimed directly at the affected areas.
Radiation is normally used in conjunction with surgery for treatment of ILC.
Chemotherapy
Chemotherapy kills cancer cells with the use of very powerful drugs.
Like radiation, chemotherapy is not normally the first course of action for ILC. However, it may be prescribed to shrink an area of ILC prior to surgery. It can also be used after surgery to kill any cancer cells that may remain.
Hormone therapy
Most ILC is hormone receptor positive, making hormone therapy a viable treatment option.
Before beginning hormone therapy, the ILC will be tested to see if the hormone receptors are present on the cancer cells. If they are, hormones will be given that block the cancer's ability to use the body's circulating hormones to grow and spread. Hormone therapy for ILC is normally used with surgery to treat this kind of cancer.
Outlook
How soon the cancer is diagnosed, and how quickly treatment is started, affect the outlook for those people who are diagnosed with ILC.
In most cases, earlier diagnosis and treatment may result in a better outlook.
Recommended related news
---