The rate of childhood obesity in the US has declined in many states, according to a Vital Signs report from the Centers of Disease Control and Prevention (CDC).
The report shows that obesity levels among low-income children aged between 2 and 4 years decreased in 19 of 43 states and territories studied in the US. Obesity rates stayed at the same level in 21 states between 2008 and 2011.
The report revealed that Florida, Georgia, Missouri, New Jersey, South Dakota, and the US Virgin Islands showed a minimum decrease of 1% in their childhood obesity rates.
Only three states showed an increase – Colorado, Pennsylvania and Tennessee.
To compile the Vital Signs report, researchers form the CDC analyzed the measured weight and height of nearly 12 million children aged between 2 and 4 years old.
All children were part of federally-funded maternal and child nutrition program, and all data was sourced from the Pediatric Nutrition Surveillance System.
The report included 40 states and the District of Columbia, as well as two US territories – the US Virgin Islands and Puerto Rico.
Tom Freiden, director at the CDC, says the results of this report are showing a step in the right direction:
"Although obesity remains epidemic, the tide has begun to turn for some kids in some states.

While the changes are small, for the first time in a generation they are going in the right direction. Obesity in early childhood increases the risk of serious problems for life."
Previous research from the CDC shows that around one in every eight preschoolers in the US are obese, and that children who are overweight or obese between the ages of 3 and 5 years are five times more likely to be overweight or obese as an adult.
Children who are obese also pose a higher risk of morbidity, disability and premature mortality in adulthood.
Research has suggested that although the most serious consequences of obesity do not become apparent until adulthood, symptoms such as raised blood pressure, increased cholesterol and metabolic syndrome can be identified in children and adolescents.
The CDC say they are encouraging state and local officials to combat rates of childhood obesity by suggesting ways this can be done. These include making it easier for families with children to buy healthy, affordable foods and beverages locally, and helping local schools open gyms, playgrounds and sports fields during non-school hours.
Janet Collins, director of the Division of Nutrition at the CDC, says:
"Many of the states in which we are seeing declines have taken action to incorporate healthy eating and active living into children's lives.

We must continue to strengthen and expand proven strategies that help our children live healthier lives by avoiding obesity in the first place."
First Lady Michelle Obama commented on the results of the report, saying they reaffirm her belief that together, the US is making a real difference in helping children across the country to get a healthier start to life.
The First Lady added:
"While this announcement reflects important progress, we also know that there is tremendous work still to be done to support healthy futures for all children."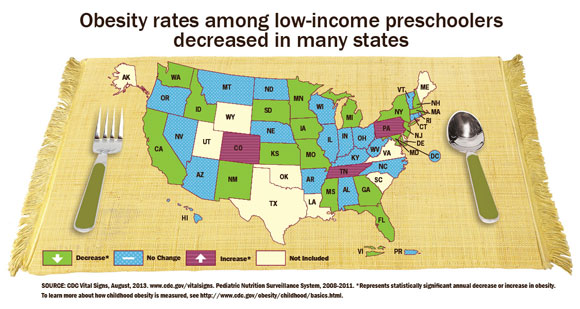 This map shows the increase/decrease of obesity in low-income children in the US aged between 2 and 4 years, between 2008 and 2011.