In the world of mice, male attractiveness does not rely on the amount of cheddar owned or the ability to quote Shakespeare on cue. It all comes down to pheromones in urine, and a recent study suggests that sons of promiscuous mice moms make more urinary pheromones, smelling "sexier" to potential mates.
Researchers say that though this is an advantage reproduction-wise, it may not be a desirable feature; the sexy smelling males have shorter lives.
A team from the University of Utah, led by senior author Prof. Wayne Potts, published the results of their study in the journal Proceedings of the National Academy of Sciences.
Prof. Potts explains how the study sheds light on epigenetics - how the parents' environment, not changes in the DNA, modifies the genes of offspring:
"Only recently have we started to understand that environmental conditions experienced by parents can influence the characteristics of their offspring. This study is one of the first to show this kind of 'epigenetic' process working in a way that increases the mating success of sons."
For their study, the team used domesticated mice who were descended from wild mice but raised for 10 generations in cages with assigned mates.
There were 23 male-female pairs who were kept as nonsocial, monogamous mice in the cages. However, 20 males and 40 females were assigned to social, promiscuous conditions, where they were placed in mouse barns and competed for territories and mates.
Sexiness, at the cost of a shorter life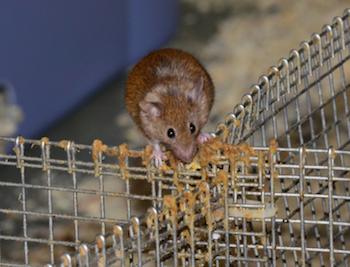 Sexy and he knows it: a male mouse leaves brownish scent marks by depositing pheromone-rich urine on a fence separating his territory from those of other mice.
Photo Credit: Doug Cornwall, University of Utah
The biologists found that male mice whose parents competed for mates produced 31% more major urinary proteins (MUPs), which are pheromones that attract female mice. This is in comparison with the male mice who came from caged monogamous parents.
Even though the "promiscuous" male offspring never competed socially, this pheromone output increased, say the researchers.
Interestingly, the male mice that generated more pheromones had shorter lives, according to another recent study by Potts and colleagues. A mere 48% of them lived to the conclusion of the experiment, compared with 80% of the male offspring of monogamous parents.
Prof. Potts says this is likely because it takes quite a bit of energy to make the pheromones:
"Production of pheromones is outrageously expensive. A single mouse's investment in pheromone production compares with the investment that 10 male peacocks make in the production of their tails, which also are used to attract females."
Although the mouse mothers' promiscuity had a "sexier" effect on the male offspring, the researchers say promiscuous father mice had an undesirable effect. After breeding each type of female with each type of male, the team found that sons of promiscuous fathers produced 5% less pheromones than sons of monogamous fathers.
Prof. Potts adds:
"Fathers are competing with their sons and usually drive them out of the territory quickly, while they let their daughters stay. If you're worried about your sons impinging on your own reproductive success, then why make them sexy?"
Are there epigenetic implications for humans?
The researchers note that the impacts of social environments on pheromone output and other traits in humans have not been studied.
"Researchers just have started to scratch the surface of discovering traits that are influenced by parental experience," Prof. Potts says. "It is difficult to predict which and how many traits will be involved."
Potts told Medical News Today:
"We do not plan on working on humans, but numerous investigators work in this area and the perfume industry is always trying to discover new irresistible scents."
However, the team's findings may be helpful for programs attempting to breed endangered species in captivity. They note that confining such animals in social groups rather than in lone pairs might increase their ability to reproduce later when released into the wild.
And additionally, the study demonstrates how environmental changes faced by the mother and father can affect the offspring, either positively or negatively.
In this case, say the researchers, these environmental changes either increased or reduced pheromone output by influencing the production of proteins needed for both survival and reproduction.
They add that an example of "epigenetic inheritance gone awry" has been put forward when a famine affects parents, leaving the offspring with an increased penchant to store calories. Though this quality is beneficial during famine, it could lead to obesity when food is readily available.