According to new research from Michigan State University, the traditional use of human cadavers to teach college anatomy proves a better choice for learning than computer simulated methods.
Knowledge of anatomy is an important part of medical practice, with an absence leading to errors in identification of anatomical structures.
In order to achieve optimum anatomy education, cadaveric dissection (dissection of a dead human body) is mandatory in the majority of medical schools and perceived as a fundamental part of medical training. All medical schools in the US rely on the generosity of anatomical donors for the teaching of anatomy.
Because of current arguments on balancing learning outcomes, problems related to the use of human cadaver, teaching methods and resources, education in anatomy has introduced a shift toward greater use of alternative modes of teaching involving books, videos, cadaveric plastination, non-cadaveric models and computer-based imaging.
Some scholars have identified the use of cadavers for dissection in anatomy learning as expensive, time consuming and potentially hazardous. The emotional impact of such exposure to cadavers on students and their ability to cope has been examined in some studies – the effects of which have been described to include the physical (smell, nausea, conjunctival irritation) and psychological (anxiety, stress, emotional trauma, depression).
There is growing debate over whether cadavers are needed at all. Some medical schools in Australia and the UK have stopped using cadavers altogether, opting instead for more "hands-off" techniques.
Although most anatomy courses in the US emphasize the use of cadavers, supplementation is made with digital technologies. Cary Roseth, associate professor of educational psychology at Michigan State University, explains that the study suggests cadaver-based instruction should continue in undergraduate human anatomy, which is a gateway course to medical school, nursing and other health and medical fields.
Health devices, multimedia and virtual simulation programs are growing in popularity to assist with teaching, but what proves more successful in the classroom, the digital or the physical?
Supporters for the use of cadavers argue that only human cadavers can provide the visual and tactile experiences necessary to learn and apply anatomical knowledge. Opponents argue that the capabilities of modern multimedia and simulation technologies outweigh the benefits of using human cadavers.
The research featured in the September/October issue of Anatomical Sciences Education shows that the advantages and disadvantages of using 'Anatomy and Physiology Revealed' (APR) – a model-based computer simulation – instead of cadavers, are:
Advantages
The ability to navigate efficiently through different bodily layers and structures in 3D space
Providing more opportunities to explore anatomical structures on their own
Allowing students more autonomy in choosing different views, angles, and combinations of anatomical images that is not possible in traditional cadaver-based instruction.
Disadvantages
Lack of haptic (sense of touch) understanding of anatomical structures
The ability to give students too many views of anatomical structures and, so doing, distracting them from focusing on key information
The software's navigation and abundant options overwhelm students' cognitive processing capabilities and, as a result, impair learning.
This research is suggested to be one-of-a-kind in directly comparing the effects of cadaver-based and computer-simulation instruction on students' learning of cadaver-based structures.
Roseth, co-author of the study says:
"Our findings indicate that educational technology can enhance anatomy instruction but is unlikely to fully replace cadavers."
Controversy has amplified recently as a result of the increasing costs of cadaver instruction, compared with the decreasing costs and rising capabilities of modern technologies.
Researchers conducted their analysis with 233 students, assigned to one of 14 labs on a semester-long undergraduate anatomy lecture course. One group learned and tested on a cadaver, and the other group learned on a multimedia learning system and was then also tested on a cadaver.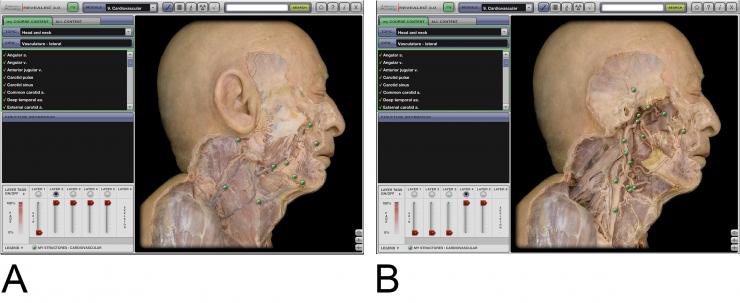 The Anatomy and Physiology Revealed (APR) multimedia learning system shows two lateral views of the cardiovascular system in the head and neck.
Image credit: Michigan State University
The students from both groups were tested on two areas: identifying parts of the body and explaining how they worked.
Cadaver-based learners scored:
Identification – 16% higher than those on the multimedia learning system
Explanation – 11% higher than those on the multimedia learning system.
Roseth commented on the surprising nature of the results given the benefits of the program to show the workings of the body, including blood flow through carotid arteries that cannot be experienced with a cadaver. Roseth noted:
"When it comes to learning actual – rather than simulated – human anatomy, the digital representations, even with all of their additional affordances, did not work as well as the cadaver."
The research provides a baseline for future research concerned with how and when to supplement traditional anatomy instruction with multimedia simulation technologies. This also provides a critical data point in the debate over fully replacing human cadavers with modern technologies such as APR.
The authors claim that the effective use of learning technologies involves more than replacing old technologies with new. The effective use of learning technologies will require that anatomy instructors simultaneously consider technology, pedagogy and content, and how changes in one inevitably affects the others.
The difference in the average scores, Roseth concluded, was essentially the difference between one grade.