What are the facts about throat cancer?
Last updated
Last updated Fri 17 Nov 2017
Throat cancer is the uncontrolled growth of harmful cells in parts of the throat.
It is a type of cancer that commonly affects the larynx, or voice box, and the pharynx, the section of the throat behind the nose that leads to the lungs and stomach.
This MNT Knowledge Center article will discuss the common types of throat cancer in the United States, as well as the possible causes, symptoms, and treatments for this type of cancer.
The article will also look at life beyond treatment and the chances of survival once diagnosed.
Fast facts on throat cancer

Throat cancer is uncontrolled cell growth in the throat. The most common types in the United States are cancer of the pharynx and larynx.
60.7 percent of people with laryngeal cancer and 64.5 percent of people with pharyngeal cancer live for more than 5 years following diagnosis.
Symptoms include difficulty swallowing, changes in the voice, and coughing up blood.
Treatment includes radiotherapy and chemotherapy.
There are many ways to manage the side effects of cancer treatment at home.
What is throat cancer?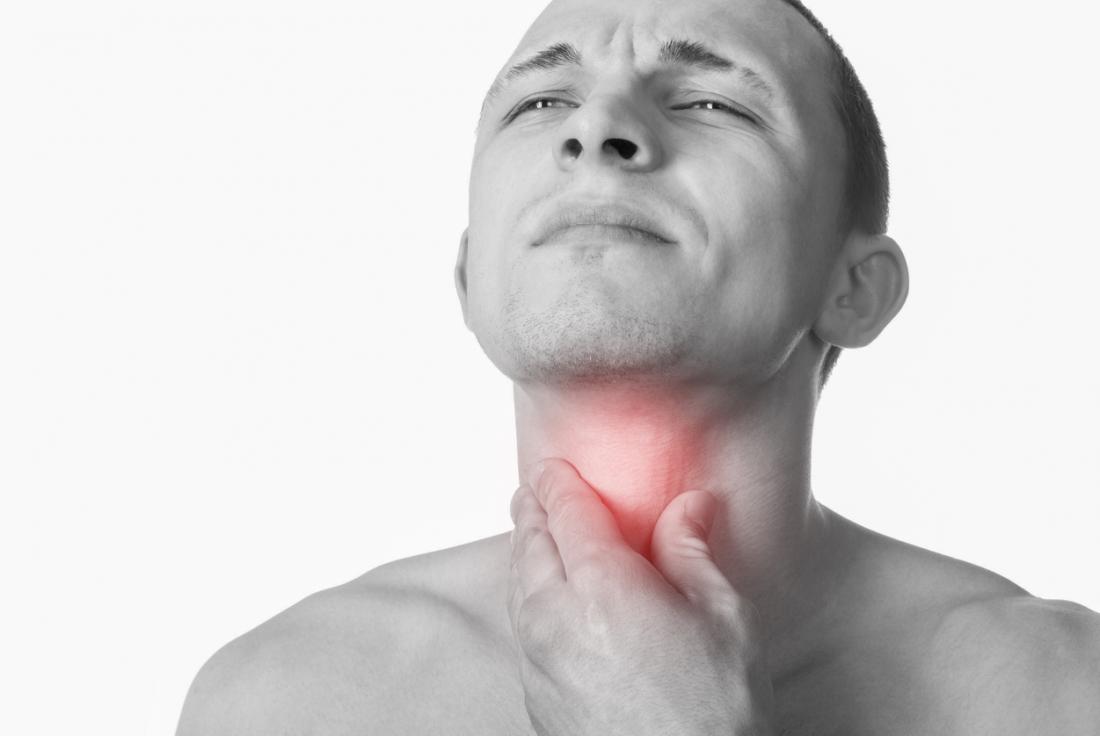 The throat has many parts, and most can become cancerous.
Throat cancer is uncontrolled cell growth in the throat.
The throat has many parts, and most of them can develop cancer. Around 3,000 different cancers start in a part of the pharynx.
Throat cancer is rare compared to other types. According to the National Cancer Institute (NCI), pharyngeal cancers occur in about 1 percent of adults in the U.S., and less than 0.5 percent of adults are likely to have cancer of the larynx.
The survival rate depends on the stage of the cancer and the area affected. 60.7 percent of people with laryngeal cancer survive for longer than 5 years, compared to 64.5 percent of individuals with pharyngeal cancer.
Many types of throat cancer begin as squamous cell carcinoma. This occurs in the squamous cells that line the throat. It is listed by the American Cancer Society (ACS) as a skin cancer but runs the risk of developing into throat cancer when it affects the skin around the throat.
Symptoms
Every type of throat cancer is different. Symptoms depend on the stage and location of the cancer.
Common early symptoms of laryngeal and pharyngeal cancer include:
difficulty swallowing
voice changes, especially hoarseness or not speaking clearly
unexplained weight loss
swelling of the eyes, jaw, throat, or neck
bleeding in the mouth or nose
a long-lasting cough
coughing up blood
a lump or sore that does not heal
wheezing or breathing problems
pain when swallowing
ear pain
These symptoms can come from less serious conditions, but it is important that a doctor checks them to rule out the presence of a type of throat cancer.
Causes and risk factors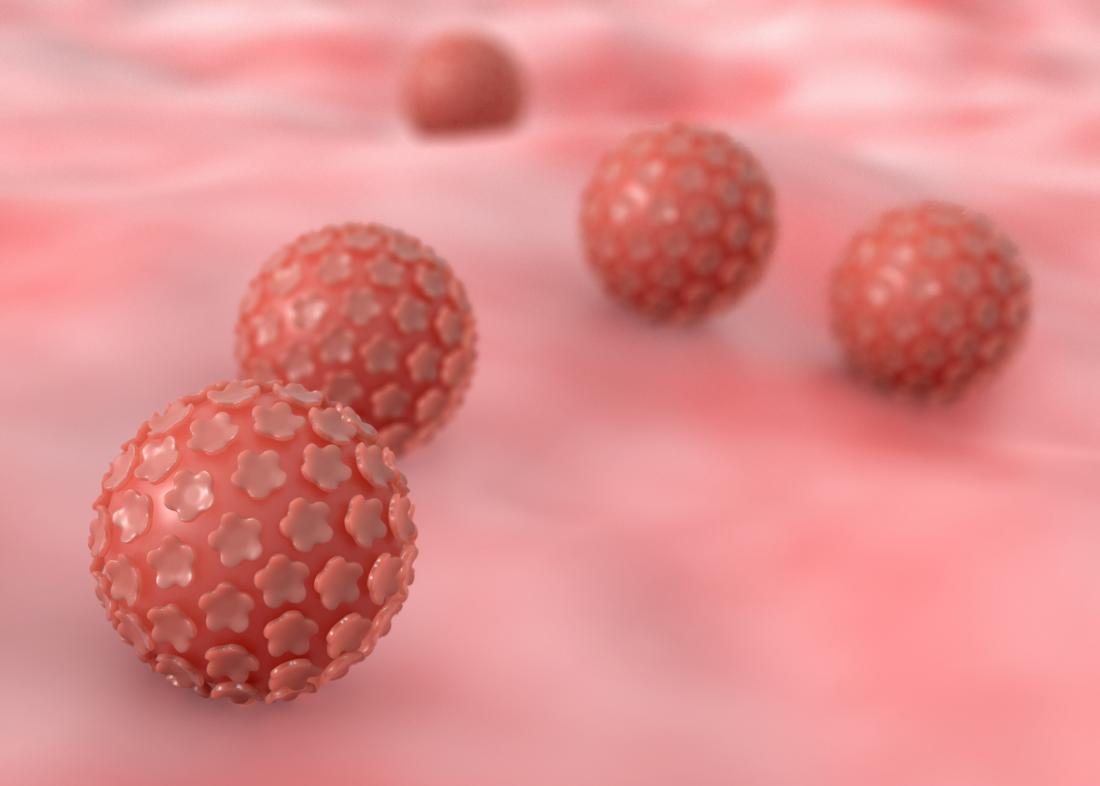 Human papillomavirus is one possible cause of throat cancer.
The specific cause of throat cancer is not known.
Cancer occurs when normal cells in the throat multiply and continue living after normal cells would die. The result is a swelling or lump in the throat known as a tumor.
There are certain factors that increase the risk of a person developing cancer in the throat, including:
drinking too much alcohol
using tobacco products, including smoking or chewing tobacco or taking snuff
gastroesophageal reflux disease (GERD), a condition in which acid from the stomach leaks back into the food pipe
Epstein-Barr virus (EBV), a common virus sometimes found in saliva
human papillomavirus (HPV infection), a sexually transmitted virus
Throat cancer may also develop if someone has certain inherited syndromes, such as Fanconi anemia.
This type of cancer is most common in men and older adults.
Diagnosis
It is crucial to receive an early diagnosis of throat cancer. This greatly increases the chance of survival. A person with throat cancer may be referred to a doctor called an oncologist. This type of doctor specializes in cancer treatment.
A doctor will first ask about symptoms. If symptoms seem to suggest throat cancer, the doctor will take a closer look by putting a tube into the throat.
The tube has a light and mirror attached to give the doctor a better view of the throat. In some cases, they may take a sample of throat tissue to test for cancer.
Other imaging tests may be performed, including X-ray, CT, MRI, or positron emission tomography (PET) scans.
These images help the doctor find the extent of cancer and the best way to treat it. Working out the severity of a cancer is called staging.
The staging of throat cancer is worked out as follows:
Stage 0: The cancer has not spread to tissue beyond the throat.
Stage I: The tumor is less than 7 centimeters (cm) and only occurs in the throat.
Stage II: The tumor is slightly larger than 7 cm but remains only in the throat.
Stage III: The cancer has grown and spread to nearby tissues and organs.
Stage IV: The cancer has spread to the neck glands, distant organs, or both.
Staging the cancer will decide the intensity and duration of treatment.
Treatment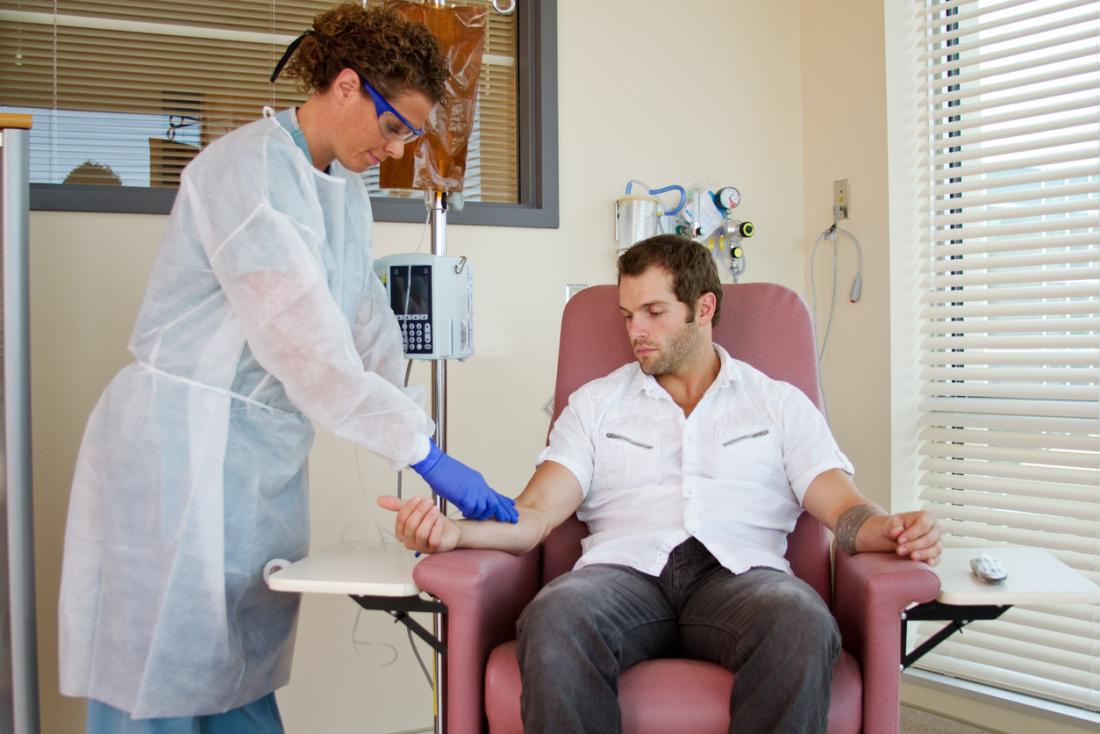 Chemotherapy is one way to treat cancer. However, it can have severe side effects.
Treatment of throat cancer depends on where the cancer is, the stage of the cancer, and the general state of health of the person receiving treatment.
The most common treatments include:
Surgery to remove the cancer: The tumor and affected tissue are cut out, or excised.
Radiation therapy: Targeted doses of radiation aim to kill the cancer cells.
Chemotherapy: Infusions of drugs target and kill cancer cells
A combination of these treatments is sometimes used.
Life after treatment
Treatment has a good chance of curing throat cancer, especially if it is caught early.
However, certain treatments may cause unwanted effects. People with throat cancer should ask their doctor what to expect from treatments and how to manage side effects if they occur.
Many people can feel quite well and happy throughout the first year of throat cancer treatment. However, the following are some of the side effects people may experience during or after cancer treatment.
Tiredness
Tiredness is the most common side effect of cancer treatment.
There are many ways to cope with tiredness. One approach is planning days around how the person feels. If they tend to have more energy in the morning, for example, the individual can plan and make the day's meals at that time, freezing the rest to eat later.
Another important coping mechanism for fatigue is mild exercise, such as a 15-to-30-minute outdoor walk.
Tiredness from cancer can be hard to live with, and it can prevent a person from living a normal life after treatment. A person recovering from throat cancer treatment should tell their doctor if they are experiencing excessive tiredness.
In some cases, tiredness may be caused by other factors that a treating doctor should be able to identify.
Pain
Pain is common after certain cancer treatments. It may feel dull, achy, or sharp. The pain may be ongoing or only occur once in a while.
Painful sensations can reduce the time it takes the body to heal, interfere with sleep, and affect mood.
There are many ways that pain can be managed, including medication. Healthcare teams can help find the best approach for pain symptoms.
Memory problems
Some people experience memory lapses and difficulties with thought processes during or after cancer treatment. Planning each day and exercising regularly can help.
People should write down or record important tasks they want or need to remember. Using a pillbox or calendar can help an individual keep track of their medicine schedule.
A person experiencing these cognitive difficulties should always ask a friend or family member when they need help remembering, driving, shopping, and carrying out other activities they find difficult following cancer treatment.
Nerve changes
Some cancer treatments damage the nerves. This can cause uncomfortable sensations and noticeable changes in the senses.
Depending on which nerves are affected, people with nerve damage may notice the following symptoms:
numbness
tingling
burning
weakness in different parts of their body
This may cause a range of problems, such as reduced feeling in the fingers or feet, balance problems, and constipation.
People should take special care if they have any of these symptoms. Tips include:
moving rugs to avoid tripping and falling
fitting rails on walls and in the bathroom to help with balance
placing secure bath mats in the tub or shower
wearing sturdy shoes to protect the feet, both indoors and outside of the home
People experiencing these symptoms should take special care in the kitchen. They should always use potholders and be cautious when using knives or sharp objects.
Ask for assistance when checking the temperature of food. This is also a good idea for testing bath or shower water.
Follow-up
After a person has finished throat cancer treatment, their doctor will still want to monitor the progress of treatment.
Immediately following treatment, visits may be scheduled around every 2 months. The frequency will reduce as the condition of the person improves. This helps the doctor learn about and manage any ongoing symptoms.
The doctor will also check for the return of the cancer.
Takeaway
There is a 20.5 percent risk that laryngeal cancer will return in the first three years after treatment.
However, careful management of symptoms can limit the harmful side effects of treatment and the impact of the condition.