What is benign prostatic hyperplasia?
Last reviewed
Last reviewed Wed 4 Jan 2017
Benign prostatic hyperplasia refers to a condition in which the prostate enlarges. It can happen to a man as he ages, for reasons not entirely understood. The enlarged prostate may block or slow urine from the urethra.
Benign prostatic hyperplasia (BPH) is different from prostate cancer. Having BPH does not increase the risk of developing prostate cancer.
What is BPH?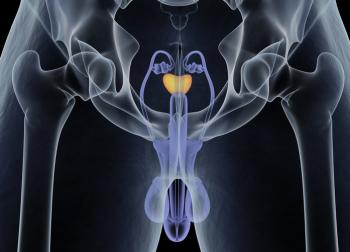 One part of the male reproductive system is the prostate gland (yellow gland in image).
The prostate is a small gland that is part of the male reproductive system. It sits under the bladder and surrounds the urethra. The urethra is a thin tube-like structure in which semen and urine leave a man's body.
Along with two other glands, known as the seminal vesicles, the prostate makes fluid that combines with sperm to create semen.
Usually, urine flows from the bladder through the section of urethra surrounded by the prostate and leaves the body.
BPH occurs when the cells in the prostate multiply and the gland becomes enlarged.
The condition normally starts to develop when men are in their 40s. For some, the growth may stabilize, but for others, it continues.
Causes and risk factors
Research has not concluded why some men develop BPH, but the biggest factor is aging.
According to the Prostate Cancer Foundation, about 1 in 5 men will develop BPH by their 50s. That statistic increases to 70 percent by the time a man is 70 years old.
In addition to age, ethnic background may play a role. Black men appear to develop the condition more often than white or Asian men, and they also develop symptoms at a younger age.
Having a family history of BPH also increases a man's risk of developing the condition.
Many of the risk factors for developing BPH appear to be uncontrollable. But one risk factor that can be controlled is obesity. Men who are overweight appear to have an increased risk of developing BPH.
Symptoms and complications
Early symptoms of BPH often include the need to urinate more often.
Because the prostate is enlarged, it puts more pressure on the bladder and this makes it difficult to hold urine. The result is more frequent trips to the bathroom, including during the night.
Symptoms of BPH may become worse over time. Symptoms do not necessarily become more severe based on the size of the prostate. For instance, a man with a significantly enlarged prostate can have fewer symptoms than a man with only a slightly enlarged prostate.
Additional symptoms may include straining while urinating and a slow or weak urine stream. It can also become more difficult to start the flow of urine. Some men have problems emptying their bladder completely when they urinate.
Complications from BPH can develop if the condition is not treated. Over time, complications can include an inability to urinate, bladder infections, and bladder stones. Bladder stones may develop due to a buildup of minerals if the bladder is not completely emptied.
Additional complications include pain during ejaculation or when urinating. Incontinence, or the inability to hold urine, may occur. Blood may appear in the urine due to enlarged veins on the prostate surface.
Diagnosis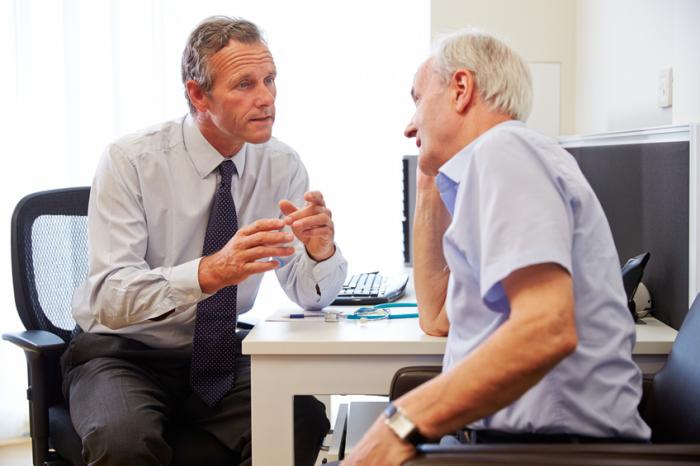 It is recommended to see a healthcare professional if BPH is suspected.
If a man experiences symptoms of BPH, he should see a doctor. Seeking treatment early may prevent complications and damage to the bladder or kidneys.
Seeing a doctor also helps rule out other causes. Prostate cancer, inflammation of the prostate, and kidney stones can cause similar symptoms in men.
A doctor will normally diagnose BPH after a review of symptoms, a medical history, and certain medical tests. This will probably include a rectal exam to check for prostate enlargement. Urine analysis is usually carried out to rule out infections.
Diagnostic tests usually include a blood test to check levels of PSA, a chemical produced by the prostate. PSA levels increase when the prostate is enlarged. In some cases, additional tests may be ordered to rule out other causes of urinary symptoms.
Treatment
Treatment usually depends on how severe the symptoms are. In some cases, no treatment may be necessary. Doctors may take a wait-and-see approach if symptoms are mild or if there are no symptoms. This will involve a yearly prostate exam and a review of symptoms to determine if they are getting worse.
Mild symptoms may also be treated with simple lifestyle changes, such as avoiding alcohol and timed urination. Men who have more bothersome symptoms may want to consider the following treatment options.
Medication
Medication is often used to treat BPH. Different types of drugs are available such as alpha-blockers, which relax muscle tissue in the urethra and neck of the bladder to improve urine flow. Side effects may include decreased blood pressure and dizziness.
Another medication used to treat BPH is 5 Alpha-reductase inhibitors. These work by shrinking the prostate, and this reduces urinary symptoms.
In some instances, medication used to treat erectile dysfunction, such as tadalafil, may be used to treat BPH. A combination of different medications may be more effective if one type of drug is not working.
Surgery
When medication does not improve symptoms, surgery may be an option. Various surgical procedures are available, including minimally invasive surgery as well as invasive procedures.
An invasive procedure might involve removing overgrowth of the prostate tissue. Non-invasive options may include laser treatment, microwave thermotherapy, and needle ablation procedures.
Prevention and prostate health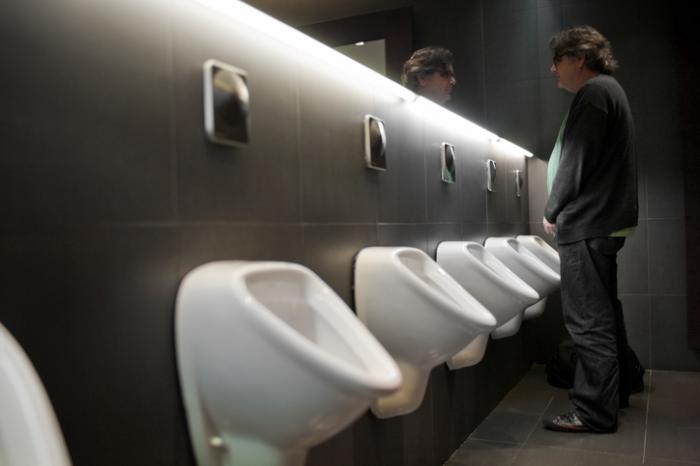 A symptom of BPH may be needing to urinate more than usual.
According to the Urology Care Foundation, it may not be possible to prevent BPH from developing. Prostate growth might be linked to changes in the testicular cells that may occur with aging.
However, there are things men can do to promote a healthy prostate, such as maintaining a healthy weight. Excess body fat may affect cell growth. Men who are obese have a higher risk of developing BPH.
Exercising regularly and eating plenty of fresh fruits and vegetables may also decrease the chances of developing BPH.
Men should also be screened for prostate cancer as recommended by their doctor.
The American Cancer Society recommend that men who have an average risk of prostate cancer should start screening at the age of 50. Individual recommendations may vary.
Tips for living with BPH
The outlook for BPH is good. With a variety of treatments available, most men can decrease symptoms and improve their condition.
For men who have BPH, the following tips may help ease symptoms:
Avoiding medication that makes it harder to urinate, such as antihistamines.
Considering double voiding, which involves urinating, waiting a few minutes, then trying to urinate again.
Stopping drinking a few hours before bed, as this may help to reduce nighttime waking to use the restroom.
Urinating when the urge first hits; holding in urine for too long may damage the bladder in men with BPH.
Seeking help, as many treatment options are available.