What's to know about skin cancer and rashes?
Last reviewed
Last reviewed Tue 22 Aug 2017
A rash on the skin is often caused by an allergy or reaction to an outside source.
A cancer-related skin rash is caused by a cancerous or precancerous condition that produces abnormal changes in the skin.
Some growths and rashes can indicate cancer or cancer-related problems. In some cases, the symptoms on the skin are signs of an underlying condition that needs to be identified and treated.
Understanding these potential causes can help people seek medical attention for diagnosis and treatment.
When are rashes a sign of cancer?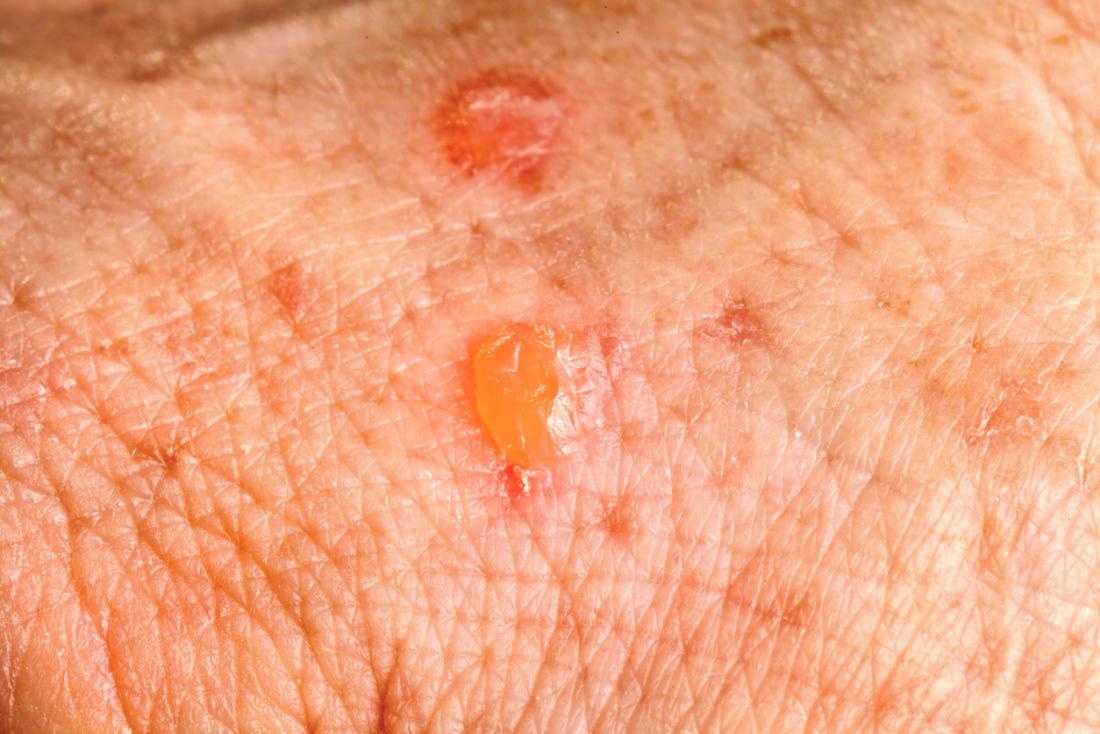 Acitinic keratosis is a form of skin cancer that appears after too much exposure to the sun.
Some noncancerous rashes can easily be confused for cancer.
Psoriasis is one such condition. People with psoriasis will often experience persistent red patches of skin that may itch or burn. The skin may become scaly or dry out and crack. In some cases, this cracked skin will bleed.
Skin cancer rashes may take on a similar scaly appearance, and the skin may also crack or bleed. Skin cancer rashes are more likely to contain oddly colored patches of skin, not just red. Raised bluish or yellow bumps may appear on the skin, and the skin may have a waxy, shiny appearance. The markings of skin cancer are also more likely to be asymmetrical.
The rashes caused by skin cancer will typically last much longer than other skin conditions. As the cancer grows, the size and shape of the skin growth will usually change. It may grow into deeper layers of the skin or change shape.
Skin cancer usually develops in places where it is visible, so catching skin cancers at an early stage is often easier than with other types of cancer.
Anyone who is uncertain about the symptoms appearing on their skin should see a doctor or dermatologist immediately.
Types
Not all forms of cancer will present as a rash on the skin. For instance, melanomas, which develop from the pigment-containing cells in the skin called melanocytes, often look like misshapen moles and would not easily be mistaken for a rash.
Cancerous or precancerous rashes should be treated with the same care as a person would treat a suspected melanoma.
There are a variety of cancerous and precancerous rashes to look out for. Precancerous rashes may evolve into cancerous ones over time, and early diagnosis and treatment are vital in every case.
Actinic keratosis
Actinic keratosis, also called solar keratosis, occurs when a particular area of the body has been exposed to too much sun. People with actinic keratosis may develop a small, scaly patch on the skin that may have a red edge and may itch or burn.
Actinic keratosis most commonly occurs on overly exposed areas of the body, such as the hands, head, or neck, but can develop anywhere.
These patches can be considered a precancerous rash, as they may develop into cancer but are not usually cancerous in the early stages. It can be difficult for doctors to determine if the skin patch will change over time and become cancerous.
Even though most cases of actinic keratosis do not turn into cancer, doctors still recommend early treatment and checkups to prevent the development of cancer.
Basal cell carcinomas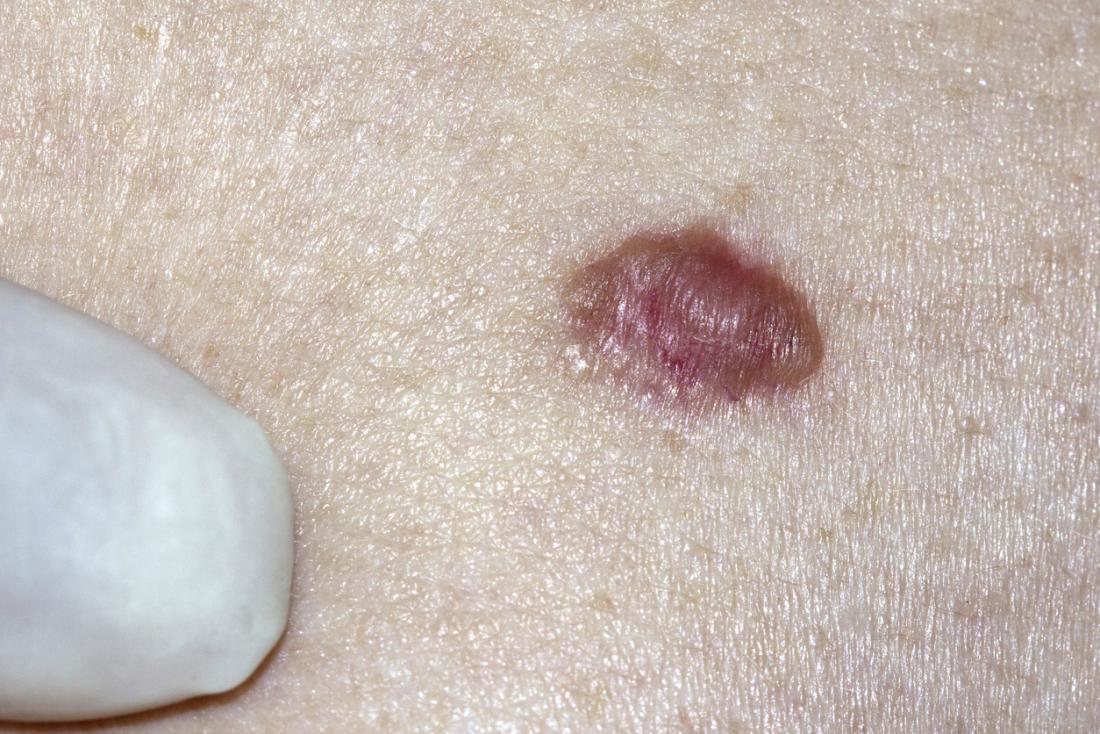 Basal cell carcinoma commonly starts as a rash.
Basal cell carcinoma is one type of cancer that commonly starts as a rash.
On exposed areas of the body, such as the neck or head, a pale patch of skin or a waxy looking skin patch may appear first. The patch may rise to form a bump with an indentation in the middle.
In other areas of the body, the carcinoma may look more like a brownish patch of skin or irregular scar. As the cancer progresses, the area may become excessively crusty, bleed, or ooze in some areas.
Actinic cheilitis
Actinic cheilitis, known as farmer's lip, is a precancerous rash that usually develops on the lips. The condition produces scaly patches or rough lips and may include other symptoms.
If it is left unchecked, actinic cheilitis may develop into a squamous cell carcinoma.
Squamous cell carcinomas
A squamous cell carcinoma is most likely to develop as a firm, rough lump on the skin. Although, a rough, scaly red patch of skin sometimes grows in the area instead. This area will often look like other noncancerous skin rashes.
Unlike skin rashes that go away over time, rashes caused by squamous cell carcinoma slowly develop and change their form.
Squamous cell carcinoma is typically found on exposed areas, such as the hands, arms, neck or head, but can also develop in other regions of the body.
Cutaneous horn
A cutaneous horn is a buildup of keratin cells, which is the protein that makes up fingernails. These cells pile together to create a growth that extends upward from the skin.
A cutaneous horn will usually have a red base, which may harbor squamous cell carcinoma. The growths are most common in fair-skinned, older adults who have a long history of sun exposure.
Rashes linked to other cancer-related problems
A rash may also be a sign of other types of cancer, such as different forms of lymphoma. Lymphoma is dangerous, as it circulates cancer cells throughout the body. These cancer cells may then grow in many organs or tissues all at once.
Mycosis fungoides
Mycosis fungoides, sometimes called cutaneous T cell lymphoma, is a type of lymphoma. When someone has mycosis fungoides, cancerous cells in the blood travel to the upper layers of their skin. This can cause an itchy rash that is often mistaken for eczema.
This rash can spread and worsen over time. It may develop into tumors on the skin or travel to other organs of the body.
Sezary syndrome
In some cases, mycosis fungoides can develop into Sezary syndrome, which is a very aggressive form of lymphoma. It is often met with aggressive treatment methods to try and control or contain its growth.
Leukemia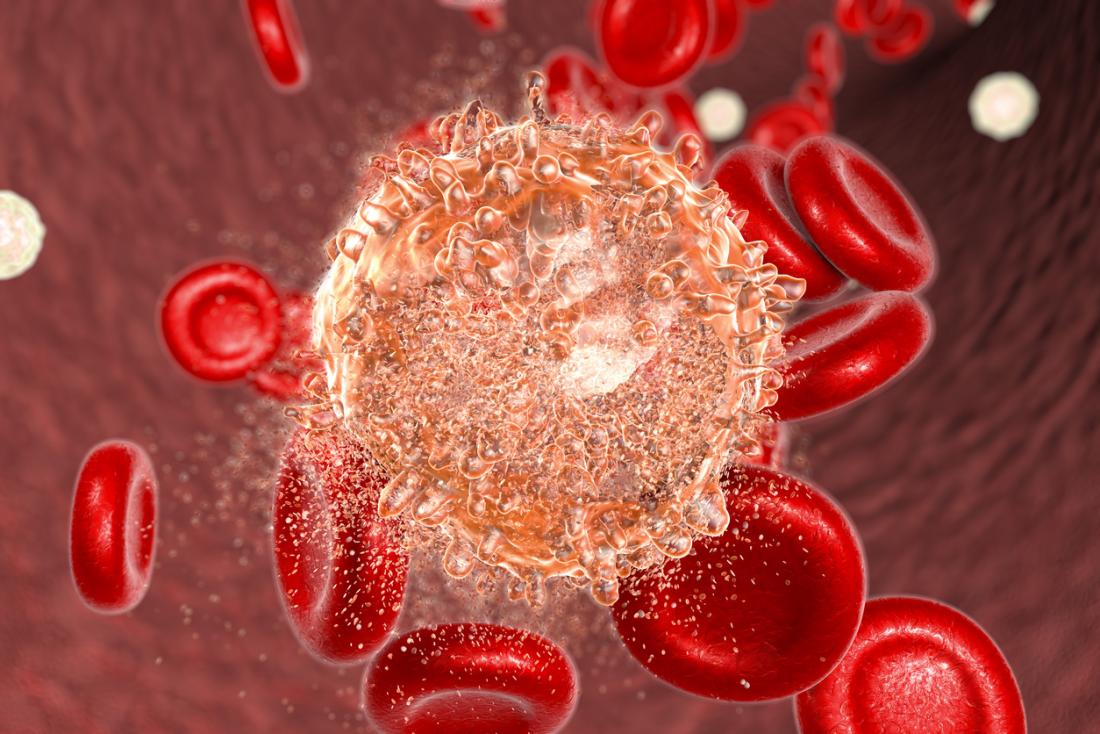 Leukemia can present a rash despite not being a skin cancer.
Leukemia is a different type of blood cancer that develops in the bone marrow, causing the body to produce an excess of white blood cells.
A person who has leukemia may develop tiny red spots on their skin called petechiae. Broken blood vessels under the skin usually cause these red spots, but other less serious conditions can also cause petechiae.
Children may also experience an acute myelogenous leukemia (AML) rash, which can cause a series of dark spots on the skin that look like a typical rash.
It is important to note that these skin lesions are not caused by too much sun exposure.
Kaposi sarcoma
Kaposi sarcoma is a cancerous tumor that develops from the cells lining the lymph or blood vessels.
Kaposi sarcoma can create deep red, purple, or brown blotches on the skin that may spread out over an area of the body like a rash. These lesions are most common on the legs or face and usually cause no additional symptoms.
If anybody has a persistent rash of any kind, they should see a doctor, even if they think they know what it is.
Takeaway
Many cancer-related rashes can look like other less serious rashes or skin conditions. Regular checkups with a dermatologist are always recommended to discuss any changes in the skin and avoid complications from misdiagnosed rashes.
Sun protection is vital to help prevent skin cancer rashes caused by sun exposure. Wearing a sun hat, long clothing, and sunscreen may protect an individual from unnecessary sun exposure and defend against skin cancer.
---