A phlebotomist is a healthcare professional trained to collect blood samples.
Many different professionals work together as part of a medical team. Each team member has their role and responsibilities. A phlebotomist is a medical professional trained to collect blood from patients for medical tests or donation. Doctors often order blood draws to check health status, identify diseases, and check medication side effects.
Phlebotomists may draw blood from a vein by performing a venipuncture. They also obtain blood samples through a finger or heel stick. However, obtaining a blood sample involves more than just inserting a needle.
This article takes an in-depth look at what phlebotomists do, where they work, and how to become one.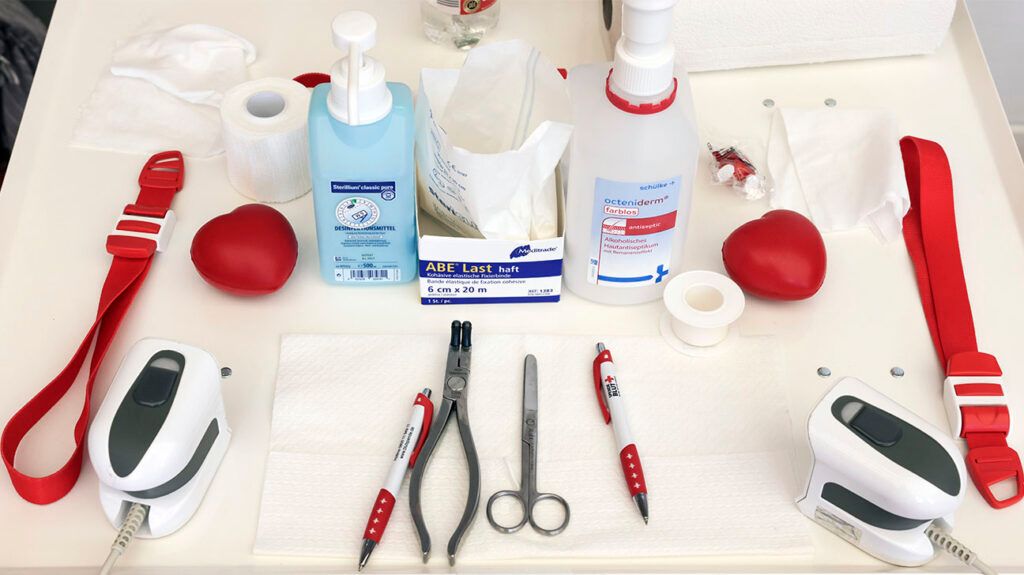 Phlebotomy is the act of removing blood using a needle. A phlebotomist is a healthcare professional trained to draw and collect blood samples for either blood tests or donation.
Phlebotomists play a role in both the diagnostic and therapeutic process of diseases. Doctors frequently use blood samples to understand a person's medical condition and response to treatment.
The primary job of a phlebotomist involves obtaining blood samples. Depending on where a phlebotomist works, they may also have additional responsibilities and handle other specimens, such as sputum, urine, and stool samples.
However, phlebotomists perform several tasks and responsibilities related to collecting blood samples. The job includes:
explaining the blood draw procedure to their patients
obtaining a blood sample from individuals through various means
labeling samples and following proper collection procedures, including safety precautions
entering collection data in a database or charting system per policy
properly disposing of instruments, such as needles
transporting samples to the laboratory for analysis
maintaining infection control measures to prevent cross-contamination among individuals
Healthcare professionals frequently order blood tests for various reasons, such as monitoring health status, checking for infection, and helping to diagnose various conditions.
A person having blood drawn can expect the phlebotomist to introduce themselves and explain the blood draw process.
A typical blood draw by a phlebotomist involves:
applying a stretchy band called a tourniquet to the upper arm to make it easier to see a vein
disinfecting the area with an alcohol wipe
inserting a needle into the vein and attaching one or more vials to collect the blood, depending on the blood tests ordered
releasing the tourniquet and removing the needle from the vein
applying slight pressure to the area to stop bleeding and placing a Band-Aid over the area
Phlebotomists work in a variety of clinical settings. The largest percentage of phlebotomists work in a hospital setting, such as state, local, and private hospitals. Other facilities where phlebotomists work include:
clinical laboratories
doctor's offices
blood donation centers
mobile blood draw companies
community health clinics
nursing homes
Usually, the path to becoming a phlebotomist involves earning a certification from a post-secondary phlebotomy program.
Education
Phlebotomy programs involve instruction in medical terminology, anatomy, and laboratory work. Programs also require hands-on training in performing blood draws, including venipuncture and finger and heel sticks.
Various professional organizations provide accreditation for phlebotomy programs. Accreditation helps ensure that a program maintains a certain standard of education. Private technical schools, community colleges, and adult education programs may offer phlebotomy education.
Certification
Several organizations offer phlebotomy certifications after completing an educational program. Examples of organizations that offer phlebotomy certifications include:
The requirements to obtain a certification differ based on the organization and program. The number of hours of education and experience and the number of blood draws required may vary.
Some employers may prefer to hire a phlebotomist with a professional certification, though this is not always mandatory.
State requirements for phlebotomists also differ. For instance, some states may allow a person to qualify to work as a phlebotomist with a high school diploma and on-the-job training.
Other states may require a certain number of hours of post-secondary education in a phlebotomy program. Further, some states have implemented a state certification. State certification processes differ. Someone interested in the career should check with their state licensing agency for specific requirements to become a phlebotomist.
The following are answers to some questions people frequently ask about phlebotomists.
How many years does it take to become a phlebotomist?
The length of time it takes to become a phlebotomist varies. For example, some programs may require full-time schooling. Other programs may offer a part-time option, which takes longer. But on average, it usually takes less than 1 year to become a phlebotomist.
What is the average salary of a phlebotomist in the United States?
The salary of a phlebotomist can vary greatly based on several factors, such as:
location
type of facility
shift worked
years of experience
According to the U.S. Bureau of Labor Statistics, in the United States in 2022, the average yearly salary for a phlebotomist was $38,530. The top 10% earned more than $51,610.
The type of facility a person worked in also affected pay. For example, outpatient facilities were the highest paying, while physician's offices paid less.
Blood donation resources
To discover more evidence-based information and resources for donating blood, visit our dedicated hub.
A phlebotomist is a healthcare professional trained to obtain blood samples. Collecting a sample may involve venipuncture or a heel or finger stick with a needle.
To become a phlebotomist, an individual completes a post-secondary phlebotomy program. These programs typically take 1 year or less to complete. They tend to work in hospitals, clinics, and outpatient laboratories.