What is the outlook and life expectancy of MDS?
Last reviewed
Last reviewed Sun 10 Sep 2017
Myelodysplastic syndromes, or MDS, are a group of disorders where a person's bone marrow does not produce enough healthy blood cells.
MDS is also referred to as the "bone marrow failure disorder," and it is a type of cancer.
MDS damages some of the blood-forming cells in the bone marrow, leading to low numbers of one or more types of blood cells.
Around 13,000 people are diagnosed with MDS in the United States every year. Most of those who are diagnosed with it are aged 65 years or older.
The outlook for people with MDS varies in each case. In this article, we look at how a prognosis is made and what the outlook may be for individuals with the condition.
How is an MDS prognosis reached?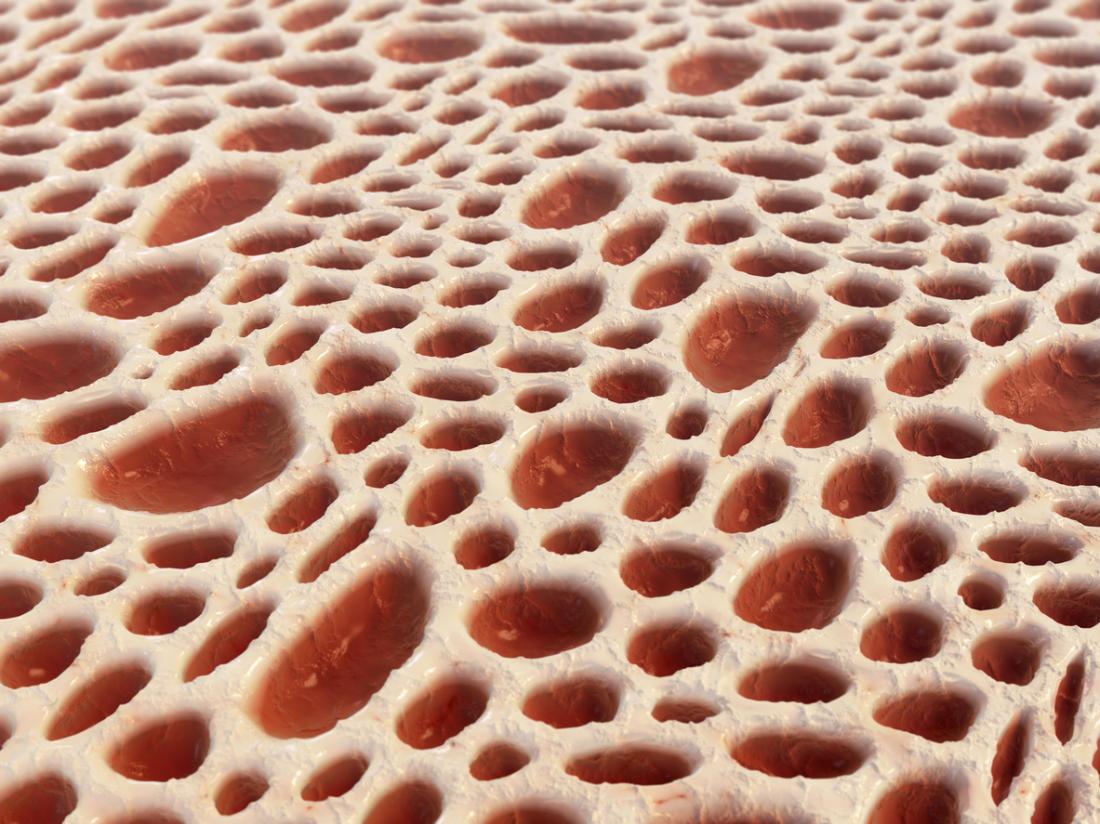 MDS is the name for a group of disorders where the bone marrow does not produce enough healthy blood cells.
Once MDS is diagnosed, a person's doctor will give them a prognosis. This is an educated guess of what the likely course of the disease will be, and how long a person can survive with the condition.
Each person's prognosis is unique, hence why a prognosis can often be difficult to make. Also, the progression of the disease is unpredictable for many reasons.
There are also different subtypes of MDS. The subtype that a person has will affect the doctor's prognosis and therefore the course of treatment.
The subtype is identified by testing an individual's blood and bone marrow.
The types of MDS are as follows:
Refractory cytopenia with unilineage dysplasia: A low number of one type of blood cell but normal numbers of other two types.
Refractory anemia with ringed sideroblasts: A low number of red blood cells, which have too much iron.
Refractory cytopenia with multilineage dysplasia: Two of the three types of blood cells are abnormal.
Refractory anemia with excess blasts (types 1 and 2): A low numbers of any of the three types of blood cells.
Myelodysplastic syndrome, unclassified: An uncommon type with low numbers of one type of blood cell, which does not fit criteria for other types and has an unknown prognosis.
Myelodysplastic syndrome associated with isolated del(5q) chromosome abnormality: A low red blood cell count and a specific DNA mutation, with a good prognosis.
To make a prognosis, the doctor will use a prognostic scoring system.
Scoring systems
The most common scoring system used is the International Prognostic Scoring System (IPSS). This system looks at three different values:
the number of low blood counts the individual has
the percentage of young white blood cells, known as blasts, in the bone marrow cells
the number of abnormal gene changes in the bone marrow cells
There is also a more recently developed scoring system known as the WHO Prognostic Scoring System (WPSS). This is based on three factors:
the type of MDS based on the WHO classification
the chromosome abnormalities
whether the individual needs a blood transfusion or not
What factors affect MDS?
In general, the exact causes of MDS are unknown.
There are risk factors for MDS, although having risk factors does not necessarily mean a person will develop the disease. Some people acquire MDS without having any of the risk factors.
Cancer treatment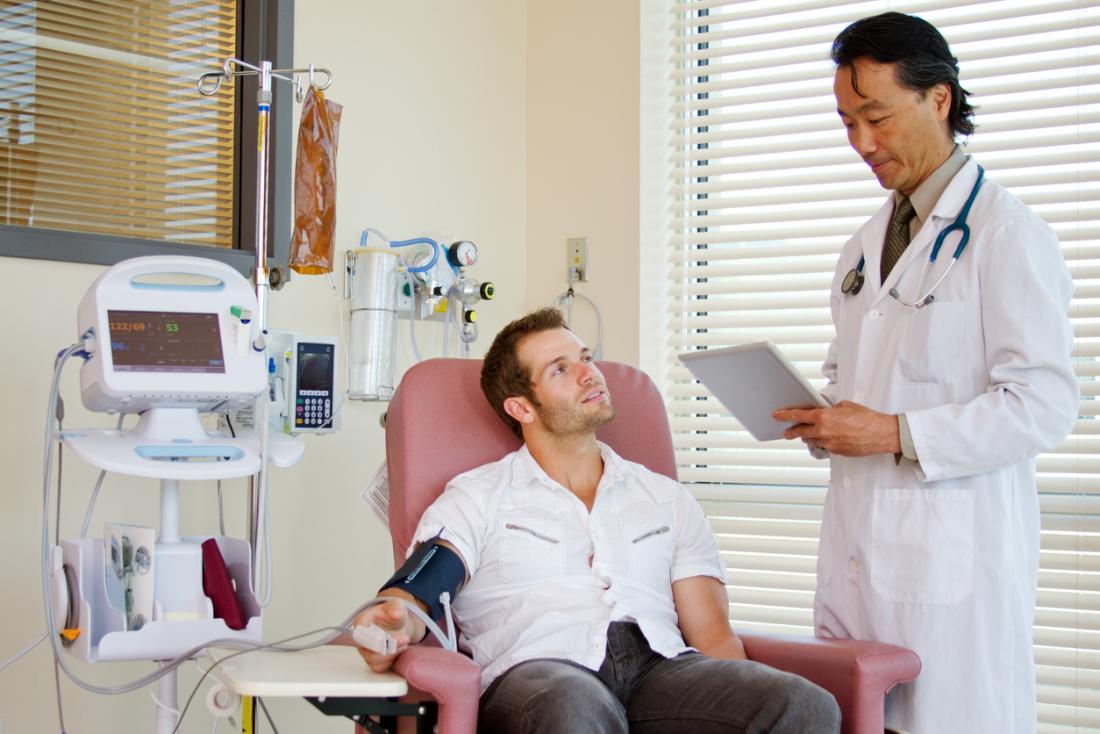 In some cases, chemotherapy may cause MDS.
Chemotherapy is the most important risk factor of MDS.
When the condition develops following chemotherapy, it is known as secondary MDS.
Radiation therapy further increases the risk of MDS.
Those who have had chemotherapy or radiation therapy for potentially curable cancers are at risk of developing MDS for up to 10 years afterward.
Genetic syndromes
While MDS itself is not inherited, people with certain inherited syndromes appear to be more at risk of MDS.
According to the American Cancer Society, these include:
Fanconi anemia
Shwachman-Diamond syndrome
Diamond Blackfan anemia
familial platelet disorder
severe congenital neutropenia
Environmental exposure
Exposure to radiation and certain chemicals has been linked to MDS. The chemical benzene is a known trigger for MDS, which people in some occupations are exposed to.
Other risk factors include:
In the case of age, most incidences of MDS occur in those people aged 60 years-plus, and very few are found in people under 40 years of age.
With gender, MDS is more common in men than in women.
Life expectancy and risk of leukemia
The IPSS divides people with MDS into four groups based on risk:
Survival rates for each group are based on the average for people in that group. The IPSS rates were published in 1997 and are as follows:
Low: 5.7 years
Int-1: 3.5 years
Int-2: 1.2 years
High: 5 months
The WPSS also have statistics to predict life expectancy. These rates are slightly different and are based on people who were diagnosed between 1982 and 2004:
Very low: 12 years
Low: 5.5 years
Intermediate: 4 years
High: 2 years
Very high: 9 months
About a third of people with MDS will see their condition progress into acute myeloid leukemia (AML). For this reason, MDS is sometimes referred to as preleukemia.
Outlook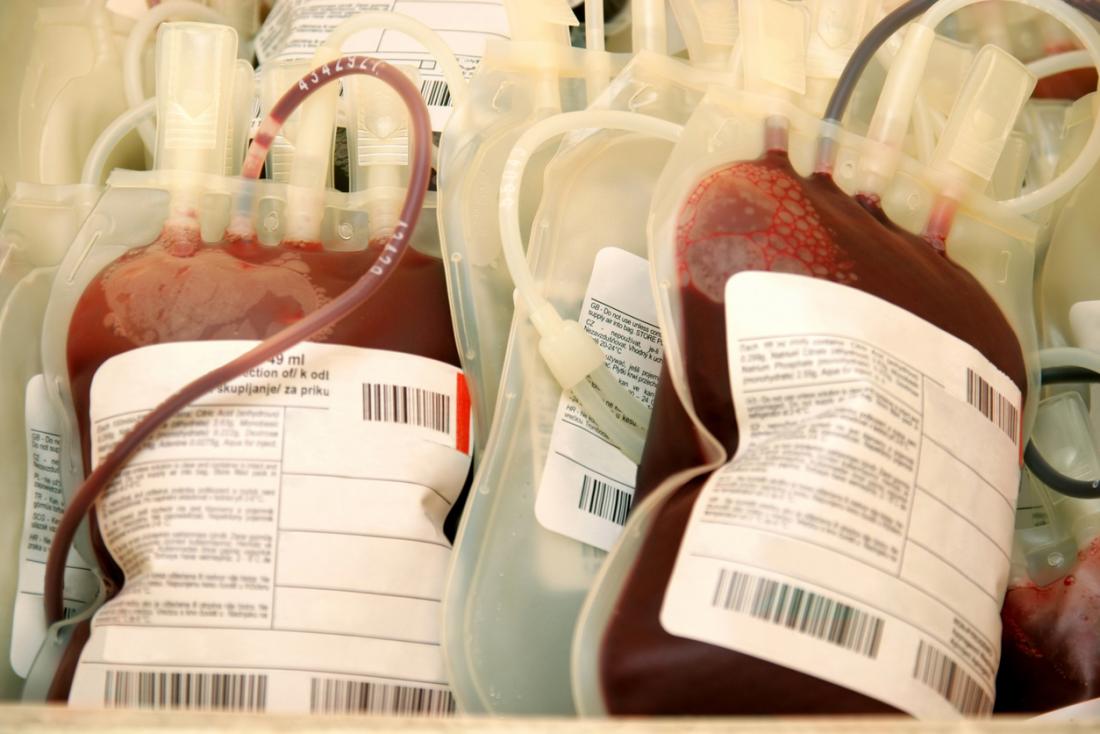 Blood transfusions may be recommended as part of a treatment program for MDS.
Treatment for MDS will depend on several factors, including the type of MDS, the age of individual, and other health conditions that may be affecting them.
Those with a low risk of MDS transforming into cancer may not need treatment at first, but a doctor will carefully monitor their blood counts in the future.
The purpose of treatment is to try and get the number and type of blood cells in the bloodstream back to normal while also managing symptoms.
Treatment may include:
Supportive treatment: Options include blood transfusion, drugs to get rid of excess iron, growth factor drugs, and antibiotics.
Immunosuppressant treatment: This reduces the activity of the immune system, allowing the bone marrow to make blood cells.
Chemotherapy: For those at a higher risk of developing AML.
Bone marrow transplant.
Coping and support
MDS is rarely cured, so those individuals with the condition may often never complete their treatment. Even those who do finish their treatment will need to visit their doctor regularly to discuss symptoms, have a physical exam, and blood tests.
If there are any side effects from treatment, it is important for people to tell their doctor, as there may be ways to stop or reduce these.
Certain lifestyle choices may also make it easier for people to cope with MDS. These include:
giving up smoking
cutting down alcohol intake
following a healthful diet
getting enough exercise
keeping stress levels under control
As well as the physical benefits that lifestyle changes can have, some changes can also help people deal with MDS emotionally.
A person with MDS may benefit from emotional support, be it from family, friends, supports groups, online communities, or counselors.
What works will depend on the individual, but people are advised not to try and deal with their illness on their own.
---