Liposarcoma: Symptoms, diagnosis, and treatment
Last reviewed
Last reviewed Fri 4 Aug 2017
Liposarcoma is a type of cancer that starts in the body's fat cells. It is a type of soft tissue sarcoma.
A liposarcoma can grow anywhere but most often develops in the abdomen or limbs. A liposarcoma should not be confused with a lipoma, which is a non-cancerous growth of fat cells.
Only an estimated 2,000 people are diagnosed with liposarcomas each year in the United States (U.S.), according to Memorial Sloan Kettering Cancer Center (MSKCC). This figure accounts for about one-fifth of the total soft tissue cancers or sarcomas detected in the U.S.
As liposarcomas are rare, an oncologist or cancer doctor will often refer people who have a liposarcoma to a specialist in this particular type of cancer.
What is a liposarcoma?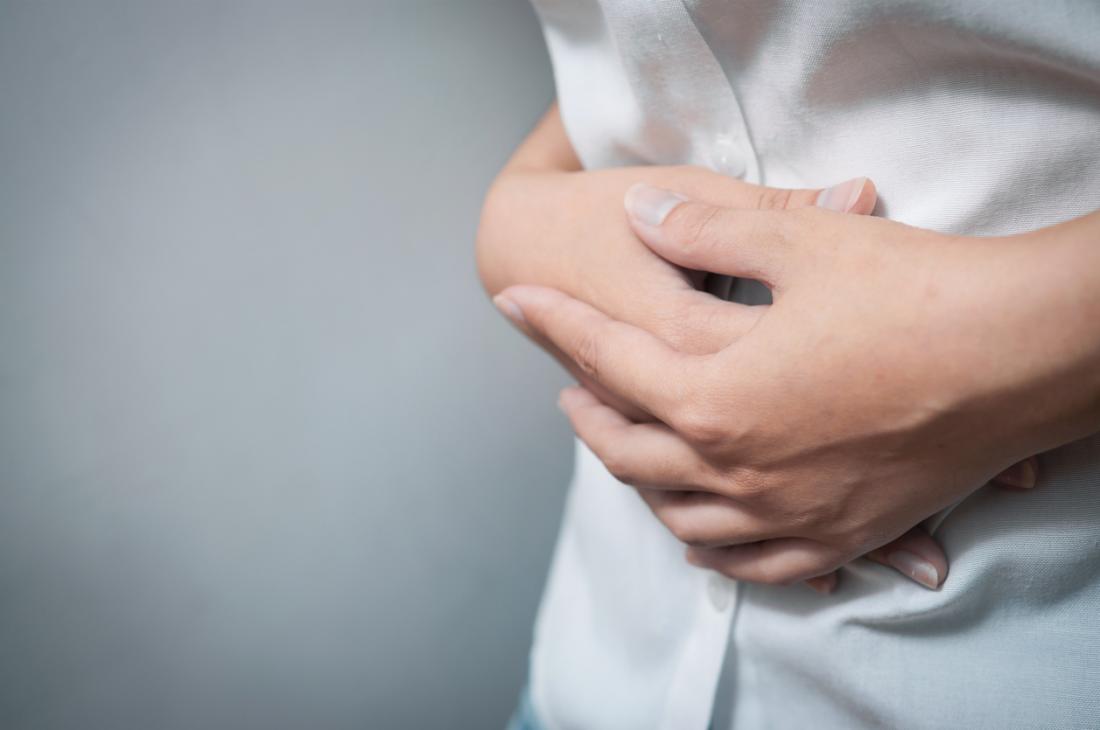 Symptoms of an abdominal liposarcoma may include stomach pain.
A liposarcoma is a rare form of tissue cancer. Liposarcomas are seen mostly in adults but can occur in children.
A liposarcoma should not be confused with fatty deposits of tissue known as lipomas, which are not cancerous. It is extremely rare for an existing non-cancerous lipoma to become cancerous. Instead, most liposarcomas are due to a new tumor.
The treatment plan and outlook for liposarcomas depend on the type.
Some liposarcomas grow slowly and can be removed easily, while others are fast-growing and can spread to other organs.
Symptoms
The symptoms of a liposarcoma depend on where the tumor is located.
A liposarcoma in the arms or legs may cause pain, swelling, or weakness in the affected limb.
In the abdomen, a liposarcoma can grow in the retroperitoneum, the membrane covering the abdominal organs. When this occurs, a person may have symptoms that include:
weight gain
stomach pain or swelling
constipation or bloody stool
problems urinating
Unfortunately, a liposarcoma may not cause symptoms until it is large enough to press on neighboring organs.
This pressure may cause pain, swelling, or disrupt the function of nearby organs, such as the lungs, liver, or other abdominal organs.
Causes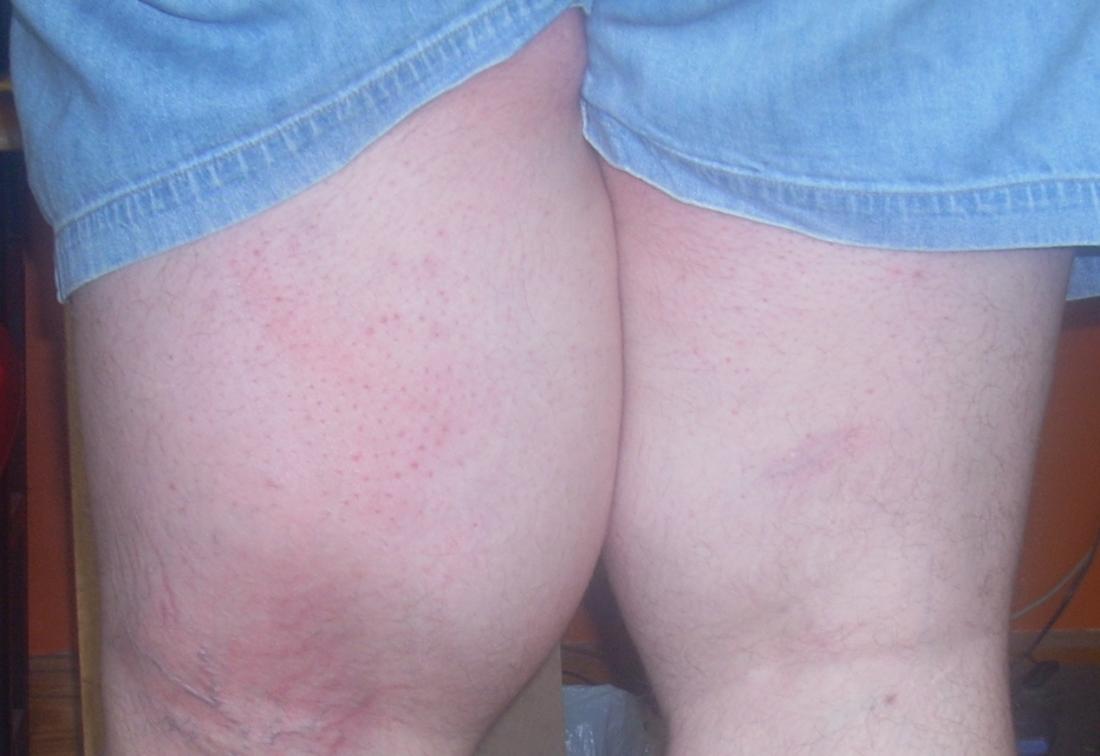 A liposarcoma in the legs may cause swelling.
Image credit: Unklekrappy, 2010
Liposarcomas occur when previously healthy cells develop errors in their DNA and start to multiply quickly. According to the Dana Farber Cancer Institute, there are no known risk factors for this cancer type.
Doctors do know that this kind of cancer typically develops in people between the ages of 50 and 65.
Risk factors for all types of soft tissue cancers include:
history of radiation to the abdomen or another body part
history of genetic-related cancer
exposure to chemicals known to cause cancer
having a damaged lymphatic system
Doctors have not linked lifestyle choices, such as smoking or a poor diet, to an increased risk for liposarcomas.
Diagnosis
If a person has a tumor or symptoms that might indicate a liposarcoma, a doctor may use imaging scans such as an X-ray, CT scan (computerized tomography), or MRI (magnetic resonance imaging) to see the size of the tumor and whether it has spread.
Next, the doctor will do a biopsy to test a sample of the tissue.
Because liposarcomas are so rare, it is important a tumor is removed by an experienced surgeon and examined later by a pathologist who can identify cells associated with liposarcomas.
If a liposarcoma is confirmed, doctors will probably categorize into one of four subtypes.
The four main types of liposarcoma are:
Well-differentiated: This is the most common type. The cells tend to be slow-growing or low-grade and closely resemble fat cells.
Myxoid or round: These are intermediate to high-grade tumors that have a distinct round cancer-cell pattern. High-grade tumors tend to spread more quickly than low-grade types.
Pleomorphic: This is the rarest but most aggressive form of liposarcoma.
Dedifferentiated: This is a high-grade tumor that develops from a tumor that initially displayed low-grade cancer cells.
Knowing the type of cells can help a doctor identify if the tumor will respond to chemotherapy, as well as to determine a prognosis.
Treatment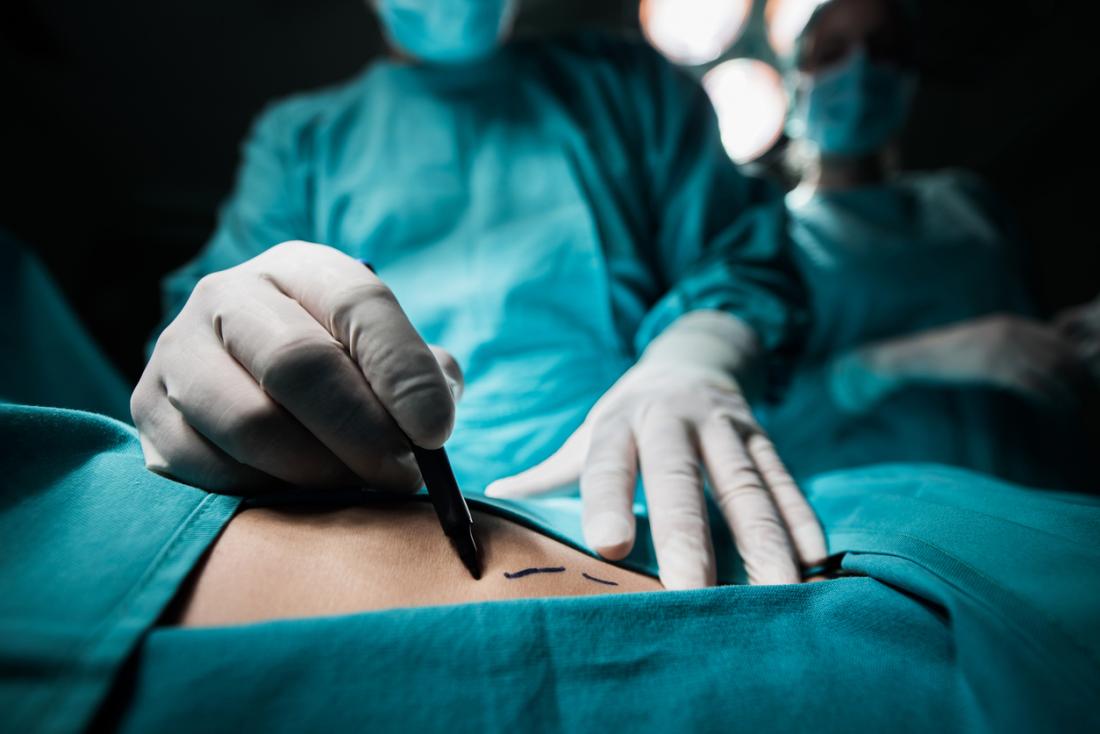 If surgery cannot remove all of the cancerous cells then radiation therapy may be used as a treatment option.
How a liposarcoma is treated often depends on its type and location.
Surgery
The first step is often to remove the tumor surgically, along with a wide margin of healthy cells.
Sometimes a tumor is in a location where a surgeon is unable to remove all cancerous cells because doing so could harm nearby organs.
Similarly, surgery alone may not be effective if cancerous cells have spread from the tumor to other locations.
Radiation
A doctor may recommend radiation therapy after surgery to kill any remaining cancer cells.
Radiation is also sometimes used to shrink the tumor before surgery.
Chemotherapy
Although chemotherapy can be used to kill cancerous cells, it is not typically effective in treating low-grade liposarcomas.
Chemotherapy targets fast-growing cells and low-grade liposarcomas may not grow fast enough for chemotherapy to work.
The U.S. Food and Drug Administration (FDA) has approved two chemotherapy drugs known as "orphan drugs" to treat liposarcomas.
Orphan drugs are treatments for rare medical disorders that have less than 10,000 diagnosed cases a year.
Examples of these medications include:
eribulin mesylate (Halavan)
trabectedin (Yondelis)
These treatments are approved to treat liposarcomas that have spread or metastasized, or that cannot be surgically removed and have failed to respond to previous chemotherapy regimens.
Outlook
According to MSKCC, the 5-year survival rate for a person with high-grade liposarcoma is only about 50 percent. The 5-year survival rates are much higher for slower-growing tumors.
However, many liposarcoma tumors are recurrent, meaning they return after treatment.
Doctors will recommend frequent follow-up testing to ensure a person's cancer has not returned. Examples of these tests may include imaging scans, such as an MRI, as well as a physical exam.
Many medical and research centers are working on developing drugs to treat liposarcomas. Ideally, this will provide new treatment regimens that can help extend the life of a person who has a liposarcoma.